Donald Trump's election produced dramatic change in U.S. policy in 2017. As a candidate, he had blasted the 2015 nuclear agreement between Iran and six world powers as "the worst deal ever negotiated." If elected, Trump said his number-one priority would be to dismantle the deal.
Since taking office, the Trump administration has taken an increasingly aggressive posture toward Iran. The tone was set less than two weeks into Trump's presidency when then-National Security Advisor Michael Flynn responded to an Iranian missile test. "The Obama Administration failed to respond adequately to Tehran's malign actions—including weapons transfers, support for terrorism, and other violations of international norms," he said. "As of today, we are officially putting Iran on notice." The following is a timeline of U.S.-Iran relations since Trump took office. 
 
2017
Jan. 27 – President Trump issued an executive order banning citizens of seven Muslim-majority countries — Iran, Syria, Somalia, Sudan, Libya, and Yemen — from entering the United States for 90 days. Iranian leaders reacted angrily. The ban is "a clear insult to the Islamic world, and especially the great nation of Iran," said Foreign Minister Mohammad Javad Zarif. It will be "a great gift to extremists and their supporters."
#MuslimBan shows baselessness of U.S. claims of friendship with the Iranian people while only having issues with the Government. 4/7

— Javad Zarif (@JZarif) January 28, 2017
Feb. 1 – President Trump's national security advisor, Michael Flynn, officially put Iran "on notice" after a ballistic missile test and an attack on a Saudi naval vessel by Houthi militants in Yemen supported by Tehran. On February 3, the Trump administration announced new sanctions targeting individuals and companies linked to Iran's ballistic missile program. A dozen companies and 13 individuals were designated in retaliation for a January 2017 missile test and Houthi attack on a Saudi warship.
Iran is playing with fire - they don't appreciate how "kind" President Obama was to them. Not me!

— Donald J. Trump (@realDonaldTrump) February 3, 2017
Iran has been formally PUT ON NOTICE for firing a ballistic missile.Should have been thankful for the terrible deal the U.S. made with them!

— Donald J. Trump (@realDonaldTrump) February 2, 2017
Iran was on its last legs and ready to collapse until the U.S. came along and gave it a life-line in the form of the Iran Deal: $150 billion

— Donald J. Trump (@realDonaldTrump) February 2, 2017
Feb. 3 – The U.S. Treasury announced new sanctions on 13 individuals and 12 entities for supporting Iran's ballistic missile program and its Islamic Revolutionary Guard Corps (IRGC).
We will never use our weapons against anyone, except in self-defense. Let us see if any of those who complain can make the same statement. pic.twitter.com/xwGquvqLvb

— Javad Zarif (@JZarif) February 3, 2017
Feb. 7 – Supreme Leader Ayatollah Ali Khamenei weighed in on Trump's actions in an address to air force commanders. He thanked Trump for revealing the "true face" of the United States. "What we have been saying, for over thirty years, about political, economic, moral, and social corruption within the U.S. ruling establishment, he came out and exposed during the election campaigns and after the elections," said Khamenei.
March 17 – The State Department sanctioned two Bahrainis with ties to Iran for supporting terrorism. "Today's actions follow a recent increase in militant attacks in Bahrain, where Iran has provided weapons, funding, and training to militants. This marks yet another step in our continued effort to aggressively target Iran's destabilizing and terrorism-related activities in the region," read a statement. Iran said the claims were bogus.
March 21 – The United States imposed sanctions on 30 foreign entities and individuals for violations of the Iran, North Korea, and Syria Nonproliferation Act. Eleven of the entities and individuals received sanctions for transfers on behalf of Iran's ballistic missile program. Iran responded five days later with sanctions on 15 American businesses. Tehran blacklisted companies that have done business with the Israeli military or that were involved with Israeli settlements in the West Bank.
March 22 – President Trump issued his first Nowruz message. Only one out of five paragraphs was directed at the Iranian people. "To the Iranian people and all those around the world celebrating Nowruz: On behalf of the American people, I wish you freedom, dignity, and wealth," read the statement. It notably lacked any reference to Iran's government.
April 13 – The U.S. Treasury sanctioned the Tehran Prison Organization and Sohrab Soleimani, a senior official within Iran's State Prison Organization. The announcement cited an April 2014 incident at the infamous Evin Prison, when dozens of security guards and prison officials attacked political prisoners in Ward 350 for several hours. At least 30 were injured; some were placed in solitary confinement without medical treatment. Soleimani was the head of the Tehran Prisons Organization at the time. He is also the brother of Qassem Soleimani, the commander of the Revolutionary Guards' Qods Force, according to the White House.
April 18 – The Trump administration acknowledged that Iran was complying with the nuclear deal. By law, the administration must notify Congress every 90 days whether Iran is fulfilling its commitments. At the same time, the administration announced the launch of an interagency review to determine whether sanctions relief for Iran, as part of the nuclear deal, is vital to U.S. national security interests. "Notwithstanding, Iran remains a leading state sponsor of terror through many platforms and methods," wrote Secretary of State Rex Tillerson in a letter to Congress.
Foreign Minister Zarif shot back with a tweet implying that the United States had not been living up to its obligations under the deal. In a statement, he accused Washington of supporting militant extremists, including al Qaeda' affiliate in Syria. He emphasized that Iran remained committed to its obligations under the JCPOA, despite "the malign behavior of the U.S. Government."
Worn-out US accusations can't mask its admission of Iran's compliance w/ JCPOA, obligating US to change course & fulfill its own commitments

— Javad Zarif (@JZarif) April 20, 2017
April 20 – The Guardian Council announced the approved candidates for the 2017 presidential election. They included incumbent President Rouhani, hardliner Ebrahim Raisi, and Mayor of Tehran Mohammad Bagher Qalibaf. Former President Ahmadinejad, who had registered against the will of Supreme Leader Khamenei, was the most prominent among the rejected candidates. On May 19, President Rouhani was reelected over hardliner Ebrahim Raisi. He secured 57 percent of the vote in four-way contest, which was widely considered a strong endorsement of his agenda. Rouhani's campaign emphasized loosening social and political controls and attracting foreign investment. On May 29Iran held elections for city and town councils nationwide. Reformist candidates won a decisive victory nationally, outperforming conservative candidates.
May 17 – The Trump Administration certified Iranian compliance with the JCPOA and continued to waive nuclear-related sanctions. The administration, however, it simultaneously announced new sanctions on Iran's ballistic missile program.
Iran countered with sanctions on nine American individuals and firms involved with Israeli and/or U.S. businesses, military and intelligence. For example, it alleged that Booz Allen Hamilton's contractors were affiliated with the CIA and had conducted security operations against the Islamic Republic. "Iran condemns America's unacceptable ill will in its effort to undermine the positive outcome of Tehran's commitment to implement the nuclear deal by adding individuals to its list of unilateral and illegal sanctions," said Foreign Ministry Spokesman Qasemi.
May 21 – President Trump visited two of Iran's top regional rivals, Saudi Arabia and Israel, on his first trip abroad as president. He accused Tehran of fueling "the fires of sectarian conflict and terror" in an address in Riyadh to leaders of 50 Muslim countries.
Trump slams Iran in first foreign speechhttps://t.co/O4Imxzwq1t @AFP pic.twitter.com/sNkAyoS5S7

— AFP Tehran (@afptehran) May 22, 2017
Iranian President Rouhani mocked Trump's trip and his signing of a $110 billion arms deal with Saudi Arabia. The visit was "just a show" that lacked "political and practical value," he said. Rouhani called out Riyadh monarchical government. The kingdom "has never seen a ballot box," he quipped. "Buying arms or building weapons won't make a country powerful." Rouhani also alluded to the involvement of 15 Saudi citizens in the plotting of the September 11 attacks. "I do not think the American people are ready to trade the lives they lost on September 11 with billions of dollars gained through weapons sales."
June 7 – Five gunmen and suicide bombers attacked Iran's parliament and the mausoleum shrine of late revolutionary leader Ayatollah Ruhollah Khomeini. ISIS claimed responsibility for both terrorist attacks, which were the first in Tehran in more than a decade. At least 17 were killed and 52 were injured. On June 18, Iran launched missiles at ISIS targets in Deir Ezzor in eastern Syria following terrorist attacks that targeted Tehran.
June 20 – U.S. forces shot down two Iranian-made drones in Syria, raising the threat of U.S. military confrontation with pro-regime forces there. Since 2011, Iran has provided key logistical, technical and financial support to the Assad government, including military advisors. One of the drones dropped a dud munition, which the U.S. forces perceived as a "show of force," according to a defense official. It was reportedly the first time that pro-regime forces had fired on the U.S.-led coalition.
The U.S.-led coalition to defeat ISIS released a statement indicating it was not looking for a new confrontation. "The Coalition does not seek to fight Syrian regime, Russian, or pro-regime forces partnered with them, but will not hesitate to defend Coalition or partner forces from any threat," it read.
July 17 – The Trump administration certified Iranian compliance with its JCPOA obligations. But it simultaneously announced new sanctions on 18 entities and individuals for supporting Iran's ballistic missile program, military procurement or IRGC, and an Iran-based translational criminal organization.
Iran's foreign ministry denounced the sanctions as "contemptible and worthless" and warned of reciprocal action. "Surely, if the Americans seek to apply sanctions against us under whatever title or pretext, the great nation of Iran would aptly respond to them," said President Rouhani.
Iran's judiciary also announced that an American graduate student had been sentenced to 10 years in prison for spying. The student was later identified as 37-year-old Xiyue Wang, a Chinese-born doctoral candidate at Princeton University. He was arrested in August 2016 while conducting research in Iran on the administrative and cultural history of the late Qajar dynasty for his doctoral dissertation.
An American researcher has been sentenced to 10 years in prison in Iran after being convicted of spying https://t.co/GQ89pMJFss pic.twitter.com/5ub5zolQg3

— CNN International (@cnni) July 17, 2017
Jul. 22 – Iran reportedly began mass production of the new Sayyad-3 missile used in missile shield systems. The missile had an estimated range of 120 kilometers and was designed to target incoming aircraft and missiles. On July 27, Iran announced that it had successfully launched a Simorgh space-launch vehicle (or SLV). The Simorgh was Iran's most advanced satellite-carrying rocket. The United States, the United Kingdom, France and Germany, however, issued a joint statement condemning the Simorgh launch: "Iran has again demonstrated activity inconsistent with U.N. Security Council Resolution 2231."
July 28 – The Treasury Department imposed new sanctions on six entities with connections to Iran's ballistic missile program. In response, Tehran formally complained to the Joint Commission overseeing the nuclear deal that the new sanctions breached the agreement. "Iran's JCPOA supervisory body assessed the new U.S. sanctions and decided that they contradict parts of the nuclear deal," said Speaker of Parliament Ali Larijani. 
Aug. 2 – Trump signed the Countering America's Adversaries Through Sanctions Act, a bipartisan bill that imposed sanctions on Iran and Russia. It also included a provision known as the Countering Iran's Destabilizing Activities Act of 2017 that directed the president to impose sanctions on Iran for its ballistic missile and any weapons of mass destruction programs, the sale or transfer to Iran of military equipment or related technical or financial assistance, and the IRGC. It also increased the President's ability to sanction individuals connected to North Korea. 
Iran's leaders condemned the move. Deputy Foreign Minister Abbas Araghchi said it violated the nuclear deal. "The Americans should know that they will be harmed more by such moves, as such acts will isolate them in the world," warned President Hassan Rouhani. 
Aug. 8 – An Iranian drone shadowed the USS Nimitz aircraft carrier and also came dangerously close to an F-18 fighter jet. The plane was forced to take evasive action after the drone ignored repeated radio warnings.
Sep. 14 – The United States extended some sanctions relief guaranteed Iran as part of the nuclear deal. But on the same day, the Treasury Department sanctioned 11 entities or individuals for supporting Iran's Revolutionary Guard Corps or networks responsible for cyber-attacks against the United States. 
Sep. 19 – In his first address to the U.N. General Assembly, President Trump called on the world to join the United States "in demanding that Iran's government end its pursuit of death and destruction." Trump blasted Iran for supporting terror and the regime of Syrian President Bashar al Assad. Trump also warned that the United States cannot abide by the nuclear deal "if it provides cover for the eventual construction of a nuclear program."
In his own U.N. address, the next day, President Rouhani criticized President Trump for both the substance and tenor of his remarks. "The ignorant, absurd and hateful rhetoric, filled with ridiculously baseless allegations, that was uttered before this august body yesterday, was not only unfit to be heard at the United Nations - which was established to promote peace and respect between nations - but indeed contradicted the demands of our nations from this world body to bring governments together to combat war and terror." Rouhani also seemed to reference Trump when he said that it would be a pity if the nuclear deal "were to be destroyed by 'rogue' newcomers to the world of politics." 
Sep. 20 – E.U. foreign policy chief Federica Mogherini chaired a ministerial meeting on implementation of the nuclear deal. Foreign ministers from all of the countries party to the agreement —China, France, Germany, Russia, the United Kingdom, the United States, and Iran — attended. After the gathering, Secretary of State Tillerson told reporters that it was "a good opportunity to meet, shake hands" with Iranian Foreign Minister Javad Zarif. "The tone was very matter-of-fact, there was no yelling." He added, jokingly, "We didn't throw shoes at one another." But Tillerson also emphasized that Washington and Tehran see the nuclear deal very differently. 
Sep. 24 – Trump announced new travel restrictions on certain foreigners from Chad, Iran, Libya, North Korea, Somalia, Syria, Venezuela, and Yemen, a revised version of his controversial earlier ban. Iranian leaders condemned the policy as offensive.
Oct. 13 – President Trump decertified Iranian compliance with the nuclear agreement and outlined a new policy for countering the Islamic Republic. "I am directing my administration to work closely with Congress and our allies to address the deal's many serious flaws so that the Iranian regime can never threaten the world with nuclear weapons," he said. Trump authored the Treasury Department to further sanction the Islamic Revolutionary Guard Corps. He stopped short, however, of re-imposing sanctions lifted as part of the JCPOA.
The moves prompted an angry reaction from Tehran. "What was heard today from US officials was nothing but the repetition of incorrect words, false accusations and insults that have been repeatedly said during the past 40 years," Rouhani said in a fiery televised address to the nation. He pledged to strengthen Iran's defenses despite the new sanctions on the IRGC. Rouhani argued that Trump was wrong about being able to unilaterally revoke the JCPOA. "How can a president alone cancel a treaty that is a multilateral and in one sense, international document, as it has been approved in the United Nations?" Rouhani said, however, that Iran would remain committed to the JCPOA as long as it served its national interests. 
Nov. 22 – Presidents Putin, Erdogan, and Rouhani met in Sochi to discuss cooperation between Russia, Turkey, and Iran on Syria. Putin won Turkish and Iranian support for a Russian-led peace process.
Dec. 2 – Central Intelligence Agency Director Mike Pompeo confirmed Iranian news reports that he had sent a letter to the commander of the Qods Force, Major General Qassem Soleimani. Soleimani reportedly didn't open the letter. "It didn't break my heart, to be honest with you," Pompeo told an audience at the Reagan National Defense Forum. "What we were communicating to him in that letter was that we will hold he and Iran accountable for any attacks on American interests in Iraq by forces that are under their control." 
Dec. 14 – The United States presented evidence of Iranian support for Houthi militants in Yemen in violation of U.N. resolutions. The evidence included a drone, an anti-tank weapon, and a short-range ballistic missile, all of which the United States claimed to be Iranian-made and supplied. On November 29, 2018, the United States unveiled missiles, rockets, drones and other equipment, some of which had been transferred to the Houthis in Yemen or the Taliban in Afghanistan.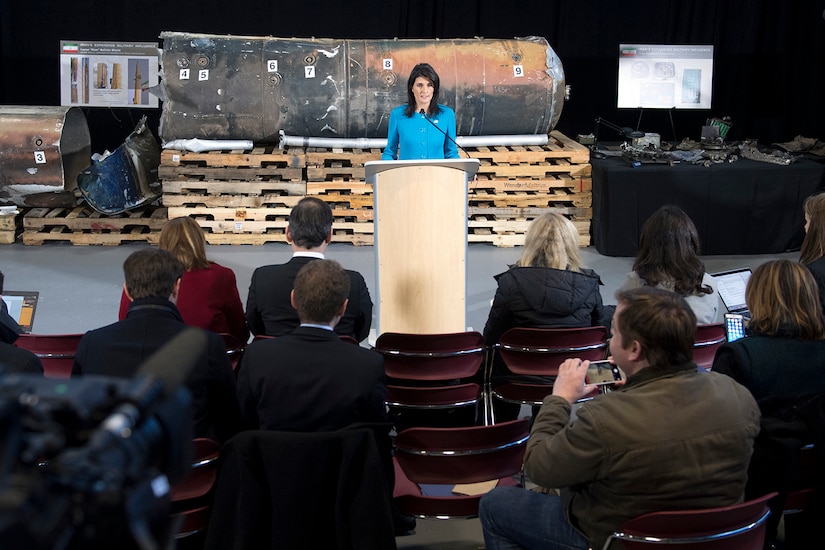 Dec. 18 – President Trump published his first National Security Strategy. The strategy described Iran one of the biggest threats to the United States and the Middle East's stability: "Iran, the world's leading state sponsor of terrorism, has taken advantage of instability to expand its influence through partners and proxies, weapon proliferation, and funding. It continues to develop more capable ballistic missiles and intelligence capabilities, and it undertakes malicious cyber activities. These activities have continued unabated since the 2015 nuclear deal. Iran continues to perpetuate the cycle of violence in the region, causing grievous harm to civilian populations."
2018
Jan. 12 – President Trump waived nuclear-related sanctions against Iran for the third time, in compliance with U.S. obligations under the JCPOA. "I am waiving the application of certain nuclear sanctions, but only in order to secure our European allies' agreement to fix the terrible flaws of the Iran nuclear deal," he said. Trump also warned that he would withdraw from the deal if he judged that an agreement is not within reach. On the same day, the U.S. Treasury sanctioned 14 individuals, including Iran's judiciary chief, for human rights abuses and supporting weapons proliferation.
March 19 – President Trump issued his second Nowruz message. He accused the IRGC of supporting terrorism, environmental mismanagement, and suppressing freedom of expression and access to information. "Despite the oppression they face, Iranians are fighting to reclaim their rights. They long for a springtime of hope, and the United States stands with the Iranian people in their aspirations to connect to the wider world and have a responsible and accountable government that truly serves their nation's interests," said Trump.
March 23 – The United States issued sanctions and criminal indictments against an Iranian hacker network that targeted hundreds of U.S. and foreign universities, dozens of U.S. companies and government agencies and the United Nations. The Justice Department indicted nine Iranians for conducting a massive cyber theft campaign on behalf of the IRGC. The Treasury sanctioned one Iranian entity and 10 individuals for theft of intellectual property and data.
April 7-9 – In a major setback with potential political fallout, the rial lost 18 percent of its value on the free market between April 7 and April 9. It hit an all-time low against the dollar, which was reportedly being traded for 62,000 rials on the free market. The official rate—set by the Central Bank of Iran—was 37,830 rials. In response, the government decided to finally unify the free market exchange rate and the official exchange rate—at 42,000 rials to the dollar.
April 30 – Israeli Prime Minister Benjamin Netanyahu announced that Israel obtained some 100,000 secret files proving that Iran lied about never having a nuclear weapons program. He alleged that Tehran worked to "expand its nuclear weapons know-how for future use" even after the 2015 nuclear accord. Netanyahu presented maps, charts, photographs, and videos allegedly detailing Project Amad, which was to design, produce and test nuclear weapons. The existence of Iran's covert nuclear weapons program had been public knowledge for more than a decade however.
May 1 – A U.S. federal judge from the Southern District of New York ruled Iran was liable for the 9/11 attacks and was required to pay $6 billion to the families of those killed. The judge issued a default judgment signaling that Iran did not contest the case in court.
May 8 – President Trump announced the U.S. withdrawal from the JCPOA and re-imposition of sanctions on Iran. Britain, China, France, Germany and Russia moved to salvage the accord. Iran said it intended to adhere to the deal if its economic benefits were guaranteed. Non-party states with significant trade interests in Iran, such as Turkey and India, said they would comply only with U.N. sanctions. Foreign companies began withdrawing from Iran rather than risk running afoul of U.S. sanctions. On May 16, Total signaled its intention to withdraw from the South Pars natural gas field development, a $2 billion project, unless it received a sanctions waiver from the U.S. government. Chinese firms were reportedly ready to replace Total. On May 18, the European Commission announced four measures to salvage the JCPOA. They included launching a process to activate the Blocking Statute, which would forbid E.U. persons from complying with U.S. extraterritorial sanctions, allow companies to recover damages incurred by sanctions from the sanctioning party, and nullify foreign court judgments in the European Union.
May 15 – The U.S. Treasury Department sanctioned four individuals and one bank for moving millions of dollars on behalf of the Islamic Revolutionary Guard Corps Qods Force (IRGC-QF) to the Lebanese militia and political movement Hezbollah.
May 21 – U.S. Secretary of State Mike Pompeo laid out 12 requirements for a new nuclear deal with Iran: "We're open to new steps with not only our allies and partners, but with Iran as well. But only if Iran is willing to make major changes," he said. The demands called on Iran to stop enriching uranium, end its proliferation of ballistic missiles, and end support to terrorist groups, including Hezbollah and Hamas.
May 22 – The Treasury Department sanctioned five Iranians for providing ballistic missile-related technical expertise or transferring weapons to the Houthis, a Zaydi Shiite movement that has been fighting Yemen's Sunni-majority government since 2004. The five individuals were associated with the IRGC-QF, an elite unit responsible for operations outside of Iran. 
May 23 – Supreme Leader Khamenei issued six conditions that had to be met by Europe to remain in the nuclear deal. Europe must secure "a resolution against the U.S. violation" of U.N. Security Council Resolution 2231, which endorsed the JCPOA, he said. Europe must stop objecting to Iran's missile testing or its policies in the Middle East as well as stand against U.S. sanctions, Khamenei added. "If the Europeans linger over our demands, Iran has the right to resume its nuclear activities. When we see that the JCPOA was useless, one way forward is to restart those halted activities," Khamenei warned in an address to government officials. Two days later, representatives of the five remaining countries in the JCPOA met with Iranian representatives for the first time since the U.S. withdrawal. They discussed ways to continue with the deal without the United States.
July 16 – Iran filed a lawsuit against the United States at the International Court of Justice (ICJ) over the re-imposition of U.S. sanctions. Iran alleged that the United States violated a treaty signed in 1955, more than two decades before the Islamic Revolution and the subsequent souring of relations between the two countries.
July 29 - Iran's currency hit another record low, dipping below 100,000 rials to one U.S. dollar. The economy continued a downward spiral in anticipation of the re-imposition of U.S. sanctions in August. On August 6, President Trump signed an Executive Order re-imposing sanctions on Iran. "These actions include re-imposing sanctions on Iran's automotive sector and on its trade in gold and precious metals, as well as sanctions related to the Iranian rial," Trump said. The measures took effect on August 7, while remaining sanctions, including those on oil exports, were scheduled to be re-imposed on November 5. 
Sep. 3 – Iran's rial hit another record low, trading at 128,500 rials to the dollar on the open market. The currency had lost some 70 percent of its value over the year.
Sept. 24- E.U. High Representative Federica Mogherini chaired a meeting on the nuclear deal's implementation attended by the Chinese, French, German, Russian, U.K., and Iranian foreign ministers. After the meeting, Mogherini announced that the European Union would set up a "Special Purpose Vehicle," a legal entity to facilitate legitimate financial transactions with Iran, despite U.S. sanctions. She said the mechanism could be opened to other countries as well.
Oct. 3 – The International Court of Justice (ICJ) ordered the United States to ease sanctions on Iran for humanitarian reasons. The court lacked an enforcement mechanism, so the ruling was largely a symbolic victory for the Islamic Republic. Iran had filed the lawsuit against the United States in July. It alleged that the re-imposition of sanctions violated a treaty signed in 1955, more than two decades before the Islamic Revolution and the subsequent souring of U.S.-Iran relations. Pompeo said Iran was "abusing the ICJ for political and propaganda purposes." He also announced the termination of the 1955 Treaty of Amity.
Nov. 5 – The U.S. Treasury re-imposed sanctions on Iran that had been lifted or waived in January 2016 under the JCPOA. The Office of Foreign Assets Control sanctioned more than 700 individuals, entities, aircraft, and vessels—its largest ever single-day action targeting Iran. The targets included banks, including Iran's Central Bank, the Iranian oil company, and many other key economic actors. Iran's leaders must cease support for terrorism, stop proliferating ballistic missiles, end destructive regional activities, and abandon their nuclear ambitions immediately if they seek a path to sanctions relief," said Treasury Secretary Steven Mnuchin.
Nov. 13 – Ambassador-at-Large Nathan Sales, the State Department's coordinator for counterterrorism, said that Tehran provides nearly one billion dollars a year to terrorist groups including Lebanese Hezbollah, Hamas in Gaza, the Houthis in Yemen, and various groups in Iraq and Syria. "We will continue to ratchet up the pressure until Iran comes to its senses, joins the community of civilized nations, and ends its support for murder and mayhem across the globe," Sales told an audience at the Washington Institute for Near East Policy.
Nov. 22 – The U.S. ambassador to the Organization for the Prohibition of Chemical Weapons (OPCW) alleged that Iran failed to declare all its chemical weapons to the group. "The United States is also concerned that Iran is pursuing Central Nervous System-Acting Chemicals for offensive purposes," Ambassador Kenneth Ward told participants at an OPCW conference. Iranian Foreign Minister Javad Zarif dismissed the U.S. claim. "US wants to resort to int'l conventions to make allegations against Iran when it's made a policy of violating them itself. WMD allegations—by a country that supported Iraq's use of CW against Iran; then invaded Iraq to allegedly rid it of them—is not just obscene, it's dangerous," said Zarif.
Nov. 29 – Brian Hook, the State Department's special representative for Iran, unveiled what he called new evidence of Iranian weapons proliferation. He delivered a briefing in front of a display of missiles, rockets, drones and other equipment that were allegedly transferred to the Houthis in Yemen or the Taliban in Afghanistan. "The new weapons we are disclosing today illustrate the scale of Iran's destructive role across the region. The same kind of rockets here today could tomorrow land in a public market in Kabul or an international airport," said Hook.
Dec. 1 – The United States condemned Iran's test of a medium range ballistic missile reportedly capable of striking parts of Europe and anywhere in the Middle East. "This test violates U.N. Security Council resolution 2231 that bans Iran from undertaking 'any activity related to ballistic missiles designed to be capable of delivering nuclear weapons, including launches using such ballistic missile technology,'" claimed Secretary of State Mike Pompeo. "Making a mockery of the UNSC won't obscure failure to fulfill obligations & to hold US to account over non-compliance. Esp when even US admits that UNSCR2231 does NOT prohibit Iran's deterrent capabilities. Rather than undermining 2231, better to work towards its adherence by all," replied Iranian Foreign Minister Javad Zarif. Resolution 2231 only "calls upon" Iran to not test missiles designed to be capable of delivering nuclear weapons.
2019
Jan. 10 – In a major speech in Cairo, Secretary of State Mike Pompeo highlighted two primary goals for the Middle East: defeating ISIS and containing Iran's influence. "In Syria, the United States will use diplomacy and work with our partners to expel every last Iranian boot, and work through the U.N.-led process to bring peace and stability to the long-suffering Syrian people," he said.
Jan. 15 – Iran attempted and failed to launch a Payam satellite into orbit. On February 6, Iran tried and failed again to launch a Doosti satellite into orbit. Iranian officials claimed that their satellite program is solely for peaceful purposes. The U.S. State Department condemned both launches, alleging that they violated UN Security Council Resolution 2231 by incorporating ballistic missile technology into their rocket design. 
Jan. 29 – U.S. Intelligence agencies released their annual Worldwide Threat Assessment and discussed Iran during a Senate hearing. "We continue to assess that Iran is not currently undertaking the key nuclear weapons-development activities we judge necessary to produce a nuclear device," said the report. "Iran almost certainly will continue to develop and maintain terrorist capabilities as an option to deter or retaliate against its perceived adversaries," it added.
President Trump rejected the intelligence agencies' assessment. "The Intelligence people seem to be extremely passive and naive when it comes to the dangers of Iran. They are wrong!" he tweeted.
Jan. 31 – Britain, France, and Germany announced the establishment of a Special Purpose Vehicle (SPV) for European companies to facilitate trade with Iran. The entity, formally named the Instrument in Support of Trade Exchanges (INSTEX), was designed to facilitate trade with Iran in humanitarian goods that are exempt from U.S. sanctions under the Trade Sanction Reform and Export Enhancement Act of 2000. INSTEX enabled firms to barter those goods with Iran, thereby avoiding transactions in U.S. dollars.
Feb. 2 – Iran unveiled a new surface-to-surface cruise missile during celebrations leading up to the 40th anniversary of the Islamic Revolution. State television claimed that the new Hoveizeh missile had a range of 810 miles. On February 7, IRGC Commander Mohammed Ali Jafari unveiled the Dezful short-range ballistic missile, with a reported range of 621 miles. Jafari also announced the establishment of an underground facility in Iran for mass-producing precision missiles. On February 11, President Hassan Rouhani addressed the nation. "We have not –and will not- ask for permission from anybody for improving our defensive power. We will continue this path and I say this clearly to the people of Iran that Iran's military power in the past 40 years, especially in the recent 5 years has amazed the entire world," he said.
Feb. 4 – President Trump said that U.S. forces departing Syria would shift to bases in Iraq to "watch" Iran, in an interview with CBS news. Iraqi leaders quickly condemned his remark. "Do not burden Iraq with your own policy priorities," said Iraqi President Barham Salih. On March 11, President Hassan Rouhani arrived in Iraq for a three-day visit. It was his first official visit to Iran's western neighbor. Rouhani's meetings with top political, military, community, and religious leaders clearly signaled that Iran's relationship with Iraq will remain strong despite U.S. concerns. Rouhani also secured a rare meeting with Ayatollah Sayyid Ali al Sistani, Iraq's most influential Shiite cleric. 
Feb. 14 – Vice President Mike Pence demanded that European countries join the United States in withdrawing from the JCPOA during a Middle East conference that the United States co-hosted in Warsaw, Poland. On the same day, a suicide bombing in the Iranian province of Sistan and Baluchestan killed 27 IRGC soldiers. Iranian President Hassan Rouhani blamed the United States and Israel for the attack.
Feb. 17 – Iranian Foreign Minister Javad Zarif accused the United States of "exporting insecurity" to the Middle East and trying to foment regime change in his country. In a defiant address at the Munich Security Forum, he condemned Washington for reimposing sanctions and withdrawing from the 2015 nuclear deal. "To gain accomplices in its lawlessness, the U.S. is now even laboring to force others to violate that Resolution, which explicitly calls for normalization of economic relations with Iran," he said. Zarif argued that Washington has a "pathological obsession" with the Islamic Republic. He also claimed that Israel is "looking for war" through its activities in Syria.
March 5 – The U.S. State Department and Treasury sanctioned Harakat al Nujaba (HAN), an Iran-backed militia in Iraq, and its leader, Akram Abbas al Kabi. The State Department designated them as Specially Designated Global Terrorists. "These designations demonstrate the United States' unwavering commitment to isolate and deny funding to the Iranian regime's terrorist proxies," said the State Department.
Also on March 5, Ambassador Jackie Wolcott, the U.S. representative to the International Atomic Energy Agency (IAEA), called for a full accounting of Iran's past nuclear activities. "As we move forward, Iran must end its longstanding efforts to deny and conceal the reality of past nuclear weapons work. Our interest in resolving these issues is not to score political points, but to address critical verification issues with direct relevance to how we move forward," she said at the IAEA Board of Governors Meeting. Wolcott reiterated the Trump administration's offer of "full normalization of relationships with the international community" in return for a dramatic change in Iran's behavior.
March 7 – March 7, relatives of three Americans detained in Iran appealed to lawmakers and the Trump administration to do more to free their family members. Babak Namazi spoke on behalf of his father, Baquer, and brother, Siamak, who were sentenced to 10 years imprisonment for allegedly collaborating with a "hostile" government. The "situation for my family, and especially my seriously ill father, is critical and swiftly heading towards an irreversible tragedy unless something is done and done urgently," said Namazi.
March 14 – The State Department released its Report on Human Rights in Iran. Iran's human rights record "remained extremely poor and worsened in several key areas" in 2018, according to the report. Issues included executions of juvenile offenders, denial of fair trials, poor prison conditions, arbitrary imprisonment, invasion of privacy, severe restrictions on freedom of expression, and more. Iran is "one of the most serious human rights situations in the world, I think. When you read the report, it's just one abuse after another. Executing people for no – without any due process, the political system where this self-appointed group selects who can be the candidates, just terrible abuses of people, lots of political prisoners," said Ambassador Michael Kozak at the launch of the report.
March 20 – President Trump issued a message to people celebrating Nowruz, the Persian New Year, around the world, including in Iran. He used the occasion to criticize the Islamic Republic's government. "This year, as they have each year for the past four decades, they [Iranians] mark the arrival of spring under the heavy burden of the oppression of their country's ruthless and corrupt regime," he said. Iranian Foreign Minister Zarif, in a video message, retorted that the United States was using "medieval tactics" to "destroy" Iranian livelihoods.
March 22 – The U.S. State Department and Treasury sanctioned 31 Iranian entities and individuals linked to the Organization of Defensive Innovation and Research. The organization was founded by Mohsen Fakhrizadeh, who allegedly headed Iran's pre-2004 nuclear weapons program, in 2011. "SPND has employed as many as 1500 individuals – including numerous researchers associated with the Amad plan, who continue to carry out dual-use research and development activities, of which aspects are potentially useful for nuclear weapons and nuclear weapons delivery systems," according to the State Department. The designations serve as a "warning to individuals and entities considering dealing with the Iranian regime's defense sector in general, and SPND in particular: by engaging in sanctionable activity with designated Iranian persons, you risk professional, personal, and financial isolation," said the Treasury.
March 26 – The United States sanctioned a network of front companies that evaded U.S. sanctions to provide support to the Islamic Revolutionary Guard Corps (IRGC) and Iran's Ministry and Armed Forces Logistics (MODAFL). "The IRGC, MODAFL, and other malign actors in Iran continue to exploit the international financial system to evade sanctions, while the regime funds terrorism and other destabilizing activities across the region," said Treasury Secretary Steven Mnuchin.
April 2 – Secretary of State Mike Pompeo issued a statement that sympathized with the victims of flash floods across Iran, but also blasted Iran's government for mismanagement and its poor treatment of environmentalists. "On behalf of the American people, we offer our condolences to the victims of the recent floods in Iran. These floods once again show the level of Iranian regime mismanagement in urban planning and in emergency preparedness," the statement said. Iranian Foreign Minister Javad Zarif tweeted a response in which he accused Washington of "economic terrorism" because, he alleged, U.S. sanctions had prevented the transfer of funds to Iranian Red Crescent accounts.
April 8 – The United States announced the designation of the Islamic Revolutionary Guard Corps (IRGC) as a Foreign Terrorist Organization (FTO), effective April 15. The IRGC is Iran's most powerful military and security organization as well as a key economic player. "This unprecedented step, led by the Department of State, recognizes the reality that Iran is not only a State Sponsor of Terrorism, but that the IRGC actively participates in, finances, and promotes terrorism as a tool of statecraft," said President Trump. He noted that it was the "first time that the United States has ever named part of another government as a FTO." In response, Iran's Supreme National Security Council designated U.S. Central Command forces as terrorists and the U.S. as a "sponsor of terrorism."
April 22 – Secretary of State Pompeo announced that the United States will stop providing sanctions exemptions to countries that import Iranian oil. "We will continue to apply maximum pressure on the Iranian regime until its leaders change their destructive behavior, respect the rights of the Iranian people, and return to the negotiating table," said Pompeo. He noted that oil sales account for up to 40 percent of Iran's revenue. The Trump administration's stated goal was to bring Iranian exports down to zero.
April 24 – Foreign Minister Zarif ruled out negotiating a new nuclear deal with the United States. At an Asia Society event in New York City, Zarif said he did not think Trump wants a war with Iran. But Zarif implied that National Security Advisor John Bolton seeks conflict, with regime change as the overall goal. He claimed that "the B team" —Bolton, Israeli Prime Minister Benjamin Netanyahu, Saudi Arabia's Crown Prince Mohammed bin Salman and Abu Dhabi's Crown Prince Mohammed bin Zayed — is trying "to push Iran to take action" and then use the resulting conflict to weaken Iran. Zarif said "it's not a crisis yet, but it's a dangerous situation." But he warned that "accidents, plotted accidents are possible."
May 5 – National Security Advisor John Bolton announced the deployment of the USS Abraham Lincoln Carrier Strike Group and a bomber task force to the Middle East "to send a clear and unmistakable message to the Iranian regime that any attack on United States interests or on those of our allies will be met with unrelenting force." He said the move was in response to "a number of troubling and escalatory indications and warnings," but did not specify further. The White House did not specify what Iranian activities it was responding to, but they were widely reported by the media to be related to intelligence citing U.S. interests in Iraq, Syria, Yemen and the Persian Gulf. The deployment of the carrier strike group, however, was part of regularly scheduled deployment. 
May 8 – President Hassan Rouhani announced that Iran will stop complying with parts of the 2015 nuclear deal, known formally as the Joint Comprehensive Plan of Action (JCPOA). The move came on the one-year anniversary of the U.S. withdrawal from the agreement. In a televised speech to his cabinet, Rouhani said Iran would resume stockpiling excess uranium and heavy water used in its nuclear reactors. Rouhani also warned that Iran will remove caps on uranium enrichment and resume work at the Arak nuclear facility if Iran's oil and banking sectors are not protected from U.S. sanctions within 60 days. Rouhani expressed his impatience with the remaining parties to the JCPOA – Britain, China, France, Germany, and Russia. "We have given deadlines to JCPOA member states several times," he said. "In simpler language, we felt that there was a need for surgery and the one-year-old painkillers were not enough; today's action is a surgical procedure to save the JCPOA, not to end it."
May 8 – President Trump signed an executive order to impose sanctions on Iran's iron, steel, aluminum, and copper sectors. The White House statement noted that those metals are "the regime's largest non-petroleum-related sources of export revenue," some 10 percent. Trump warned that "Tehran can expect further actions unless it fundamentally alters its conduct."
May 9 – Acting Defense Secretary Patrick Shanahan reportedly presented an updated plan for 120,000 U.S. troops to be deployed to the region in the event of an Iranian attack on U.S. forces or sprint towards attaining a nuclear weapon, according to The New York Times. On May 14, President Trump said the report was "fake news." But he said that if the United States were to implement such a plan, "we'd send a hell of a lot more" troops. U.S. officials told NBC News that Shanahan had presented a range of options to Trump's national security team. 
May 10 – The Pentagon announced that additional forces would join the carrier group—the USS Arlington (capable of supporting amphibious assault, special operations or expeditionary warfare missions) and a Patriot missile defense battery. 
May 12 – Four ships off the coast of the United Arab Emirates (UAE) were reportedly sabotaged, including two Saudi Arabian oil tankers. One was due to take a delivery of Saudi oil to the United States. "Fortunately, the attack didn't lead to any casualties or oil spill; however, it caused significant damage to the structures of the two vessels," said Khalid al-Falih, the kingdom's energy minister. 
The UAE did not speculate on who might have been responsible, but the alleged attack came as the United States warned that "Iran or its proxies" could target maritime traffic in and around the Persian Gulf. Iran was the most likely culprit, according to a U.S. official who spoke with Reuters on condition of anonymity, but the United States did not offer conclusive proof. On May 13, Trump warned that Iran "will suffer greatly" if it attacks U.S. interests in the Gulf. "We will see what happens with Iran. If they do anything, it'll be a big mistake," he told the press. But Iran denied any involvement and accused the Trump administration officials of trying to frame it. Khamenei reiterated that his country was not interested in a military conflict with the United States. 
Iranian nation's definite option is resistance against U.S. and in this confrontation, U.S. will have to withdraw. This is not a military confrontation because no war is to happen. We don't seek a war nor do they. They know a war wouldn't be beneficial for them. pic.twitter.com/LVwlidej0X

— Khamenei.ir (@khamenei_ir) May 14, 2019
May 13 – Secretary Pompeo made an unscheduled detour to Brussels to brief European leaders on the Iranian threat. Pompeo met his E.U., French, German, and U.K. counterparts in separate bilateral meetings. "The secretary shared information and intelligence with allies and discussed the multiple plot vectors emerging from Iran," according to Special Representative for Iran Hook. Pompeo also met with NATO's secretary general. 
May 15 – The United States ordered the immediate departure of all non-emergency U.S. government employees from Iraq, citing security concerns. The U.S. Central Command (CENTCOM), which is responsible for U.S. military forces in the Middle East, contradicted a comment made a day earlier by Major General Chris Ghika, the British deputy commander of anti-ISIS coalition forces, that Iran-backed militias in Iraq did not pose an increased threat to coalition personnel. "Recent comments from OIR's Deputy Commander run counter to the identified credible threats available to intelligence from U.S. and allies regarding Iranian backed forces in the region," the CENTCOM statement said. 
The New York Times reported that photographs of missiles on small boats in the Persian Gulf were the cause of the White House's increased warnings about the threat from Iran. The concern was that the IRGC would fire them at U.S. naval vessels or disrupt commercial shipping. Intelligence also suggested American troops in Iraq could be targeted by militias with ties to Tehran. 
Secretary Pompeo spoke with Omani Sultan Qaboos bin Sa'id Al Sa'id about "Iranian threats to the Gulf region" in a telephone call. Oman, located next to the Strait of Hormuz, has historically been an interlocutor between Iran and the United States. 
A Saudi state-aligned newspaper, Arab News, published an op-ed calling for a surgical strike on Iran. It cited President Trump's decision to launch limited strikes on Assad forces as a precedent. 
EDITORIAL: In the considered view of this newspaper, there has to be deterrent and punitive action in order for Iran to know that no sinister act will go unpunished; that action, in our opinion, should be a calculated surgical strike. https://t.co/W5lMkIY9EX pic.twitter.com/suvwfizH0G

— Arab News (@arabnews) May 16, 2019
May 16 – President Trump welcomed Swiss President Ueli Maurer to the White House. When asked by the press if the United States was going to war with Iran, Trump responded, "I hope not." The two were going to discuss "matters such as Switzerland's role in facilitating diplomatic relations and other international issues," according to a White House statement. In the absence of formal diplomatic relations between Iran and the United States, the Swiss represent U.S. interests in Tehran. Switzerland has historically been an intermediary between the United States and Iran.  
Reporter: "Mr. President, are we going to war with Iran?"

President Trump: "I hope not" https://t.co/mxjfOAcjHH pic.twitter.com/pnoBla2B3w

— CNN (@CNN) May 16, 2019
U.K. Foreign Secretary Jeremy Hunt tweeted that he and Secretary Pompeo agreed on the "heightened threat posed by Iran." 
.@SecPompeo and I discussed #Iran last week in London and again in Brussels on Monday. We share the same assessment of the heightened threat posed by Iran. As always we work closely with the US 🇬🇧 🇺🇸

— Jeremy Hunt (@Jeremy_Hunt) May 16, 2019
Saudi Prince Khalid bin Salman, the kingdom's defense minister, blamed Iran for the attack on the oil pipeline in a tweet. 
The terrorist acts, ordered by the regime in Tehran, and carried out by the Houthis, are tightening the noose around the ongoing political efforts.

— Khalid bin Salman خالد بن سلمان (@kbsalsaud) May 16, 2019
Two U.S. Navy destroyers, the U.S.S. McFaul and the U.S.S. Gonzalez, safely traveled through the Strait of Hormuz unhindered. 
May 17 – The IRGC deputy for parliamentary affairs warned that U.S. forces in the Gulf are vulnerable. "Even our short-range missiles can easily reach (U.S.) warships in the Persian Gulf," said Mohammad Saleh Jokar, according to Fars News Agency via Reuters. "America cannot afford the costs of a new war, and the country is in a bad situation in terms of manpower and social conditions."
A senior Iranian military official criticized the U.S. strategy on Iran. "The actions of American leaders in exerting pressure and launching sanctions ... while speaking of talks, is like holding a gun at someone and asking for friendship and negotiations," said Armed Forces Command Political Deputy Rasoul Sanai-Rad, according to Mehr News Agency via Reuters. 
On Twitter, a senior Iranian lawmaker suggested developing a mechanism to prevent U.S.-Iran tensions from boiling over. 
Head of Iran Parliament's foreign policy committee Heshmatollah Falahatpisheh says: Top leaders of Iran and US have rejected war but there are other players who can't wait to destroy a big part of world. Must set up an emergency desk in Iraq or Qatar to control tensions. https://t.co/TrQne6YDJc

— Negar Mortazavi (@NegarMortazavi) May 17, 2019
Foreign Minister Zarif commented on reports that President Trump did not necessarily agree with Bolton's stance on Iran. 
With the #B_Team doing one thing & @realDonaldTrump saying another thing, it is apparently the U.S. that "doesn't know what to think".
We in Iran have actually known what to think for millennia—and about the U.S., since 1953.
At this point, that is certainly "a good thing!"

— Javad Zarif (@JZarif) May 17, 2019
President Trump, in a tweet, accused the press of publishing inaccurate reports about Iran. 
The Fake News Media is hurting our Country with its fraudulent and highly inaccurate coverage of Iran. It is scattershot, poorly sourced (made up), and DANGEROUS. At least Iran doesn't know what to think, which at this point may very well be a good thing!

— Donald J. Trump (@realDonaldTrump) May 17, 2019
U.S. officials told NBC News that an intelligence assessment, including photographs and forensics, found it was "highly likely" that Iran or one of its proxies were responsible for the tanker attack.
A Defense Department official and a congressional official told The New York Times that Iran unloaded missiles from at least two small boats in its territorial waters. The move was seen as a de-escalation in tensions. 
May 19 – In a tweet, President Trump warned Iran against threatening the United States.
If Iran wants to fight, that will be the official end of Iran. Never threaten the United States again!

— Donald J. Trump (@realDonaldTrump) May 19, 2019
Saudi Minister of State for Foreign Affairs Adel al Jubeir told reporters that his country "does not want war in the region and does not strive for that… but at the same time, if the other side chooses war, the kingdom will fight this with all force and determination and it will defend itself, its citizens and its interests."
May 20 – Foreign Minister Zarif shot back at President Trump with two tweets, one accusing the United States of "economic terrorism" for its implementation of unilateral sanctions and another claiming that National Security Advisor Bolton was pushing for war. 
Goaded by #B_Team, @realdonaldTrump hopes to achieve what Alexander, Genghis & other aggressors failed to do. Iranians have stood tall for millennia while aggressors all gone. #EconomicTerrorism & genocidal taunts won't "end Iran". #NeverThreatenAnIranian. Try respect—it works!

— Javad Zarif (@JZarif) May 20, 2019
.@realDonaldTrump rightly deplores "military-industrial complex" pushing U.S. to #ForeverWars

But allowing #B_Team to trash diplomacy & abet war crimes—by milking despotic butchers via massive arms sales—achieves nothing but empowering that same complex.

Time to #DrainTheSwamp?

— Javad Zarif (@JZarif) May 20, 2019
A Katyusha rocket was fired into Baghdad's Green Zone, a heavily fortified area that houses Iraqi government offices and foreign embassies. It fell near the U.S. Embassy but did not harm anyone, according to the Iraqi military. A State Department official warned that the United States would hold Iran responsible for any attacks conducted by proxy militia forces, according to Reuters. No group claimed responsibility for the attack. 
Omani Foreign Minister Yusuf bin Alawi visited Tehran and met Foreign Minister Zarif. The two discussed a range of bilateral, regional and international issues, according to Fars News Agency.  
President Rouhani said that he favors negotiations and diplomacy over conflict but that the conditions were not ripe for U.S.-Iran talks. "In my visit last year to the United Nations, five well-known world leaders approached us to mediate a negotiation with U.S. President. Their State Department also sent requests to us eight times, but today is not the time of negotiation at all, but resistance and steadfastness," he told clerics and seminary students. "To reach our high goals and reduce problems, we all need to be united and unanimous and feel that we are at an economic war in which we need to help each other," he added. 
Iran announced that it had quadrupled its uranium-enrichment production capacity. Officials emphasized that uranium would not be enriched beyond the 3.67 percent limit delineated by the 2015 nuclear deal. Uranium at that level of enrichment can be used for energy production. Uranium must be enriched to at least 90 percent for use in weapons.
May 22 – Heshmatollah Falahatpisheh, the chairman of Parliament's national security and foreign policy committee said that Iran will "under no circumstances" enter a war with the United States. "No group can announce that it has entered a proxy war from Iran's side," he said, according to ILNA via the Associated Press. 
Supreme Leader Khamenei's website posted a graphic on the website calling the U.S. deployment of forces a "futile uproar." It melded a photograph of an aircraft carrier and a megaphone together with a crosshair superimposed on top. 
U.S. officials, on condition of anonymity, said that the Pentagon will present plans to the White House to send up to 10,000 more soldiers to the Middle East. They told the Associated Press that the requested deployment was not in response to any new threat from Iran but would help buttress security in the region. 
May 23 – Secretary Pompeo reiterated that U.S. forces were ready to respond to an attack on American interests in the region. "You can be sure that President Trump will ensure that we have all the resources necessary to respond in the event that the Islamic Republic of Iran should decide to attack Americans or American interests or some of our great soldiers, sailors, airmen, Marines, who are serving in that region, or the diplomats serving in Iraq or elsewhere. The exact force posture, the President is looking at every day. We're evaluating the risks, making sure that we have it right," he said in an interview with "Fox & Friends." This is an important mission. We have 40 years of terror coming out of the Islamic Republic of Iran, and President Trump is determined to change the course of that regime.
In the afternoon, Acting Secretary of Defense Shanahan said Washington was focused on enhancing "force protection," which "may involve sending additional troops." He said that the numbers circulated in media reports were false. "There is no 10,000 and there is no 5,000, that's not accurate," he said.
Major General Mohammad Baqeri, chief of staff of Iran's armed forces, promised a "hard, crushing and obliterating response" for any U.S. "adventurism." The "face-off of the Islamic Republic of Iran and the malicious government of America is the arena for a clash of wills," he said, according to Fars News Agency via Reuters. 
President Rouhani vowed that Iran would never capitulate to U.S. pressure even if it is bombed. "We need resistance, so our enemies know that if they bomb our land, and if our children are martyred, wounded or taken as prisoners, we will not give up on our goals for the independence of our country and our pride," she said at a ceremony commemorating the 1980-1988 war with Iraq. 
May 24 – Acting Secretary of Defense Shanahan confirmed that 1,500 additional troops will be deployed to the region. 
The @DeptofDefense has informed Congress I approved the combatant commander's request to deploy approximately 1,500 additional troops & defensive capabilities to the @CENTCOM area to increase our force protection posture. This is a prudent response to credible threats from Iran.

— Acting SecDef Pat Shanahan (@ActingSecDef) May 24, 2019
At a press briefing, the Pentagon clarified that 900 additional troops will be sent to the region and 600 personnel manning Patriot missile batteries would have their deployment extended. Acting Assistant Secretary of Defense Katie Wheelbarger emphasized that U.S. policy with respect to Iran had not changed. "As the president and the secretary have been clear, we do not seek conflict with Iran. We do not see these additional capabilities as urging hostilities. We see them as defensive in nature," she said. Rear Admiral Michael Gilday, the director of the Joint Staff, said the IRGC was responsible for the attack on tankers earlier in May. He said limpet mines were used but did not specify how they were delivered. 
President Trump told reporters that he didn't think Iran was interested in a conflict. "Right now I don't think Iran wants to fight and I certainly don't think they want to fight with us. But they cannot have nuclear weapons and under the Obama horrible agreement they would have had nuclear weapons within five or six years. They can't have nuclear weapons and they understand that," he said. 
Secretary Pompeo issued an emergency notification of arms sales to Jordan, the UAE and Saudi Arabia. "These sales will support our allies, enhance Middle East stability, and help these nations to deter and defend themselves from the Islamic Republic of Iran," he said. He invoked a seldom used executive authority that would bypass the usual arms review process with Congress. Pompeo said he intended the transfers, worth some $8 billion, to be a "one-time event." 
Oman's Foreign Ministry said it was working to ease tensions between Iran and the United States. It tweeted remarks made by Foreign Minister Alawi in an interview with Al-Sharq Al-Wasat. Alawi warned that war "could harm the entire world if it breaks out." 
May 26 – Iraqi Foreign Minister Mohammed al Hakim said his country would like to help deescalate tensions between Iran and the United States. "We are trying to help and to be mediators," he said at a joint press conference with Iranian Foreign Minister Zarif. Hakim added that Baghdad does not approve of unilateral steps taken by Washington. Zarif called for a non-aggression pact between Iran and the Arab Gulf states. 
May 27 – President Trump reiterated that United States is not seeking regime in Iran.  "We're not looking for regime change. I want to make that clear," he said at a joint press conference with Japanese Prime Minister Shinzo Abe. "We're looking for no nuclear weapons." Trump added that he was willing to negotiate with Iran. "I do believe Iran would like to talk, and if they'd like to talk, we'll talk also. . . . Nobody wants to see terrible things happen, especially me."
May 28 – When asked about Trump's comments, Iranian Foreign Ministry spokesman Abbas Mousavi said that he didn't see any prospect of negotiating with Washington. 
National Security Advisor Bolton arrived in the UAE to discuss regional security matters. 
Just landed in the UAE. Looking forward to meeting with our Emirati allies tomorrow to discuss important and timely regional security matters.

— John Bolton (@AmbJohnBolton) May 28, 2019
May 29 – President Rouhani suggested that talks with the United States may be possible if it lifts sanctions on Iran. "Whenever they lift the unjust sanctions and fulfill their commitments and return to the negotiations table, which they left themselves, the door is not closed," he said in remarks broadcast on state media. 
National Security Advisor Bolton told reporters that it was "clear that Iran is behind" the attack on tankers. "There's no doubt in anybody's mind in Washington who's responsible for this," he added. "Who else would you think is doing it? Someone from Nepal?" Bolton did not provide evidence. Iran's foreign ministry spokesman, Abbas Mousavi, called the charge "ludicrous."
In a speech to academics, Supreme Leader Khamenei said negotiating with the United States was pointless and detrimental. He said Iran would not negotiate on the core values of the Islamic Revolution or give up military capabilities. "The only way for us is to apply our tactics of pressure in face of the pressures that the U.S. applies. Contrary to their propaganda, these tactics are not military--though we might use military means if we find it necessary."
There's a consensus among executive officials that negotiating with U.S. is absolutely not advised. Obama's govt didn't essentially differ, it only had a different appearance. We won't be deceived by U.S. https://t.co/LkpXdMbyEt

— Khamenei.ir (@khamenei_ir) May 29, 2019
May 30 – National Security Advisor Bolton, when asked about reports that his views on Iran differed from those of President Trump, said the United States was not pursuing a policy of regime change. "That's the fact and everybody should understand it that way" he told reporters. Bolton also said that the deployment of U.S. forces to the Persian Gulf seemed to "serve as a deterrent" against Iranian aggression. He blamed Tehran for drone attacks in Saudi Arabia perpetrated by Houthi rebels. 
May 30-31 – Saudi Arabia, a key U.S. partner in the region, hosted an emergency summit of Arab leaders in Mecca. King Salman urged the international community to use "all means to stop the Iranian regime from interfering in the internal affairs of other countries." Communiques from Gulf Cooperation Council and Arab League member states supported the right of Saudi Arabia and the UAE to defend their interests following attacks on tankers and an oil pipeline. "Iran should respect the sovereignty of Arab states and stop interfering in the affairs of countries, which is threatening security and stability in the region," said the Arab League statement. 
June 2 – A Japanese paper, the Mainichi Shimbun, reported that Prime Minister Shinzo Abe will meet with Iranian President Hassan Rouhani and Supreme Leader Ayatollah Ali Khamenei in an effort to mediate between Tehran and Washington. Abe was slated to visit Iran from June 12 to 14. Japan, a key U.S. ally, has historically had positive relations with the Islamic Republic. It was a major purchaser of Iranian oil before U.S. sanctions went into effect following Washington's withdrawal from the nuclear deal in 2018.
Abe to meet Iran's Khamenei to mediate with U.S.: report https://t.co/5bxxsheabo pic.twitter.com/asp5jAwQjr

— Japan Today News (@JapanToday) June 2, 2019
Secretary Pompeo, in a press conference with his Swiss counterpart, said the United States was "prepared to engage in a conversation with no preconditions" with Iran. "But the American effort to fundamentally reverse the malign activity of this Islamic republic, this revolutionary force, is going to continue," he said.
Swiss Foreign Minister Iganzio Cassis said his country would be happy to serve as an intermediary, but not a "mediator," since that would require requests from Tehran and Washington. "Both parties are now increasing the pressure, and for the rest this is a matter of worry, but we cannot do anything unless we get a mandate from both parties," he told the press.
June 3 – Secretary Pompeo clarified that that the United States would talk to Iran if it was ready to have a conversation about wide-ranging changes to its domestic and foreign policy. He told Radio Television Suisse:
We want them to cease their nuclear weapons programs and put a permanent halt to them. We want them to stop building up their missile systems in ways that present a threat to places like Switzerland. We want them to cease their terror campaign around the world that has displaced millions of people and killed hundreds of thousands of people. This is what we're asking from Iran. And so when Iran is ready to have that conversation, a conversation about them seriously engaging as a nation in a normal way, we're ready to have that conversation. It'll happen at every level.
Secretary Pompeo canceled a visit to Germany to make an unannounced trip to Iraq. He met with Prime Minister Adil Abd al Mahdi, President Barham Salih and other ranking officials during his roughly four hours in Baghdad. The United States "wanted to let them know about the increased threat stream [from Iran and its proxies] that we had seen and give them a little bit more background on that so they could ensure that they were doing all they could to provide protection for our team," he told reporters. "The central messages are this: We want to make sure that Iraq is positioned so that the relationship that we've built with them and that our allies in the region have built with them -- allies that range all across the Gulf, who understand that the primary threat in the Middle East is Iran -- remains strong, that those relationships remain strong," Pompeo added. He also said that, in his meetings, he emphasized that Iraq should not depend on Iran for electricity.
June 4 – Supreme Leader Khamenei said Iran would not be "deceived" by President Trump's offer to negotiate. In a speech marking the 30th anniversary of the death of revolutionary leader Ruhollah Khomeini, the current supreme leader said Tehran would not relinquish its missile program. "They know that we have achieved deterrence, that we have achieved stability. They want to take this away from the country, and of course, they can never do that," he added. 
#Iran's leader says Iran is not after a conflict with #US. When people started to chant slogan of "neither compromise, nor surrender, but battle against the US", the leader reacted by saying, "pay attention! Now, we don't discuss battle. The issue is resistance." pic.twitter.com/eoDCX0UxUY

— Abas Aslani (@AbasAslani) June 4, 2019
President Trump, in an interview with Piers Morgan on British television, reiterated his preference to avoid taking military action against Iran. "I'd rather not. But there's always a chance," he said. Trump said he would be willing to speak with President Rouhani. 
June 6 – General Frank McKenzie, the commander of U.S. Central Command, met with Iraqi officials in Baghdad. Afterwards, he told NBC News that threat from Iran and its proxies was "imminent" and had not diminished. "I believe the threat is still very real," he said in an exclusive interview. "They probe for weakness all the times," McKenzie added. "I would say the threat has probably evolved in certain ways even as our defensive posture has changed and become more aggressive, and we certainly thank our Iraqi partners for many of the things they've done." He told the Associated Press that the U.S. deployment of additional forces may have "caused the Iranians to back up a little bit" but that he was "not sure they are strategically backing down."
June 10 – Foreign Minister Zarif warned that the United States "cannot expect to stay safe" after waging what he called an "economic war" against Iran. "The only solution for reducing tensions in this region is stopping that economic war," he said during a visit by his German counterpart. "Whoever starts a war with us will not be the one who finishes it," he added. The combative language was uncharacteristic of the top diplomat. 
Frank talks with @HeikoMaas. Welcome German recognition that practical measures to ensure Iran's economic dividends are essential to preserve #JCPOA.
We concurred that dialog among regional countries is crucial.
But @realDonaldTrump's "economic war" is THE cause of all tensions. pic.twitter.com/TISkhg89ME

— Javad Zarif (@JZarif) June 10, 2019
June 11 – Iran released Nizar Zakka, a Lebanese national and permanent U.S. resident, from prison. The information and communications technology expert was detained in Tehran on his way to the airport in September 2015. He was reportedly invited by the Iranian government to Tehran for a business conference focusing on entrepreneurship. But he was convicted of spying for the U.S. government. In 2016, Zakka's lawyer announced that he had been sentenced to 10 years in prison and $4.2 million fine for collaborating against the state. 
Zakka's release followed intense negotiations between Lebanese and Iranian officials. Hezbollah, the Lebanese Shiite political movement and militia, facilitated as well. Hezbollah is part of Lebanon's coalition government but is also a close ally of Iran. It was established with the assistance of the Islamic Revolutionary Guard Corps in the 1980s. Fars News Agency said Zakka was released thanks to mediation by Hezbollah's leader Hassan Nasrallah "and the respect Tehran pays him."
Zakka's son met with Secretary of State Pompeo earlier in 2019, but U.S. officials did not acknowledge any specific U.S. efforts to release Zakka, according to The New York Times. 
In the picture below, Zakka (left) is on plane bound for Beirut with the Lebanese director general of public security.  
المدير العام للأمن العام #اللواء_عباس_ابراهيم في الطريق من طهران الى لبنان يرافقه نزار زكا بعد إطلاق سراحه من قبل السلطات الإيرانية، على أن يتوجها عند الوصول الى قصر بعبدا. pic.twitter.com/wzYaGMdBn0

— الأمن العام اللبناني (@DGSG_Security) June 11, 2019
U.S. Ambassador Jackie Wolcott claimed that Iran was in breach of the JCPOA after a U.N. nuclear watchdog report found that it had installed 33 advanced centrifuges. The agreement allows Iran to test 30. "The United States calls on Iran to return to compliance without delay. We understand the JCPOA Joint Commission is treating this issue with the seriousness it deserves, and we urge the JCPOA participants to address this issue as soon as possible," she told the governing board of the International Atomic Energy Agency. But Wolcott also said Washington was open to talks with Tehran toward reaching a more comprehensive agreement. 
June 12 – Japanese Prime Minister Shinzo Abe arrived in Tehran and warned that an "accidental conflict" could break out between Iran and the United States. "At the moment tension is rising. We should do anything we can to prevent an accidental conflict from happening and Iran should play its constructive role," Abe told journalists after a meeting with President Rouhani. "There is possibility of an accidental conflict and a military conflict should be prevented at all costs." Rouhani, however, warned that Iran would field a "crushing" response to a U.S. attack. 
June 13 –Two more tankers were attacked in the Gulf of Oman. The Persian Gulf flows through the Strait of Hormuz into the Gulf of Oman. After the attack, the tanker association INTERTANKO warned about dangers to global energy trade. "Following two attacks on Member vessels this morning, I am extremely worried about the safety of our crews going through the Strait of Hormuz," said INTERTANKO chairman Paolo d'Amico. "We need to remember that some 30 percent of the world's (seaborne) crude oil passes through the Straits. If the waters are becoming unsafe, the supply to the entire Western world could be at risk," he added. Within hours, the latest attacks pushed oil prices up by as much as four percent.
The two tankers – one owned by Japan and one owned by Norway – were attacked near the Strait of Hormuz in the Gulf of Oman. The second ship, the Front Altair, may have been targeted by a torpedo, according to CPC Corp, which chartered the ship. The Front Altair's crew of 23 were reportedly rescued by the Hyundai Dubai vessel and were transferred to an Iranian navy vessel bound for the Iranian port of Bandar Abbas. Iranian state media claimed that all 44 crew members from both ships were rescued by Iranian teams.
The U.S. Navy deployed in the region offered aid in dealing with the two damaged tankers. "U.S. Naval Forces in the region received two separate distress calls at 6:12 a.m. local (Bahrain) time and a second one at 7:00 a.m. U.S. Navy ships are in the area and are rendering assistance," a U.S. Navy spokesman said.
Secretary of State Mike Pompeo blamed the attacks – and other incidents in Iraq and Afghanistan – on Iran. He said the U.S. judgement was based on intelligence, "weapons used, the level of expertise needed to execute the operation, recent similar Iranian attacks on shipping, and the fact that no proxy group operating in the area has the resources and proficiency to act with such a high degree of sophistication."
BREAKING: Sec. Pompeo says the US blames Iran for the attacks on 2 tanker ships in the Gulf of Oman today. https://t.co/oAIxR89P7b pic.twitter.com/pdWBjgqYyS

— MSNBC (@MSNBC) June 13, 2019
Reports of the attack coincided with Japanese Prime Minister Shinzo Abe's meeting with Iranian Supreme Leader Ayatollah Ali Khamenei on June 13. Iranian Foreign Minister Mohammad Javad Zarif said the timing was beyond "suspicious." Abe was on a mission to deescalate tensions between Iran and the United States. But Khamenei told Abe that there was no point in responding to a message conveyed by Abe from President Trump, who visited Japan on May 27 . "I do not see Trump as worthy of any message exchange, and I do not have any reply for him, now or in future," Khamenei told Abe, according to Iranian state media.
You said Mr. @abeshinzo, that Trump has said negotiations with the U.S. would lead to Iran's progress. By the Grace of God, without negotiations & despite sanctions, we will progress.

— Khamenei.ir (@khamenei_ir) June 13, 2019
President Trump responded with a tweet:
While I very much appreciate P.M. Abe going to Iran to meet with Ayatollah Ali Khamenei, I personally feel that it is too soon to even think about making a deal. They are not ready, and neither are we!

— Donald J. Trump (@realDonaldTrump) June 13, 2019
In the evening, U.S. Central Command (CENTCOM) released a video allegedly showing Iranian sailors removing a mine from the Kokura Courageous' hull. 
Iranian Foreign Ministry Spokesman Abbas Mousavi called U.S. accusations against Tehran "alarming." "We are responsible for ensuring the security of the Strait and we have rescued the crew of those attacked tankers in the shortest possible time," he said in an interview with Iranian state radio.
June 14 – President Trump, in an interview on "Fox & Friends," accused Iran of perpetrating the attacks. "Iran did do it," he said. "They didn't want the evidence left behind. They don't know that we have things that we can detect in the dark that work very well. We have that. It was them that did it," he added, referring the CENTCOM video. 
June 15 – President Rouhani reiterated his warning that Iran will  "terminate the implementation of some of its obligations" under the JCPOA unless other signatories show "positive signals." Iran "cannot stick to this agreement unilaterally," he told Chinese, Russian and other Asian leaders at Conference on Interaction and Confidence Building Measures in Asia (CICA).
June 17 – A spokesman for Iran's atomic energy agency announced that Iran will surpass the JCPOA's low-enriched uranium stockpile limit on June 27. Behrouz Kamalvandi accused European countries of "killing time" rather than moving to ensure Iran would derive significant economic benefits from the nuclear deal. "If this condition continues, there will be no deal" anymore, he warned. 
U.S. Central Command (CENTCOM) released high-resolution photos allegedly showing an IRGC boat removing an unexploded mine from the Kokuka Courageous. Additional photos showed a magnetic device that the mine was attached to and damage to the tanker's hull. 
Pentagon releases new color photos it says is proof Iran was behind last week's attack on two oil tankers in the Gulf of Oman. https://t.co/OZh9hYfWaQ

— ABC News (@ABC) June 18, 2019
Acting Defense Secretary Shanahan authorized the deployment of 1,000 additional troops to the Middle East. "The recent Iranian attacks validate the reliable, credible intelligence we have received on hostile behavior by Iranian forces and their proxy groups that threaten United States personnel and interests across the region," he said. Shanahan reiterated that the United States was not seeking a conflict with Iran and that the action was solely "defensive."
President Trump referred to recent Iranian attacks as "very minor" in an interview with Time. "If you look at the rhetoric now compared to the days when they were signing that agreement [the 2015 nuclear deal], where it was always 'death to America, death to America, we will destroy America, we will kill America,' I'm not hearing that too much anymore, and I don't expect to," he added.
June 18 – President Hassan Rouhani declared that Iran "will not wage war on any nation," after the United States announced the deployment of 1,000 additional troops to the region.  "Despite all of the Americans' efforts in the region and their desire to cut off our ties with all of the world and their desire to keep Iran secluded, they have been unsuccessful," he said in a speech on state television.
IRGC Commander Hossein Salami claimed that Iranian missiles were capable of hitting "carriers in the sea" and "difficult to intercept." He added that improved Iranian missile technology had altered the balance of power in the region.
June 19 – The secretary of Iran's Supreme National Security Council, Ali Shamkhani, emphasized that there will not be a war with the United States. "There will not be a military confrontation between Iran and America since there is no reason for a war. Accusing other countries has turned into a common practice among U.S. officials as they try to pressure other counties," he said.
The U.S. Navy presented limpet mine fragments that allegedly linked Iran to the attack on the Kokuka Courageous. "The limpet mine that was used in the attack is distinguishable and also strikingly bearing a resemblance to Iranian mines that have already been publicly displayed in Iranian military parades," said Sean Kido, commanding officer of an explosive ordnance dive and salvage task group in the U.S. Naval Forces Central Command (NAVCENT).
June 20 - At around 4:05 a.m. (local time), Iranian forces shot down a U.S. military drone over or near the Strait of Hormuz. It marked a significant escalation in tensions between Iran and the United States. The countries had conflicting versions of what happened. The Islamic Revolutionary Guard Corps (IRGC) claimed it downed an RQ-4 Global Hawk after it violated Iranian airspace. But CENTCOM characterized the incident as "an unprovoked attack on a U.S. surveillance asset in international airspace."
President Trump said that he thought someone "loose and stupid" shot down the drone. "We didn't have a man or woman in the drone. It would have made a big, big difference."
Iran made a very big mistake!

— Donald J. Trump (@realDonaldTrump) June 20, 2019
June 21 – President Trump ordered a retaliatory strike on Iranian radar and missile batteries, but called off the attack at the last minute. "Planes were in the air and ships were in position, but no missiles had been fired when word came to stand down," according to a senior administrative official.
Later that morning, Trump confirmed that he had aborted the operation in a series of tweets:
....On Monday they shot down an unmanned drone flying in International Waters. We were cocked & loaded to retaliate last night on 3 different sights when I asked, how many will die. 150 people, sir, was the answer from a General. 10 minutes before the strike I stopped it, not....

— Donald J. Trump (@realDonaldTrump) June 21, 2019
Tehran claimed that it had refrained from shooting down a U.S. military aircraft with 35 people on board. "With the U.S. drone in the region there was also an American P-8 plane with 35 people on board. This plane also entered our airspace and we could have shot it down, but we did not," said Amirali Hajizadeh, head of the IRGC aerospace division.
June 22 – The Department of Homeland Security said that it had observed a rising number of malicious cyber activities directed at U.S. government agencies by Iranian state actors and proxies. "What might start as an account compromise, where you think you might just lose data, can quickly become a situation where you've lost your whole network," Cybersecurity and Infrastructure Security Agency Director Christopher C. Krebs said in a statement. 
The Associated Press reported that U.S. Cyber Command launched a strike against Iranian military computer systems on June 21. The cyber attack disabled IRGC computer systems that controlled rocket and missile launchers, according to three officials who spoke on condition of anonymity.
Iran executed Jalal Hajizavar, a former defense ministry employee, on charges of spying for the Central Intelligence Agency. Iranian state media reported that Hajizavar had "openly confessed" to the espionage charges after spying equipment and documents were found in his home. On June 18, the United States, however, denied Iran's claims that it had dismantled a spying network. 
Iran Foreign Minister Javad Zarif tweeted additional maps depicting the alleged location of the downed U.S. drone. 
LEGEND: blue=drone; yellow line=Iranian FIR; red line=Iranian territorial waters; ; green line=baseline internal waters; yellow dots=Iran radio warnings sent; red dot=point of impact. pic.twitter.com/Fs2jadCuoq

— Javad Zarif (@JZarif) June 22, 2019
One last visual: Red dot is the impact point of the trespassing drone against the border of Iran; and the border of the United States. pic.twitter.com/nqVYI6EmkL

— Javad Zarif (@JZarif) June 22, 2019
June 24 – Iran's minister for information and communications said that U.S. cyber attacks reported by the media had failed. "They try hard, but have not carried out a successful attack," said Mohammad Javad Azari Jahromi in a tweet. "Last year we neutralized 33 million attacks with the (national) firewall."
U.S. Special Representative for Iran Hook told reporters that "Trump is very willing to sit down with the [Iranian] regime." He accused Tehran of rejecting diplomacy and said Washington was seeking a treaty that would be ratified by Congress. Hook was in Oman on a tour of Gulf states. 
Secretary of State Pompeo tweeted a picture of himself and King Salman bin Abdulaziz Al Saud during a meeting in Saudi Arabia. The two discussed heightened tensions in the region and need to promote maritime security in the Strait of Hormuz. Pompeo was in the region to recruit allies to participate in Sentinel, program to monitor threats from Iran. After his visit to the kingdom, Pompeo met Mohammed bin Zayed, the crown prince of Abu Dhabi.
Productive meeting with King Salman bin Abdulaziz Al Saud today to discuss heightened tensions in the region and the need to promote maritime security in the Strait of Hormuz. Freedom of navigation is paramount. pic.twitter.com/efuZq5EOpK

— Secretary Pompeo (@SecPompeo) June 24, 2019
President Trump signed an Executive Order imposing sanctions on the office of Supreme Leader Ayatollah Ali Khamenei. "The Supreme Leader of Iran is one who ultimately is responsible for the hostile conduct of the regime," he said. But Trump also held out the prospect of diplomacy. "America is a peace-loving nation. We do not seek conflict with Iran or any other country. I look forward to the day when sanctions can be finally lifted and Iran can become a peaceful, prosperous, and productive nation. That can go very quickly; it can be tomorrow. It can also be in years from now," he added. "So I look forward to discussing whatever I have to discuss with anybody that wants to speak."
After Trump signed the Executive Order, Treasury Secretary Steven Mnuchin announced sanctions on eight senior IRGC commanders. He said the move would lock up billions of dollars in Iranian assets and affect others in the chain of command. Mnuchin charged that the commanders "are responsible for the Iranian regime's provocative attacks orchestrated in internationally recognized waters and airspace, as well as Iran's malign activities in Syria."
June 25 – President Rouhani dismissed U.S. sanctions targeting Tehran's leadership as "outrageous and idiotic." He added that the Trump administration is "afflicted with mental retardation and does not know what to do." Rouhani said the move closed "the doors of diplomacy" between Iran and the United States. 
President Trump responded with a string of tweets:
Iran leadership doesn't understand the words "nice" or "compassion," they never have. Sadly, the thing they do understand is Strength and Power, and the USA is by far the most powerful Military Force in the world, with 1.5 Trillion Dollars invested over the last two years alone..

— Donald J. Trump (@realDonaldTrump) June 25, 2019
....The wonderful Iranian people are suffering, and for no reason at all. Their leadership spends all of its money on Terror, and little on anything else. The U.S. has not forgotten Iran's use of IED's & EFP's (bombs), which killed 2000 Americans, and wounded many more...

— Donald J. Trump (@realDonaldTrump) June 25, 2019
....Iran's very ignorant and insulting statement, put out today, only shows that they do not understand reality. Any attack by Iran on anything American will be met with great and overwhelming force. In some areas, overwhelming will mean obliteration. No more John Kerry & Obama!

— Donald J. Trump (@realDonaldTrump) June 25, 2019
June 26 – Ebtekar, a reformist newspaper, portrayed President Trump as ready for a boxing match in contrast to Foreign Minister Zarif as a calm chess player.  
Ebtekar Newspaper
"Sanctioning Diplomacy"
New U.S Sanctions Means Permanent Closure of Path to Diplomacy with Desperate U.S. Administration: Iran
President Trump claimed that a war with Iran would be short and would not involve ground troops. "We're in a very strong position if something should happen. We're in a very strong position. It wouldn't last very long, I can tell you that. I'm not talking boots on the ground. I'm not talking, we're going to send a million soldiers. I'm just saying if something would happen, it wouldn't last very long," he stated in an interview on Fox Business.