Iran experienced a significant uptick in COVID-19 cases in early June following the gradual reopening of businesses, mosques, schools and government offices in April and May. On June 2, Health Minister Saeed Namaki expressed concern that Iranians had become "completely careless" with health protocols. "They either have total confidence in us or think the coronavirus has gone. The latter is not true at all," Namaki said. "Every 33 seconds one Iranian is infected with the coronavirus and every 13 minutes one dies from it," Deputy Health Minister Iraj Harirchi said in a press conference on June 27.
As of early July, nine out of 31 provinces -- Khuzestan, Hormozgan, Bushehr, Kermanshah, Kurdistan, Ilam, West Azarbaijan, East Azarbaijan, and Khorasan Razavi -- were considered "red zones" due to the high number of infections.

Iran made masks mandatory at all indoor gatherings from July 5 until July 22 to curb the outbreak. Supreme Leader Ayatollah Ali Khamenei urged citizens to wear face coverings. By September 30, Iran reported a total of 457,219 cases and 26,169 fatalities—a mortality rate of 5.7 percent. 

On July 8, Iranian media reported that at least six newly-elected members of parliament had tested positive for COVID-19. The infected lawmaker included Vahid Jalalzadeh, a representative from the city of Urmia and former governor of West Azerbaijan province, and Mohammad Mehdi Zahedi, a representative from Kerman who was reportedly in an intensive care unit. Some 100 lawmakers had been tested for the virus, and nine of them had tested positive, according to Mohammad Hussein Farhanghi, a spokesman for the board of directors for parliament.

At least nine current or former officials had died from COVID-19, including Mohammad Mirmohammadi, a member of the Expediency Council, and Hossein Sheikholeslam, a former deputy foreign minister and ambassador to Syria who had been a major figure during the seizure of the U.S. Embassy in Tehran. For more information, see: "Iranian Officials Infected by COVID-19."
On July 18, President Hassan Rouhani said that 25 million Iranians, about 30 percent of the population, may have been infected by COVID-19. "There is the possibility that between 30 and 35 million more people will be at risk," he warned. The estimates that Rouhani cited were much higher than the official figures. But on July 19, Health Ministry officials clarified that the 25 million figure was based on serological tests, which only determine if people have been exposed to the virus. "It is not possible to rely on serological tests to diagnose the current state of the disease," according to a Health Ministry statement.

For details and analysis on the first four months of the COVID-19 pandemic, see "Part 1: Coronavirus Strikes Iran" and "Part 2: Iran Tries to Reopen."
Week 16: May 31 – June 6
On May 31, President Rouhani praised Iran's response to the COVID-19 outbreak. "Our country's statistics and figures as well as the economic fallout of coronavirus are comparable to developed countries of the world," he said. "Today, after having fought this dangerous virus for 100 days, during which our health sector and the entire nation did a great job, we see acceptable conditions [in terms of containing the pandemic]." 
On June 1, Health Minister Namaki warned that Iran could face a stronger second wave of infections if people did not follow health guidelines. "The outbreak is not over yet and at any moment it may come back stronger than before," Namaki said in a news conference. "If our people fail to respect the health protocols ... we must prepare ourselves for the worst situation."
On June 2, Health Minister Namaki expressed concern that Iranians had become "completely careless" with regard to the COVID-19. "If we neglect the situation, we will go backwards," he said. "People, have mercy on us, let's have mercy on ourselves, government officials are getting tired."
On June 3, President Rouhani warned that Iran would reimpose restrictions if a second wave of infections hit the country. "If in any part of the country these warnings aren't taken seriously and God forbid the outbreak of illness peaks again, the authorities will have to reimpose restrictions," he said. "This issue will create problems for the ordinary life of citizens and will also bring serious economic damage to the society." He urged Iranians to avoid nonessential travel.
On June 5, Iran's tourism ministry announced that the country could reopen to foreigners by mid-summer. "Based on our tourism marketing program monitoring and data analysis from the neighboring countries, the Persian Gulf littoral states, and the European Union, an initial forecast suggests that Iran will open land borders to neighbors as of 15th of Tir (July 5) and some of its air borders as of 1st of Mordad (July 22)," said Mohammad-Ebrahim Larijani, the director of the ministry's advertising and marketing office. "We are constantly monitoring countries and we have decided, in the first phase, to resume tourism interactions with the neighboring countries."
On June 6, President Rouhani warned that the COVID-19 outbreak was not over. "The period of the coronavirus epidemic is going to be long, and we don't know when it will end; under such circumstances, health directives must be closely observed," Rouhani said. "Meeting the needs in the health and treatment sector to fight coronavirus, supplying necessary services to society, providing basic and essential goods, and supplying stimulus packages to low-income families are four main duties of the government, and the trend of discharging all these responsibilities is going well."
President Rouhani blamed a wedding party for the latest surge in COVID-19 cases. "At one location, we witnessed a peak in this epidemic, the source of which was a wedding that caused problems for the people, health workers and losses to the economy and the country's health system," Rouhani said on state television. 
President Rouhani announced that theaters and concert halls would reopen on June 21. The Ministry of Health limited seating capacity to 50 percent for all venues. 
Week 17: June 7 – 13
On June 7, the Ministry of Health said that Iran's spike in coronavirus cases was due to increased testing. "The main reason for rising numbers is that we started identifying (infected people) with no or light symptoms," said Mohammad-Mehdi Gouya, the health ministry's head epidemiologist. He added that it was normal for a slight rise in infections after reopenings. 
Iran announced that it would allow foreign students to return to universities in Iran on September 5. Abdolhamid Alizadeh, the director general of the Iranian Science Ministry's office of foreign students, said that 15,680 foreign students had left Iran in March due to the coronavirus outbreak. 
On June 8, Health ministry spokesman Kianoush Jahanpour urged citizens to wear masks to stem a second wave of coronavirus infections. "Everybody must wear masks when attending places like stores or any other place where it is not possible to observe social distancing carefully," Jahanpour said on state television. 
On June 9, the Ministry of Health estimated that about 15 million Iranians, nearly one in fifth of the population, had been infected with COVID-19. This means the virus was "much less lethal than we or the world had anticipated," said Ehsan Mostafavi, a member of the country's COVID-19 task force. 
Health Minister Namaki dismissed Health Ministry spokesman Kianoush Jahanpur after several of his controversial tweets and comments to the media. Namaki said that the spokesperson was required to get approval before expressing personal opinions on social media. Dr. Sima Sadat Lari, the Students Affairs Deputy of the Ministry, was appointed as the new spokesperson. Namaki urged Lari to refrain from "political games" and concentrate on the ministry's mission. 
#Iran's Health Ministry new spokeswoman: Total #CoronaVirus cases in Iran are now 175,927 & number of deaths 8425. As of yesterday 2095 new infections & 74 deaths reported. 138,457 have so far recovered from #COVID19 & 2639 are in critical condition. 1,128,601 tests done so far. pic.twitter.com/yBmWTpKWQl

— Abas Aslani (@AbasAslani) June 9, 2020
Ehsan Mostafavi, the head of the Research Center for Emerging and Reemerging Infectious Diseases at the Iran's Pasteur Institute, said that Iran had a lower mortality rate than many other countries because of its young population and widespread testing. "One determining factor is the younger population of the country. The median age in Iran is 31, while it's 45 in Spain and 47 in Italy," Mostafavi said. 
On June 13, President Rouhani urged citizens to continue to adhere to health protocols, warning that the population had not reached "collective immunity" from the virus. "No matter how advanced the country is, the number of beds and medical facilities as well as medical personnel is limited, so everybody should keep observing directives," Rouhani said. 
Week 18: June 14 – 20
On June 14, Iran recorded 107 deaths from COVID-19, the country's largest daily increase in fatalities since April 13. "Today it was very painful for us to announce a triple digit statistic... This virus is unpredictable and shifting," said Health Ministry spokeswoman Lari. "Observe health protocols, take social distancing seriously, avoid gatherings and trips that aren't essential and, God willing, in the coming days we will see the statistic come down into double digits and even single digits."
On June 15, Iran reopened kindergartens across the country. The Ministry of Health restricted capacity to 50 percent and required all children to have their temperatures checked before entering the classroom.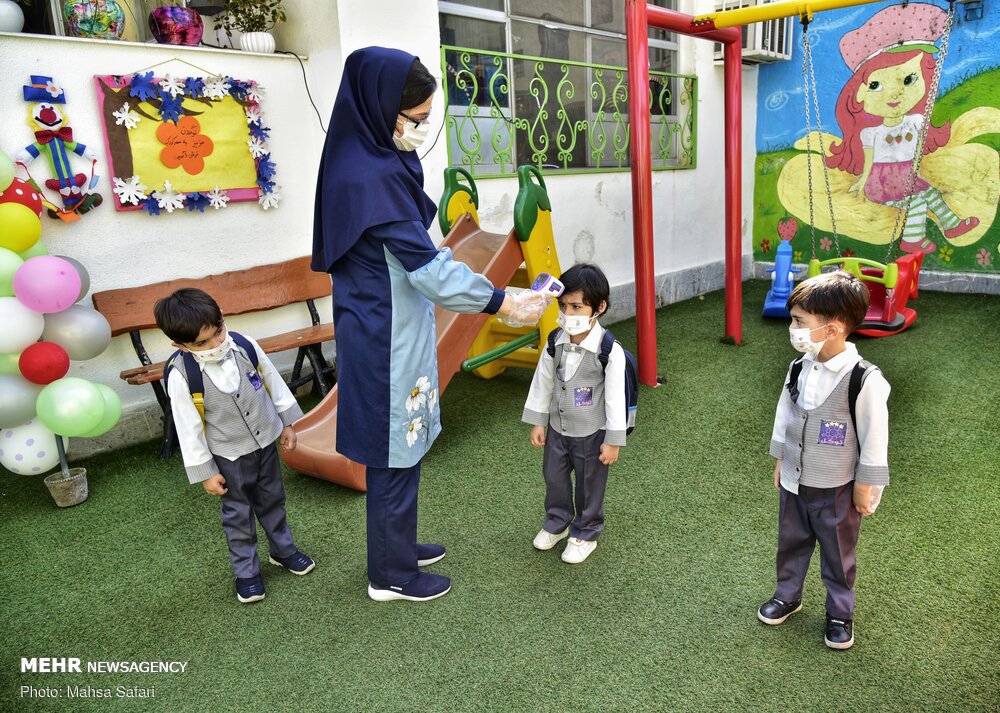 Government spokesman Ali Rabiei warned that Iran may have to reimpose restrictions after a surge in coronavirus infections and deaths. "In the (Tehran) subway, although 90 percent of passengers use masks, social distancing is not being observed," Rabiei said during a news conference. If the virus spreads is out of control, the government would have to apply strict limitations again.
On June 16, President Rouhani said that Iran was engaged in two separate battles, one against COVID-19 and another against "cruel and inhumane" U.S. sanctions. "One of the country's glories in simultaneous handling of the sanctions and the coronavirus has been fulfillment of the necessary needs of people in the market, in such a way that we prevented the inhumane dream of those imposing sanctions from coming true, which was causing problems and distress in the daily economic lives of people and the supply of items they need for livelihood," Rouhani said.
On June 17, three prominent Iranian physicians wrote to President Rouhani urging him to prioritize "preserving people's lives and health to everything else." The doctors called on the government to reimpose health restrictions to stem the country's second wave of infections. 
On June 18, President Rouhani said that the coronavirus outbreak has not stopped Iran's economic progress. He pointed to several new national projects in the transportation industry.  "Thank God, we are witnessing very good movements in the maritime routes and the ports, particularly in Chabahar, as well as in the railroad and land transportation," Rouhani said at a project inauguration ceremony in Tehran. 
On June 20, President Rouhani said that Iran may require citizens to wear masks in public places. "Mainly for crowded and covered areas...we may make (masks) compulsory in a week, more or less. But first plenty of inexpensive masks should be made available for the people," he said on state television. 
Week 19: June 21 – 27
On June 21, Health Minister Namaki said that Iran was still battling the first wave of COVID-19 infections. "The peak of the disease has not passed. The coronavirus is a tricky virus with a hundred thousand faces. A protocol for treatment may be effectual in one region, but ineffective in another area," he warned. 
On June 22, Education Minister Mohsen Haji Mirzaei announced that students at large schools would begin attending school on alternate days in the new school year.
Health Minister Namaki said that 87 percent of Iranians who had died from COVID-19 were obese or had underlying medical issues. 
On June 23, Iran reported 121 new fatalities from COVID-19, the country's highest daily increase in deaths since April 11. After a decrease in deaths in May, daily fatalities related to COVID-19 slowly increased in June. 
On June 24, Deputy Health Minister Raeesi announced that 40 percent of residents in Qom and Gilan provinces and 15 percent of residents in Tehran province had contracted COVID-19. He added that the extent of infections in Iran's other provinces was between four and five percent. Health Minister Namaki said that Iran was working toward developing its own vaccine. "We have made good progress, but it is still too early to unveil our work," Namaki told reporters. The Health Ministry said it was offering free COVID-19 tests to anyone with symptoms. 
On June 26, Ali Asghar Mounesan, Iran's minister of cultural heritage, tourism and handicrafts, said that country's tourism industry had started to recover from the COVID-19 pandemic. "Local tourism in the country has now begun with all the health protocols in place, and, as of early August, with the plans that have been made, we will see the presence of foreign tourists in the country again," Mounesan said in a radio interview.  
Musa Alizadeh-Tabataee, Iran's deputy ambassador to Iraq, announced that all border points with Iraq would be opened soon. He said that 80 percent of the crossings were already open with new health protocols. Other points along the southern border were still closed, he added.
On June 27, Supreme Leader Ayatollah Khamenei warned that Iran's economy could further deteriorate if the country did not stem COVID-19. "Something must be done to prevent economic problems caused by the coronavirus," he said in a meeting with judiciary officials. "But in the case of negligence and significant spread of the disease, economic problems will increase, too."
The Ministry of Health launched an "#I_wear_mask" campaign to promote health protocols on social media. "I desperately - and in a friendly way - plead with people to cooperate in observing medical protocols for their own sake and that of others," Deputy Health Minister Harirchi told reporters. "Every 33 seconds one Iranian is infected with the coronavirus and every 13 minutes one dies from it."
Week 20: June 28 – July 4
On June 28, President Rouhani announced that all citizens would be required to wear masks at indoor gatherings starting on July 5 to stem the spread of COVID-19. The new protocol would remain in effect until July 22. 
On June 30, President Rouhani warned that the coronavirus would likely linger in the country throughout the Persian year, which ends in March 2021. "Watchfulness and observance of the health principles must still be on the agenda of everybody, and attending the unnecessary gatherings must be avoided," Rouhani said. "Despite all efforts and the very good measures that have been taken in the fight against the disease and for the treatment of the patients, we still witness an increase in the number of infections in a number of cities because the coronavirus is unknown."
Iran announced that a homegrown COVID-19 vaccine would undergo human clinical trials "in the not too distant future." Health Minister Namaki said that the vaccine had already passed laboratory tests with animals.
On July 1, the Ministry of Cultural Heritage, Tourism, and Handicrafts held a meeting to determine rules for foreign tourists. "Given the fact that some countries, especially neighboring countries, are gradually re-opening borders, the Islamic Republic of Iran needs to take action to define comprehensive health protocols," said Vali Teymouri, the deputy tourism minister.
On July 3, Iran reintroduced a week-long lockdown on seven cities in the southern province of Hormuzgan, including Bandar Abbas, one of the country's biggest port cities on the Persian Gulf. The shutdown included all schools, universities, most offices, cinemas, restaurants, public pools, gyms and parks. Hormozgan Governor General Fereydoun Hemmati said that the province had experienced an uptick in cases and fatalities due to tourists and overcrowded bazaars. 
On July 4, President Rouhani warned citizens not to hide infections. "If someone knows that they have been infected with coronavirus, they have a religious and human duty to inform others about it," Rouhani said. "If somebody has found out that another person is infected, they should reveal it, so that we will be able to get through this problem."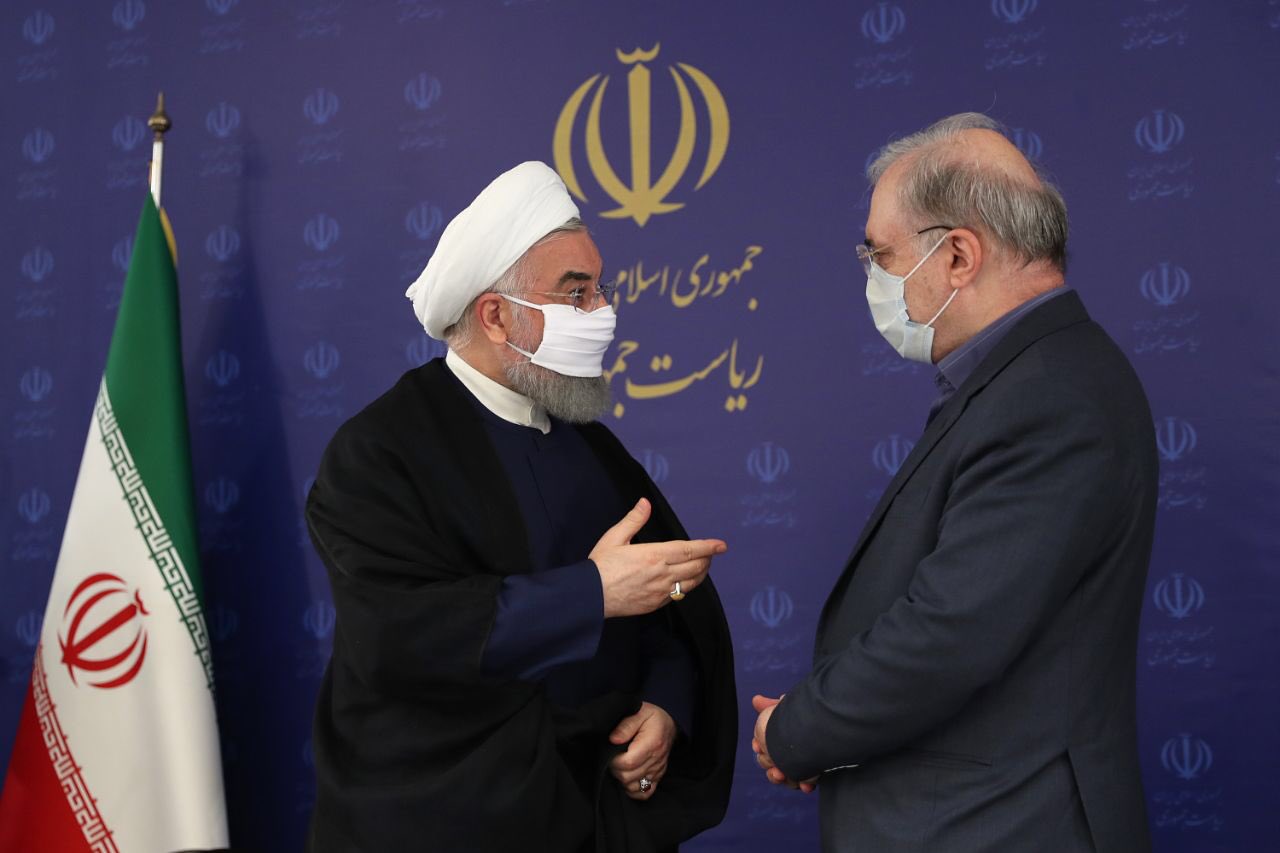 Week 21: July 5 – 11
On July 6, Iran banned the export of face masks amid an uptick in infections. Jamshid Golpour, head of the Industry and Trade Ministry's Center for Guilds and Businesspeople, called on vendors to increase domestic sales of masks. "Producers are expected to provide distribution networks with standard masks at already approved prices," he said.
On July 7, Iran reported 200 new deaths, exceeding the previous record of 163 deaths on July 5. "I repeatedly said to our people that it's extremely dangerous to understate the situation," Health Minister Namaki said on state television. "Unfortunately, our pleas fell on deaf ears until we were gripped by a new wave."
On July 8, Health Minister Namaki blamed "criminal" U.S. sanctions for Iran's struggles to contain COVID-19.  He also criticized Iranian officials, accusing them of  "negligence," having no economic plan, and "losing control" of the outbreak. "This country's president must think about the people's livelihood. This country's administration, the security forces, the law enforcement, and the military forces must think about the livelihood and how to prevent an insurrection," he said. 
Iraq partially reopened the Shalamcheh border crossing with Iran after more than three months. Trade was restricted to 500 trucks per week to transport food and other essential items. Both governments implemented new health protocols at the border. 
On July 9, Iranian Parliament Speaker Mohammad Baqer Qalibaf accused the United States of hampering Iran's efforts to fight COVID-19. He called on the international community to condemn "inhumane" U.S. sanctions. "Since the outbreak of the dangerous virus, despite pressures and calls from international organizations to halt or reduce the U.S.-led sanctions against various nations, including Iran, Washington's maximum pressure has been on the rise," he said. 
General Hossein Salami, the IRGC commander, called on citizens to follow health protocols. "The coronavirus is not weakening and is still active, affecting new areas every day, and we should not show weaknesses," Salami said. "As no decisive treatment currently exists, we can only tackle this disease by following the health protocols and taking preventive measures."
#coronavirus: #Iran's south western city of Ahvaz. The medical staff of a hospital, overwhelmed by #COVID19 patients, staged a walk out and went to the market in the hope of shaming people into wearing masks. pic.twitter.com/yp7nWKToqC

— Bahman Kalbasi (@BahmanKalbasi) July 10, 2020
On July 11, President Rouhani warned that a nationwide lockdown could disrupt economic activities and prompt protests. "The easiest option is to shut down everything," he said. "But then people will pour into the streets because of hunger and unemployment." But he did call for a ban on weddings, funerals and other ceremonies. "Now is not the time for festivals or seminars," he said. Shortly after Rouhani's speech, Ali Reza Zali, the head of Tehran's virus task force, announced a ban all conferences, festivals and exhibitions and restricted wedding and funeral ceremonies to 10 people. The number of COVID-19 testing centers in the capital was also almost doubled, from 56 to 90, as the pace of the pandemic accelerated. 
Hossein Qenaati, an advisor to Iran's Coronavirus Task Force, said that between 50,000 and 60,000 Iranians could die from the virus if the public did not adhere to health protocols. "The second wave, which will occur in the fall, will be much more deadly," Qenaati warned.
Week 22: July 12 – 18
On July 13, Supreme Leader Ayatollah Ali Khamenei called the resurgence of COVID-19 "truly tragic" in a virtual meeting with lawmakers. Khamenei urged all citizens to "play their part in the best way to break the chain of transmission in the short term and save the country." 
On July 14, Anushirvan Mohseni Bandpay, the governor of Tehran Province, reimposed a week-long lockdown after a spike in COVID-19 cases and deaths. The new restrictions, made in coordination with the National Coronavirus Task Force, shutdown all universities, schools, seminaries, libraries, theaters, museums, ceremony halls, barbershops, beauty salons, mosques, cafeterias, coffee shops, zoos, amusement parks, indoor swimming pools, and fitness centers. Bandpay also declared a ban on social, cultural and religious gatherings.
Health Ministry spokesman Lari announced that 12 provinces had been declared "red zones" –up from nine--due to high rates of COVID-19 infections. The red provinces included Khuzestan, West Azarbaijan, East Azarbaijan, Khorasan Razavi, Zanjan, Kurdistan, Kermanshah, Golestan, Hormozgan, Ilam, Bushehr, and Mazandaran. 
Mahmoud Abbasi, the Deputy Justice Minister for Human Rights and International Affairs, said that anyone who had knowingly spread COVID-19 should be hanged. "Someone who is fully aware of his infection and without wearing a mask sneezes and coughs…spreads the coronavirus to others and ultimately causes their death. This means deliberate murder and is subject to Qisas," Abbasi told a local news outlet. 
On July 15, Health Minister Namaki announced that Iran would begin producing Remdesivir, an antiviral agent proven to treat COVID-19, within a week. Iran had previously relied on humanitarian imports to receive the drug.
On July 16, Reza Jalili-Khoshnood, a senior official on Tehran's anti-coronavirus task force, warned that the country was facing a shortage of medical staff and beds. He said that 172 medical personnel had been infected at Tehran's Shohada hospital alone.
Iran's Friday Prayers Committee announced that Friday prayers were cancelled in Tehran due to the increase in COVID-19 cases and deaths in the city. Prayers were allowed to continue in provinces deemed "white zones" due to low numbers of infections.
On July 18, President Rouhani said that 25 million Iranians may have been infected with COVID-19 and about 14,000 had lost their lives, based on a Ministry of Health study. "There is the possibility that between 30 and 35 million more people will be at risk."
President Rouhani said that the country's COVID-19 outbreak had probably started in Qom and Gilan provinces, where people who had traveled to Wuhan, China spread the virus to students and tourists. He blamed the second wave of infections on the public's refusal to adhere to government-imposed health protocols.
The governor of Khuzestan announced that 22 cities in the southwestern province would be placed under a three-day lockdown to stem the spread of the virus. Khuzestan had some of the highest rates of infections and deaths in the country.
Week 23: July 19 – 25
On July 19, Turkey suspended all flights to Iran due to the increase in COVID-19 cases.
On July 21, Iran recorded 229 new deaths from COVID-19, the largest one-day increase in deaths.
On July 22, Iran unveiled the domestic production of two drugs--"Remdesivir" and "Favipiravir"--to help treat COVID-19 patients.
On July 23, Health Minister Namaki told the World Health Organization (WHO) that Iranian scientists had made progress in a COVID-19 vaccine. It "passed the initial tests and (we) hope to reach promising stages," Namaki said.
On July 24, Iraq reopened the Khosravi border crossing with Iran after four months.
Abbas Mousavi Motlaq, the Friday Prayer Imam in Qom, said that COVID-19 was a "secular virus" that was corrupting religious countries. "With its destructive effects coronavirus is trying to lead religious countries astray, and toward atheism," he said.
Week 24: July 26 – August 1
On July 25, President Rouhani urged citizens to be cautious during celebrations for the Islamic holiday of Eid al Adha. "Let glorious festivities be held in mosques and religious centers by observing health protocols and social distancing," Rouhani said. Deputy Health Minister Harirchi urged people not to travel to the holy city of Mashhad during the festivities because it had a 300 percent increase in COVID-19 cases in the previous month.
In an open letter, Tehran's Coronavirus Task Force asked Health Minister Namaki to allow half of the city's government employees to work remotely. Under protocols at the time, only one-third of Tehran's government employees were permitted to work remotely. 
On July 26, Health Ministry spokeswoman Lari called on the public to follow health protocols to ease pressure on exhausted medical workers. "Our biggest concerns are the infection and fatigue of medical staff," she said. 
On July 27, Iranian state media announced that government spokesman Ali Rabiei had tested positive for COVID-19. Rabiei had reportedly been hospitalized but was in good condition.
Habibollah Sayyari, the Deputy Coordinator of Iran's Army, called on the military to continue efforts to contain the virus. "More than 12,000 Army personnel are now active in different healthcare sections, including hospitals and laboratories, to contain the pandemic," he said.
On July 28, Iran recorded 235 new deaths from COVID-19, the highest daily death toll since the outbreak began. Arash Anisian, the director of the private Ebnesina Hospital in Tehran, warned that nearly 20 percent of the emergency ward staff and 40 percent of supervisors had contracted the virus. "Replacement under such difficult conditions is very hard. We have to pay more to our personnel, for longer hours and for hardship of the job," Anisian told The Wall Street Journal. "But we cannot charge patients more. So our hospital is under extreme financial pressure."
Health Minister Namaki said that Iran's progress in developing a homegrown vaccine was on par with other advanced countries. "We don't want to make delusional comments and don't want to say that the vaccine would be available to the public until autumn," Namaki said at a ministry meeting. "Today, we can only say that we are not lagging behind many in the world who claim to have produced the vaccine."
Foreign Minister Zarif said that the COVID-19 pandemic will significantly alter the world order. "Throughout history, the old order has collapsed and been replaced with a new one after widespread bloodshed," he told a conference in Tehran. "I believe that absolute Western approaches have failed to provide us with a true understanding of global events. The modern international order will not be totally Western anymore."
On July 30, former parliament speaker Ali Larijani tested positive for COVID-19 for a second time. Larijani was reportedly in good condition under quarantine in a Tehran hospital.
President Rouhani announced that most Iranian provinces were past the peak of the pandemic. "All Iranian provinces, except two, are leaving behind the coronavirus peak," he said.
Deputy Health Minister Qassem Janbabayee accused Britain of "hijacking" mask shipments already paid for by Iran.
On July 31, Amnesty International published four leaked letters from Iranian prison officials, which purportedly revealed the Iranian regime had "ignored pleas by senior officials" for additional resources to treat the COVID-19 outbreak in prisons. "These official letters provide damning evidence of the government's failure to protect prisoners. Urgent requests for resources have been ignored for months," said Diana Eltahawy, Amnesty's Deputy Regional Director for the Middle East and North Africa. "Overcrowding, poor ventilation, lack of basic sanitation and medical equipment, and deliberate neglect of prisoners' health problems, are making Iranian prisons a perfect breeding ground for COVID-19. The Iranian authorities must stop denying the health crisis in Iran's prisons and take urgent steps to protect prisoners' health and lives."
On August 1, President Rouhani announced a nationwide ban on all public gatherings for a week. "Until further notice, all gatherings, including weddings, wakes and parties, are banned. This is no longer provincial; it is nationwide, until there is a change in the situation," he said. He also called on local authorities to prosecute those who violate health protocols. "There is no doubt that we need to take action against violators of health measures," Rouhani said. "Until the day the Health Ministry announces the availability of a vaccine, we need to observe the rules and continue enforcing strict measures."
Week 25: August 2 – 8
On August 1, a BBC Persian investigation estimated that deaths from COVID-19 could be three times higher than the official tally. Government documents from an anonymous source showed that nearly 42,000 people had died with COVID-19 symptoms as of July 20, when the health ministry had reported only 14,405 deaths. "BBC can confirm that the lists include the names and details of individuals who have either died of COVID-19 or with similar symptoms or visited health centers or were hospitalized due to confirmed COVID-19 or similar symptoms," the BBC reported.
On August 3, state television revealed that one Iranian was dying from COVID-19 every seven minutes.
On August 4, Ali Asghar Mounesan, Iran's tourism minister, said that the threat of coronavirus should not bring tourism to a complete halt. "Corona is a fact, but can the virus stop tourism? Certainly not. For us, the coronavirus is a new experience in dealing with crises that teaches tourism experts around the world how to deal with such a disaster, and thankfully governments are turning this into an opportunity for better planning," he said.
On August 5, Alireza Salimi, the deputy on Iran's Medical Council, warned that the development of a vaccine for COVID-19 over the next few months was unlikely. "The only thing in our power is to break the chain of transmission, plan for the continuation of the cycle of life, and minimize the death rate," Salimi said.
On August 8, President Rouhani urged officials to find a balance between stringent restrictions and completely reopening the country. "We must follow a moderate path because it is not possible to continue with severe restrictions," the president said. "We cannot completely shut down economic, educational and cultural activities, even if these activities cannot be the same as before coronavirus. We have no choice but to continue with our activities, but to also follow health protocols completely."
Week 26: August 9 – 15
On August 9, President Rouhani announced that the nationwide state of emergency due to the pandemic would remain in effect until at least January 2021. "We have been in this situation for six months, and we must prepare ourselves for another six months at least," Rouhani said. "We must find a middle way between normality and sticking to the virus restrictions."
Mohammad Qasemi, the director for marketing and advertising at Iran's Ministry of Tourism, said that Tehran was developing all-inclusive health protocols for foreign tourists. He added that new regulations would help bolster tourism in the long run by stemming the spread of the virus.
On August 10, Iran shut down Jahane Sanat, a daily newspaper, for publishing an interview with an epidemiologist who said that the government tally of COVID-19 cases and deaths only accounted for five percent of the real toll. "There was no transparent flow of information," Mahboubfar said. "The government only provided engineered figures...over concerns about (its impact) on the election and the commemorations of the revolution anniversary." A Health Ministry spokeswoman denied the claim and said that ministry were transparent. "The Health Ministry is not a political body and health of people is its main priority," she added.
On August 11, the Center for Human Rights in Iran (CHRI) reported that 12 political prisoners in Evin Prison -- including prominent labor leaders Esmail Abdi and Jafar Azimzadeh, human rights lawyer Amirsalar Davouudi and journalist Majid Azarpey--had tested positive for COVID-19. The outbreak in Evin's Ward 8 started in late July, according to Abdi's wife. The infected prisoners were reportedly admitted to the prison clinic. "By keeping political prisoners in overcrowded and unsanitary prisons where they are denied medical care and are not separated from ill prisoners, the Iranian authorities are condemning these individuals to COVID-19 and possible death," said Hadi Ghaemi, the executive director of CHRI.
Esmaeil Mousavi, the spokesman for Iran's Elections Headquarters, announced that all campaigning for the second round of parliamentary elections would be conducted virtually. Mousavi said that the elections would proceed as scheduled on September 11 after they were postponed in mid-April due to the COVID-19 pandemic. He added that voting would be held in "open spaces" to stem the spread of the virus.
On August 14, Dr. Alireza Zali, the head of the Tehran Coronavirus Combat Taskforce, said that the government had made a "strategic mistake" by relying on citizens to observe social distancing guidelines.  During a press conference, he criticized the government for lifting restrictions and lockdowns prematurely. "The effectiveness of the government actions will be affected if public trust is marred for any reason," Zali added.
On August 15, President Rouhani announced  that 10,000 additional hospital beds and 2,000 ICU beds would be prepared by March 2021. Rouhani also said that the government would allocate a budget to the education sector to develop better online learning platforms.  
Week 27: August 16 – 22
On August 17, Iranian Minister of Tourism Ali Asghar Mounesan said that the country's tourism industry had lost $2.85 billion due to the pandemic.
On August 18, Dr. Alireza Zali, the head of the Tehran Coronavirus Combat Taskforce, called for a two-week extension of lockdown restrictions in Tehran. "Despite an 11 percent decline in suspected Covid-19 patients visiting hospitals, Tehran Province is still on red alert," he told reporters.
Iran said that it would wait for the approval of the World Health Organization before buying Russia's coronavirus vaccine. "In order for the vaccine to be used, genuine and independent organizations such as the World Health Organization must comment on it and approve it, which has not happened yet," he said.
On August 21, worshippers began rituals for the Islamic holy month of Muharram, including mourning ceremonies commemorating the killing of the Prophet Mohammed's grandson Hussein. The National Coronavirus Combat Taskforce banned annual marches, musical performances and banquets, and all indoor ceremonies. Masks and social distancing were required at outdoor venues.
On August 22, Mohammad Lahouti,  the head of Iran's Export Confederation, said that non-oil exports had declined by 39 percent due to the pandemic.  "The president has announced a reduction of 10 percent in the country's economic dependence on oil, which is unprecedented," he said. "A country, which for years relied solely on the oil, is now facing conditions that have forced it to break its dependence on oil and to move toward a non-oil economy." U.S. sanctions, reimposed in 2018, severely curtailed Iran's ability to sell oil.
Health Minister Namaki said that 164 health professionals had died from COVID-19.
Iran resumed flights to the Iraqi city of Basra. It was the first flight between the two countries since mid-March.
Week 28: August 23 – 29
On August 23, President Rouhani said that Iran's economy had only shrunk by three percent during the COVID-19 pandemic. He praised the country's resilience, adding that other countries' economies had decreased by up to 20 percent.  
Nahid Khodakarami, a member of the Tehran city council, said that 10,200 residents of Tehran had died from coronavirus since February. He warned that Muharram mourning ceremonies could cause a third wave.
The Ministry of Health said that all foreign national infected with COVID-19 had received free medical treatment in Iran. Iran had spent nearly $95 million in medical expenses for registered foreigners since the pandemic began, according to Shahnam Arshi of the Ministry of Health.
On August 25, Health Minister Namaki warned against public complacency during the Islamic holy month of Muharram. "I am asking people not to pack bags and hopscotch around the country just because their children are done with university entrance exams," he said. "If citizens travel again, we should expect the resurgence of the virus one week after the holidays," Tehran Governor Anoushirvan Mohsen Bandpey added.
On August 26, Iran's Central Taskforce for Coordinating Travel Services announced that travel and tourism would be permitted during the Muharram holiday season despite warnings from health officials.
On August 29, Health Minister Namaki blamed the "ignorance and nonchalance" of holiday travelers for putting the country's medical workers at risk. "I wish I had the power, authority, instruments or assistance beyond begging, requesting and pleading," he said.
Week 29: August 30 – September 5
On August 30, thousands of worshippers gathered across Iran to celebrate the holiday of Ashura, an annual day of mourning for Shiite Muslims. Indoor rituals were banned, and the government required all participants in outdoor ceremonies to wear masks and practice social distancing. President Rouhani praised the mourners for observing health protocols but expressed concern with a spike in holiday travel. "Those who have travelled during the recent holidays should not allow their non-compliance with protocols to cause a new escalation of the COVID-19 outbreak and negatively affect the hard work of the medical staff," he said.
Deputy Health Minister Ghasem Jan-Babaei criticized  travelers vacationing in Iran's northern provinces. "Health workers are doing everything in their power to serve the people but they are exhausted because some disregard the guidelines," he said. "More serious action must be taken against those who travel regardless of the guidance. But this is not the Health Ministry's job and authorities in other areas must enforce the restrictions."
President Rouhani said that Iran planned to purchase trial vaccines developed by foreign countries while still conducting its own tests and trials.  
On August 31, Education Minister Mohsen Haji Mirzaei announced that schools in high-risk regions, including 13 of Iran's 31 provinces, would not be allowed to reopen until rates of COVID-19 dropped.  "Even if students do not have access to television, we will prepare learning packages and pursue education via contact with teachers," he said. "Some 35 percent of nationwide classes, where social distancing is possible, will return to normal while following safety rules."
The Administrative and Recruitment Affairs Organization of Iran issued a policy for reprimanding government employees who ignored health protocols at work. After the first violation, employees would receive a written warning. After a second offense, employees would be issued a citation to be documented in their employer's records. If the employee committed a third violation, he or she would receive a one-third cut in salary for that month.
On September 3, Health Minister Namaki announced  a vaccine development committee. Dr. Mohammad Mahdi Gooya, the head of the Health Ministry's Communicable Diseases Center, was tapped to lead the committee including health experts from the public and private sectors.
On September 5, schools reopened to 15 million students after seven months. Students were required to follow strict health protocols, including social distancing, masks, and temperature checks. "School is an environment. We cannot bring that environment to homes with applications [software]; the right path for education has been chosen," President Rouhani said. "This year, teachers should educate, keep schools safe, preserve the health of children and improve learning skills."
President Rouhani criticized the international community for not shielding Iran from U.S. sanctions during the pandemic. "Over the past months since the coronavirus arrived in our country [and] no one came to our help," Rouhani said. If the United States "had a bit of humanity and brain," it would have offered to "lift the sanctions for a year because of the coronavirus."
Week 30: September 6 – September 12
On September 6, Mohammad Reza Zafarqandi, the head of Iran's Medical Council, blasted the Ministry of Education's decision to reopen schools. It will "no doubt lead to an increased burden on the country's medical workers," Zafarqandi said in an open letter. "When an epidemic hit, schools are the first places that should be closed and the last to be reopened."
On September 7, Education Minister Mohsen Haji Mirzaei stipulated that students were "not obliged" to attend in-person classes after heavy criticism from health experts. "From the beginning, we said that students' presence at schools is not mandatory," Mirzaei said. "We said that our priority is face-to-face education, which is more appropriate for several reasons."
Masoud Babaei, an official from the Ministry of Cooperatives, Labor, and Social Welfare, said that 850,000 Iranians had lost their jobs between February and August due to the pandemic. In the service industry, 59 percent of the workforce lost their jobs, while 31 percent of people working in the industrial sector were unemployed.
On September 11, Health Minister Namaki announced that ceremonies for Arbaeen - the Shiite religious holiday commemorating the death of Imam Hussein - would be held virtually.
On September 12, Iran said that Tehran University would start human trials to produce a COVID-19 vaccine. Animal trials were complete and preparations were being made for clinical trials, Agricultural Minister Kazem Khavazi said. 
Photo Credits: All content by Fars News Agency and Mehr News Agency is licensed under a Creative Commons Attribution 4.0 International License.