Iran began to slowly reopen government offices and businesses in early April following a two-month shutdown due to the COVID-19 virus, which was first reported in Qom on February 19. In early April, President Hassan Rouhani reported that the number of new cases and deaths had begun to decrease. "Social distancing and other health protocols should be respected seriously by people," Rouhani said on April 11.
Yet new cases continued; the numbers did not plateau over the next two months. By May 30, Iran reported a total so far of 146,668 cases in all 31 provinces and 7,677 fatalities—a mortality rate of 5.2 percent.

On April 5, President Rouhani said that "low-risk" businesses would resume operations on April 11 in most of the country and in Tehran on April 18. Iran's parliament reconvened on April 7 for the first time since February 25. On April 7, the World Health Organization confirmed that the number of new cases had decreased.
"Due to an impressive scaling up of many of the control measures, we have seen a flattening off of the number of cases in Iran and in fact, some suggestion, in recent days of perhaps a decline in the number of new cases," said Robert Brennan, WHO's regional emergency director.  

On April 11, shops, workshops and factories outside of Tehran began to reopen. The following day, the government lifted restrictions on travel between cities within the same province. But Iranian officials warned that ignoring health protocols could cause a second wave of the virus. "If people become arrogant over the relatively better situation now and disregard anti-corona health measures...we will surely face a hard and heavy phase (of the disease)," Health Minister Saeed Namaki warned on April 11. 
For details and analysis on the first two months of the COVID-19 pandemic, see "Coronavirus Strikes Iran: Timeline."
Week 8: April 5 – 11
On April 5, the government announced that low-risk economic activities would resume on April 11. President Rouhani added that high-risk activities, including classes at schools and universities and social, cultural, sports and religious events would be suspended until at least April 18. 
On April 7, more than two-thirds of parliament's 290 lawmakers gathered for the first time since February 25. They rejected an emergency bill requiring a one-month nationwide lockdown to stem further cases of the virus. 
 On April 9, Supreme Leader Ayatollah Ali Khamenei announced that mass gatherings during the holy month of Ramadan, beginning at the end of April, would be banned. "In the absence of these meetings, remember to heed your prayers and devotions in your lonesomeness," he said.
On April 11, government offices in Tehran resumed operations with two-thirds of staff allowed to return. Low-risk businesses outside of Tehran, including shops, factories and workshops, were allowed to reopen. The government said that high-risk businesses--such as theaters, swimming pools, saunas, beauty salons, schools, shopping centers, and restaurants--would remain closed indefinitely. 

Week 9: April 12 – April 18
On April 12, the government lifted restrictions on travel between cities within the same province. State media reported that travel between different provinces will be allowed beginning on April 20. 
President Rouhani claimed that Iran handled the coronavirus outbreak better than Europe and the United States, despite the added burden of economic sanctions. "We had a sanctions virus, to which the coronavirus was added, but you [Europe and the United States] did not have the sanctions virus. You have one virus while we have two viruses," he said.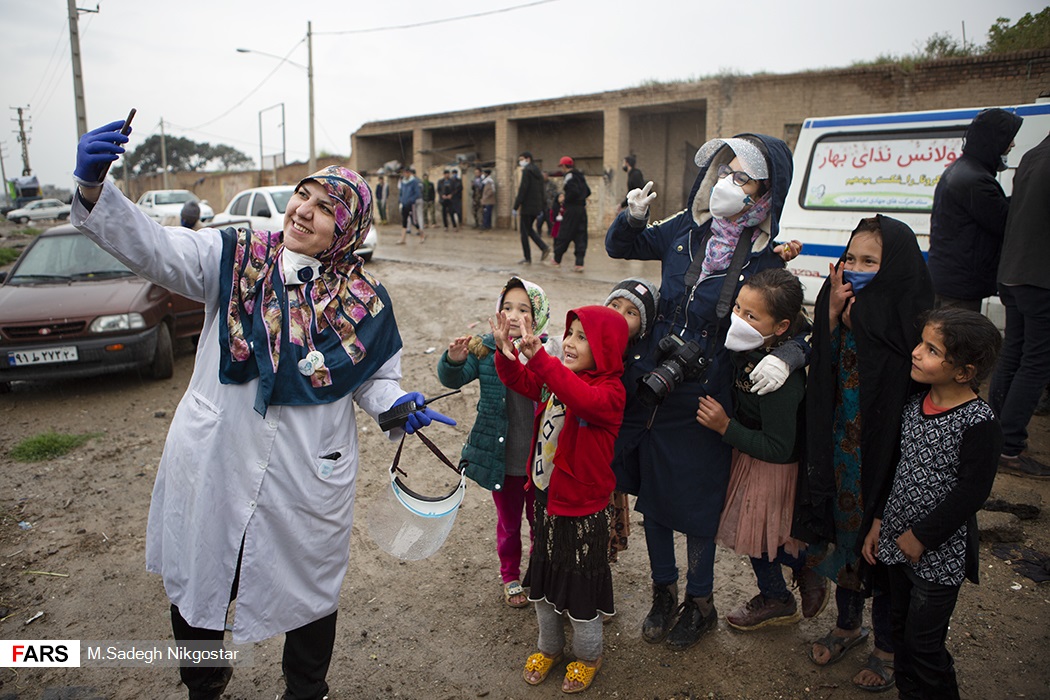 On April 14, Iran's parliamentary think tank suggested that the infections and deaths from the COVID-19 virus could be nearly double the official count due to underestimates and poor testing. The 46-page report said that the Health Ministry only counted patients who had died in hospitals and tested positive for the virus. People who died in their homes were not included in the count, according to health experts. 
On April 17, Iran held a parade on National Army Day with a decidedly different focus. It featured disinfection vehicles, mobile hospitals and other medical equipment instead of the usual missiles, soldiers and warplanes. The "Defenders of the Homeland, Helpers of Health" parade, hosted at a training facility in front of senior commanders, highlighted the role that the military had played in combating the country's COVID-19 outbreak.  President Rouhani  said, "Due to health and social protocols, it is not possible to hold a parade of soldiers...The enemy now is hidden and doctors and nurses are (instead) at the frontlines of the battlefield." 
On April 18, crowds flocked to businesses as some shops, factories and workshops reopened in Tehran. The Grand Bazaar, covered markets and shopping malls remained closed. Traffic in Tehran was 70 percent higher compared to the same day the year before, according to Tehran's traffic police chief. "The consequences of today's congestion will reveal themselves to medical centers five to 14 days from now," said Alireza Zali, head of Iran's coronavirus task force. 
Week 10: April 19 – 25
On April 19, President Rouhani announced that mosques and holy sites would remain closed until at least May 4. "Decisions on gatherings during the (Muslim holy month of) Ramadan will be taken next week," Rouhani added.
On April 20, shopping malls and bazaars reopened in Tehran despite warnings from health officials. The Ministry of Health said that inspectors would be dispatched to ensure businesses were complying with government guidelines. "Everything depends on the degree to which people are respecting the health protocols. People should not think that the situation has become normal again," said Mohammad Asayi, an adviser to the health minister.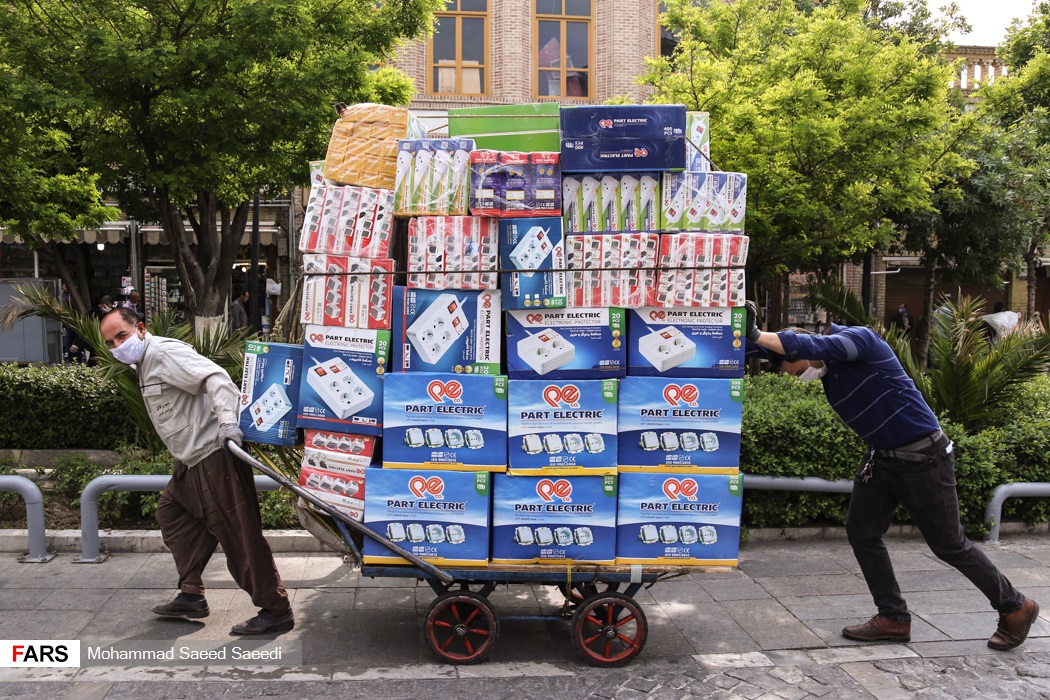 On April 22, Iran reopened public parks and recreational areas. The daily death toll had fallen below 100 for eight consecutive days. 
On April 25, President Rouhani said that the country must prepare for the "worst-case" scenario -- that disruptions from coronavirus could last until March 2021. "Our first request is that we should plan production long-term based on a pessimistic view that we might face this virus ... for months," Rouhani said. "Maybe (we will face this) till the end of the year, we do not know."
Alireza Zali, Tehran's coronavirus coordinator, warned that a "hasty" lifting of restrictions could "create new waves of sickness in Tehran and complicate efforts to bring the epidemic under control."
On April 25, Pakistan reopened the Rimdan border crossing with Iran. At least 14 Iranian trucks carrying exports were allowed to cross into Pakistan the same day. The border had been closed since March 15 to stem the spread of the virus. 
Week 11: April 26 – May 2
On April 26, President Rouhani announced that Iran would gradually begin to reopen religious sites in certain areas. Regions would be divided into white, yellow and red zones based on the number of COVID-19 infections and deaths. Counties that had been consistently free of infections or deaths would be labeled white, and mosques would be allowed to reopen. Deputy Health Minister Iraj Harirchi said that 116 counties had been designated as white and 134 as yellow.
On April 28, President Rouhani told Iranians to be cautious but not afraid of COVID-19. "Excessive fear, excessive anxiety, excessive worrying is worse than this corona itself and this virus and can really break up people's lives and take away people's comfort," Rouhani said. "But at the same time we shouldn't be careless, meaning there must not be excessive anxiety and worrying and there must be necessary caution."
Deputy Health Minister Harirchi announced that all citizens would be required to wear face masks on the subway. He said that masks would be sold for cheap at the entrances to all metro stations.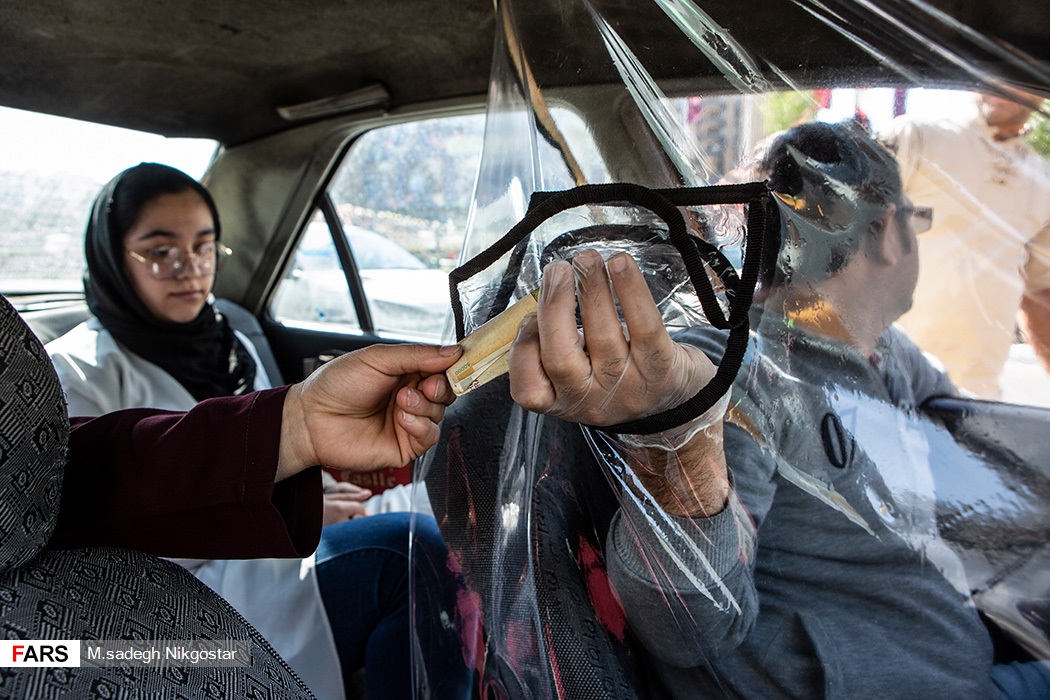 On April 29, President Rouhani urged Iranians to learn to adapt to life under coronavirus indefinitely. "I'm telling our dear people, because it is not clear when this virus outbreak is over, we should stand ready to keep working and continue to acquire science and knowledge, conduct research, keep the society alive and give hope to the society, with the assumption that unfortunately this virus is here to stay with people for quite some time," Rouhani said.
On April 30, Jamshid Hamzezadeh, the president of the Iranian Hoteliers Association, said that Iran's tourism industry had lost $330 million of revenue due to the COVID-19 pandemic. Hamzezadeh reported that hotels alone suffered $187 million in losses. He urged the government to exempt the tourism industry from paying taxes. 
On April 30, the Ministry of Health announced that religious sites in several cities, including Qom and Tehran, would remain closed through the holy month of Ramadan. "Until there's full assurance that pilgrims to religious sites will not face problems, we won't allow ourselves to open the doors of these centers to the people," said Health Minister Namaki. 
Week 12: May 3 – 9
On May 3, the government designated 132 counties as white--or free of new COVID-19 cases. President Rouhani announced that mosques would be allowed to reopen in those counties on May 4. "The schools in the white and low-risk areas will reopen from May 16," but he said the government would continue to review the numbers.
Deputy Health Minister Harirchi urged Iranians not to take COVID-19 lightly until a vaccine is developed. Iran had witnessed a decline in new cases and deaths due to government restrictions. "This falling trend in infections came by God's grace and on the back of people's cooperation and wholehearted efforts by personnel at all hospitals and laboratories, and all this has happened at a time when we are under unfair sanctions," Harirchi said.
On May 4, Hossein Erfani, the director of the Contagious Disease Department at Iran's Ministry of Health, warned that the country would likely experience a second wave of coronavirus cases in the autumn. "We predict that after a relative containment of the disease and its decline through the month of Khordad (May 21 – June 20), sporadic cases of the disease would occur in the society, but it will not be fully eradicated," Erfani said.
Hojjatoleslam Ali Noori, the deputy head of the Policy-Making Council of Iranian Friday Prayer Leaders, announced that Friday prayers could be held in 157 cities after a two-month hiatus. Prayer leaders vowed to respect guidelines issued by the Ministry of Health.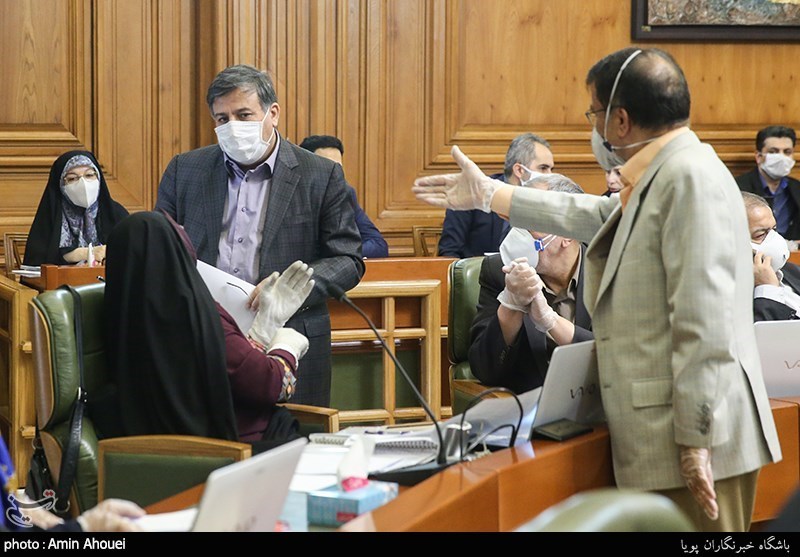 On May 5, President Rouhani called on the United States to lift sanctions to help Iran fight its COVID-19 outbreak. "If the Americans are honest amid the conditions caused by the coronavirus and intend to take a measure (in Iran's favor), the only way is for them to end the illegal sanctions on Iran," Rouhani said in a phone call with Japanese Prime Minister Abe Shinzo. "Unfortunately, illegal US sanctions against the Iranian nation have intensified in the tough conditions of the fight against the coronavirus and its severe economic consequences."
On May 6, the Ministry of Health reported that 15 out of the country's 31 provinces were experiencing a resurgence in COVID-19 cases. The report noted that several tourist destinations—Isfahan, Gilan and Qom—had experienced a second wave of the virus after the government lifted travel restrictions in April. 
The government unveiled a $260 million package to aid Iran's health sector. President Rouhani said that the funds were pulled from Iran's sovereign wealth fund and would go toward the purchase of drugs, diagnostic kits and medical equipment needed to treat COVID-19 patients. 
Week 13: May 10 – 16
On May 10, the government closed banks and offices in Abadan in Khuzestan province after the city experienced a sharp rise in new cases. Local officials also closed entry corridors to the city. Gholamreza Shariati, the governor of Khuzestan province, said that the increase was due to inadequate social distancing. "Because of this the number of corona patients in the province has tripled, and the hospitalization of patients has risen by 60 percent," Shariati reported. Similar restrictions were implemented in nine other cities and towns in Khuzestan. 
Supreme Leader Khamenei criticized the West's response to the COVID-19 pandemic. "The West and West-leaning entities wouldn't like their failure [to counter the pandemic] to be seen, but it is necessary to study and explain the different dimensions of this failure," he said. "Coronavirus began to spread in the United States and in Europe later than in other countries, which means they had the chance to prepare themselves to counter the virus."
On May 11, Iran Air, the flagship airline, announced that it would partially resume international flights on May 14. Airline officials said that they had gained approval from authorities in the Netherlands to resume flights from Tehran to Amsterdam. Flights would be restricted to diplomats, aid workers, and those holding permanent residency in the Netherlands.
On May 12, the Ministry of Health temporarily reopened all mosques. Mohammad Qomi, the director of the Islamic Development Organization, said that mosques would remain open for three days commemorating specific nights during the holy month of Ramadan. 
Health Minister Namaki announced that many regions had entered the "containment phase" in the Iran's fight against COVID-19. He urged citizens to continue to respect health protocols. "Our biggest strategic mistake in the current period is that we'd imagine that the coronavirus is over," Namaki said.
Iran's transportation minister, Mohammad Eslami, announced that Uzbekistan and Turkmenistan had agreed to resume trade with Iran within 10 days after a two-month suspension due to COVID-19. Eslami said that the countries would implement health protocols on the borders including disinfection facilities for trains and trucks. 
On May 13, President Rouhani praised  the government's response to COVID-19. "The measures that we witnessed in Iran in the course of the battle with the coronavirus could disprove many judgments that were being made about the establishment, the government and people," he said. "The Westerners imagined that the Iranian nation would not withstand the pressures and sanctions for more than a few months, and after the outbreak of the virus, they thought that a country under tough sanctions and with limited financial sources could not endure such problems."
On May 14, President Rouhani called for solidarity from officials and the public to stem the spread of COVID-19. "I have said time and again that the unity and solidarity among officials at various levels and across the country as well as good cooperation from people were the most important factors, which were key to successful management and control of the deadly coronavirus," he said. 
On May 15, the government allotted an additional $995 million to the Ministry of Health to fight the COVID-19 pandemic because the country had experienced an uptick in cases after restrictions were lifted in late April and early May. 
On May 16, schools reopened in 130 cities deemed low risk or "white" regions after nearly three months of closure due to COVID-19. Students were required to wear masks and gloves during classes. 
The government allocated more than $75 million dollars to Iranians unemployed due to the COVID-19 pandemic. Iran's Plan and Budget Organization would transfer the funds to the Social Security Organization of Iran for dispersion. 
Week 14: May 17 – 23
On May 17, Health Minister Namaki announced progress in Iran's fight against COVID-19. "The country has passed from the stage of managing and controlling the coronavirus disease and is moving towards containing it in most parts of the country," he said. 
On May 18, Iran's Revolutionary Guards announced that the country's annual Quds Day parade, in support of the Palestinian claim to Jerusalem, would be cancelled due to COVID-19 concerns. The Guards had initially changed the parade from a pedestrian march to a parade of cars.
Government spokesman Ali Rabiei reported that 280 cities and towns had been declared low-risk white zones. He said that Khuzestan, which accounted for a quarter of the country's new daily cases, was the only region still in the high-risk red category. "We can have fewer deaths, keep people's daily lives in motion and not cripple the economy even when the coronavirus exists," Rabiei said. 
Health Minister Namaki condemned  U.S. sanctions on Iran as "inhumane" in an address to the World Health Organization. "There is no doubt that unilateral sanctions constitute an obstacle and are an inhumane measure, which brings about suffering and pain," he said. "The United States must be held to account for the severe sanctions that have put the lives of Iranian people in jeopardy."
On May 19, Iran reopened outdoor recreation centers and hiking trails. Minister of Cultural Heritage, Handicrafts, and Tourism Ali Asghar Mounesan said that camping and hiking in large crowds was still prohibited under the new guidelines. 
On May 20, Iran announced that it would resume trade with Yemen, the United Arab Emirates, Qatar, Kuwait and Oman. Health Minister Namaki said that Iran would provide them with technical support in disease control. 
On May 21, Iran reported that around 10,000 health workers had been infected by COVID-19. In April, the Health Ministry reported that more than 100 health workers had died from the virus. 
President Rouhani said that neither the coronavirus nor U.S. sanctions could stop Iran's economic progress. "Coronavirus and problems like that cannot stop our production. Of course such problems have some impacts. Both the coronavirus and the US virus have impacts but none of them can stop us," he said. 
Week 15: May 24 – 30
On May 25, President Rouhani announced the country's fourth phase of COVID-19 containment using diagnostic kits and other devices to separate the infected people.
Iran reopened holy sites--including Imam Reza shrine in Mashhad, Fatima Masumeh and Jamkaran mosque in Qom and Shah Abdol-Azim shrine in Tehran--after more than a two-month closure due to coronavirus. Worshippers were required to wear masks, walk through a disinfection tunnel and have their temperatures checked before entering. The shrines would only be opened to the public for six hours each day. 
On May 26, "high-risk" businesses--including restaurants, cafes, gyms, saunas and wedding halls--were allowed to reopen across the country. Restaurants were required to ensure a distance of two meters (about 6.5 feet) between all patrons and only at 50 percent capacity. 
All border crossings with Afghanistan were reopened and trade restrictions were lifted, according to Hossein Salimi, the chairman of Iran-Afghanistan Joint Chamber of Commerce. Afghanistan closed its land borders to Iran and limited trade on February 23. Land borders were officially reopened on February 25, but trade restrictions had remained in place. 
On May 27, Iran's new parliament, elected in February, held its first session amid the COVID-19 pandemic. All 268 members of parliament who attended had tested negative for the virus, according to state media. Lawmakers had their temperatures checked before entering parliament. 
Iran reopened the Bazargan border crossing, which closed on February 24, between Iran and Turkey. Officials announced that Iraq would reopen the Shalamcheh border crossing with Iran the following week. Iraq closed its land borders with Iran on March 8 due to COVID-19. 
On May 30, Iran reopened mosques for daily prayers. Restrictions on the opening hours for shopping malls were lifted. 
Photo Credits: All content by Fars News Agency and Mehr News Agency is licensed under a Creative Commons Attribution 4.0 International License.
Some of the information in this article was originally published on April 14, 2020.