The Islamic Revolutionary Guard Corps (IRGC) was created after the 1979 revolution to enforce Ayatollah Ruhollah Khomeini's concept of an Islamic state. The Guards played a crucial role not only in crushing early opposition to Khomeini's vision, but also in repelling Saddam Hussein's invasion of Iran in 1980. Since then, the Guards have functioned as both the primary internal and external security force. The IRGC has now eclipsed the Artesh, or conventional forces. The IRGC has approximately 150,000 personnel. Some 125,000 are ground forces, which include:

•    Seven infantry divisions and 14 standalone infantry brigades
•    Three armored divisions and three standalone armored brigades
•    Three artillery regiments
•    One special forces division
•    One airborne infantry brigade
It also operates an independent naval force, which is responsible for patrolling the Strait of Hormuz, a strategic waterway through which some 30 percent of sea-borne traded crude oil flows. The IRGC Air Force commands Iran's burgeoning missile capabilities. The regular Air Force still controls most military aviation. The IRGC has operational control over the Basij militia, which could muster several hundred thousand soldiers in a major mobilization.
The IRGC runs asymmetric warfare through the elite Qods Force and proxy groups abroad. The Qods Force reportedly has some 15,000 personnel. In 1982, the IRGC deployed to Lebanon and fostered the creation of a Shiite militia that evolved into Hezbollah. Qods Force Commander Qassem Soleimani has played a leading role in organizing Iraqi militias to fight ISIS and shoring up the Assad regime in Syria against rebels and extremist groups. In Afghanistan, the Qods Force supported the anti-Taliban Northern Alliance starting in the mid-1990s. In 2001, it shared intelligence with the United States to topple the Taliban, reportedly prompting Soleimani to remark that "maybe it's time to rethink our relationship with the Americans." Relations soured in 2002, and U.S. officials have since accused the Qods Force of arming and training the Taliban, a useful tool to counter U.S. influence on Iran's borders. From 2013 to 2017, the IRGC deployed some 50,000 Afghans to fight on in the Fatemiyoun militia on behalf of the Assad regime. Most of the fighters came from the estimated three million Afghan refugees living in Iran. 
Over time, the Guards have also been transformed into a leading economic and political actor. The IRGC and its associated companies are involved in many sectors of Iran's economy, allowing it to amass unprecedented power. The Guards' ascendance could not have happened without the support of Supreme Leader Ayatollah Ali Khamenei and President Mahmoud Ahmadinejad (2005-2013). Khamenei relied on the Guards to buttress his declining authority and to block political reform. As guarantor of the revolution's core principles, the IRGC played a key role in marginalizing reformist and pragmatic conservative factions seen to challenge those principles.
The following are short profiles of three key IRGC commanders, followed by a State Department fact sheet on the IRGC designation as a Foreign Terrorist Organization (FTO).
IRGC Commander – Major General Mohammad Ali Jafari 
•    Appointed IRGC Commander in 2007 by Supreme Leader Khamenei
•    Career IRGC ground forces officer
•    Led an IRGC strategic research center from 2005 to 2007, specializing in asymmetric warfare
•    Taught at the IRGC War University from 1992 to 1993
•    One of 24 IRGC officers who signed a letter to President Mohammad Khatami in 1999 warning Khatami to cease his liberalizing policies
•    Reportedly has close ties to the Supreme Council of Islamic Revolution in Iraq
•    Iran-Iraq War veteran
 
Major General Mohammad Hossein Baqeri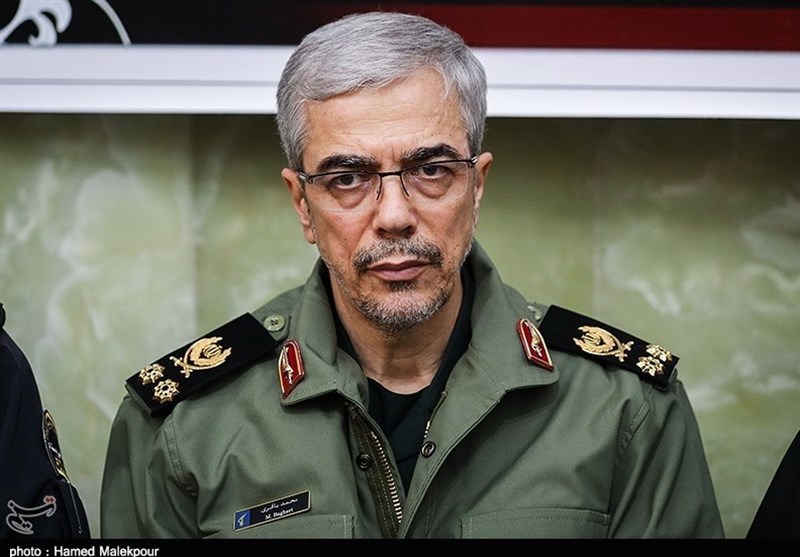 •    Appointed Armed Forces Chief of Staff in 2016 by Supreme Leader Khamenei
•    Career IRGC intelligence officer
•    Previously served on the General Staff as Deputy Chief of Staff for Intelligence
•    Iran-Iraq War veteran; his older brother, Hassan Baqeri, was a famous IRGC commander who died in the war
•    Participated in the 1979 U.S. Embassy seizure while an engineering student
 
Major General Qassem Soleimani – Commander of the IRGC Qods Force
•    Appointed Qods Force Commander in 1998 by Supreme Leader Khamenei
•    Career IRGC officer since 1979
•    Iran-Iraq War veteran
•    Had a leading role in:
-Coordinating operations against ISIS in Iraq starting in 2014
-Assisting the Assad regime in Syria starting in 2011
-Undermining the U.S. presence in Iraq from 2003 to 2011
-Managing Iran's proxy war with the Taliban from 1998 to 2002
 
Click here for "The Iran Primer" chapter on the IRGC.

Click here for information on IRGC-supported militias in Iraq.
On April 8, the State Department released the following factsheet on the IRGC designation. 
Designation of the Islamic Revolutionary Guard Corps
The State Department intends to designate as a Foreign Terrorist Organization (FTO) the Islamic Revolutionary Guard Corps (IRGC) in its entirety, including the Qods Force. This is a historic step to counter Iran-backed terrorism around the world.
On April 15, the IRGC will be added to the State Department's FTO list, which includes 67 other terrorist organizations including Hizballah, Hamas, Palestinian Islamic Jihad, Kata'ib Hizballah, and al-Ashtar Brigades.
The IRGC FTO designation highlights that Iran is an outlaw regime that uses terrorism as a key tool of statecraft and that the IRGC, part of Iran's official military, has engaged in terrorist activity or terrorism since its inception 40 years ago.
The IRGC has been directly involved in terrorist plotting; its support for terrorism is foundational and institutional, and it has killed U.S. citizens. It is also responsible for taking hostages and wrongfully detaining numerous U.S. persons, several of whom remain in captivity in Iran today. 
The Iranian regime has made a clear choice not only to fund and equip, but also to fuel terrorism, violence, and unrest across the Middle East and around the world at the expense of its own people.
The Iranian regime is responsible for the deaths of at least 603 American service members in Iraq since 2003. This accounts for 17% of all deaths of U.S. personnel in Iraq from 2003 to 2011, and is in addition to the many thousands of Iraqis killed by the IRGC's proxies.
This action is a significant step forward in our maximum pressure campaign against the Iranian regime. We will continue to increase financial pressure and raise the costs on the Iranian regime for its support of terrorist activities until Tehran abandons this unacceptable behavior.
The IRGC, with the support of the Iranian government, has engaged in terrorist activity since its inception 40 years ago.
The IRGC—most prominently through its Qods Force—has the greatest role among Iran's actors in directing and carrying out a global terrorist campaign.

In recent years, IRGC Qods Force terrorist planning has been uncovered and disrupted in many countries, including Germany, Bosnia, Bulgaria, Kenya, Bahrain, and Turkey.
The IRGC Qods Force in 2011 plotted a brazen terrorist attack against the Saudi Ambassador to the U.S. on American soil. Fortunately, this plot was foiled.
In September 2018, a U.S. federal court found Iran and the IRGC liable for the 1996 Khobar Towers bombing which killed 19 Americans.
In 2012, IRGC Qods Force operatives were arrested in Turkey for plotting an attack and in Kenya for planning a bombing.
In January 2018, Germany uncovered ten IRGC operatives involved in a terrorist plot in Germany, and convicted another IRGC operative for surveilling a German-Israeli group.

The IRGC continues to provide financial and other material support, training, technology transfer, advanced conventional weapons, guidance, or direction to a broad range of terrorist organizations, including Hizballah, Palestinian terrorist groups like Hamas and Palestinian Islamic Jihad, Kata'ib Hizballah in Iraq, al-Ashtar Brigades in Bahrain, and other terrorist groups in Syria and around the Gulf.
In addition to its support of proxies and terrorist groups abroad, Iran also harbors terrorists within its own borders, thereby facilitating their activities. Iran continues to allow Al Qaeda (AQ) operatives to reside in Iran, where they have been able to move money and fighters to South Asia and Syria. In 2016, the U.S. Treasury Department identified and sanctioned three senior AQ operatives residing in Iran and noted that Iran had knowingly permitted these AQ members, including several of the 9/11 hijackers, to transit its territory on their way to Afghanistan for training and operational planning.
The IRGC FTO designation is a significant step forward in our maximum pressure campaign against the Iranian regime. 
This new FTO designation builds upon previous sanctions, sends a clear message to the world that the Administration is committed to exerting maximum pressure on the Iranian regime, and shines a spotlight on those in the IRGC who engage in terrorist activities.

It builds upon previous sanctioning of more than 900 Iran-related individuals, entities, aircraft, and vessels by this Administration for human right abuses, censorship, ballistic missile program, malign cyber activities, support to terrorism, or associations with the Government of Iran.
Since January 19, 1984, Iran has been designated a State Sponsor of Terrorism (SST) for providing support for acts of international terrorism. As a result of this designation, Iran is subject to a number of sanctions and restrictions, including restrictions on U.S. foreign assistance; a ban on defense exports and sales; exports controls of dual use items; and miscellaneous financial and other restrictions.
In 2017, the Department of the Treasury designated the IRGC as a Specially Designated Global Terrorist pursuant to its counterterrorism sanctions authority (Executive Order 13224) for its activities in support of the IRGC-Qods Force, which was previously designated in 2007 under this same authority for providing support to a number of terrorist groups, including Hizballah and Hamas.
The IRGC is also currently designated pursuant to various Executive Orders, including sanctions designations in 2007 for its support to Iran's ballistic missile and nuclear programs, and in 2011 and 2012 in connection with Iran's human rights abuses.
Part 1: Trump, Pompeo on IRGC as "Terrorists"

Part 3: What Will IRGC Designation Actually Do?

Part 4: Experts on IRGC Designation

Part 5: How Might Tehran Respond to IRGC Designation?

Part 6: Iranian Officials React to IRGC Designation