On July 5, Foreign Minister Mohammad Javad Zarif appeared before Iran's new parliament, where conservative factions have assumed the majority over reformers and centrists, to discuss foreign policy and the economic challenges triggered by U.S. sanctions. The session quickly became personal. Several members booed Zarif and called him a liar. Javad Karimi Qudussi, a hardliner, shouted "Death to the liar." Lawmakers also accused Zarif of being disconnected from daily life in Iran. "You said you negotiated to relieve the pressure on people's livelihood, but are you aware that the value of dollar has reached 21,000 tomans?" said Ali Reza Salimi, another hardliner. Iran's currency fell to its lowest rate -- 215,500 rials per dollar -- ever against the dollar in early July. "This is the result of your negotiation. Are you and Mr. President [Hassan Rouhani] not aware of the housing prices?" Salimi added.
Zarif defended his actions -- including negotiating the 2015 nuclear deal with six major world powers -- which he claimed had all been approved by Supreme Leader Ayatollah Ali Khamenei. "If I lied, he heard and said it was the truth. If I told the truth, he heard and said it was bravery," Zarif said.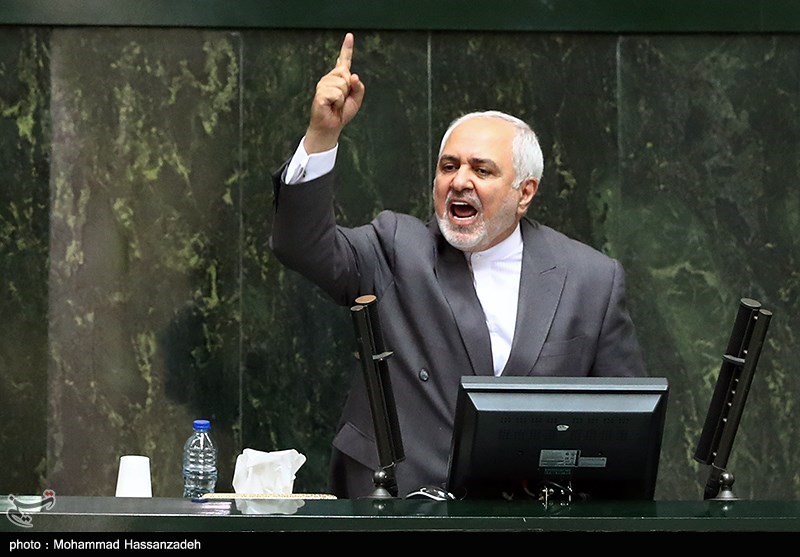 Mohammad Baqr Qalibaf, parliament's new speaker, called the body to order several times to allow Zarif to continue to speak. After the session, Qalibaf, a hardliner, said that discontent with Zarif stems from the country's economic struggles. "I hope that the ministry of foreign affairs is able to do its job properly in the field of economy, the main element for strengthening national clout," Qalibaf said.
After the session, Ebtekar newspaper published a cartoon of Zarif with arrows in his back. 
President Rouhani may be next to face a grilling. Some 200 lawmakers have endorsed a motion to summon Rouhani to parliament to explain rising prices for housing and commodities. The following are excerpts from Zarif's remarks.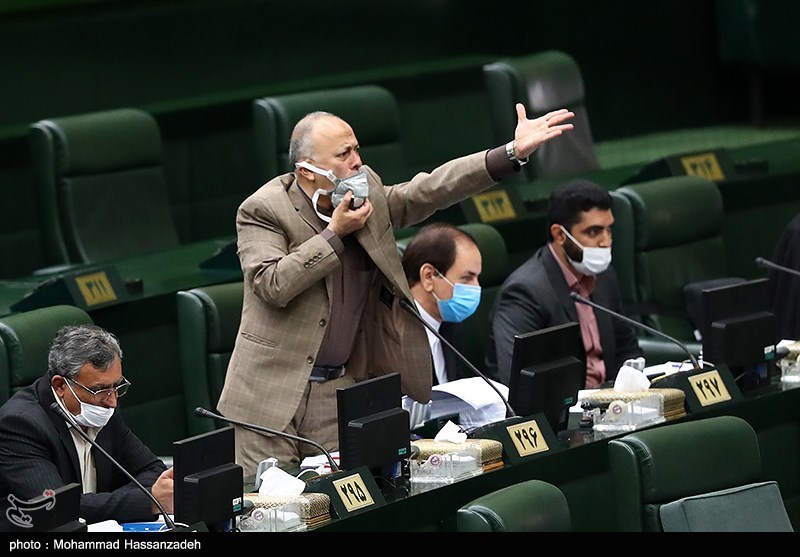 "You can say whatever you want, but the martyr [General Qassem] Soleimani and I had weekly meetings. We coordinated with each other every week. In regional talks, whatever we did we coordinated with each other. Those who know Soleimani … and the Iraqi, Lebanese and Palestinian resistance, they know, and not you."
"I even want to thank you for your sharp criticisms, but you should know we are in the same boat. We are all in this together. The U.S. does not recognize [the difference between] liberals, reformists and conservatives, revolutionaries and non-revolutionaries."
"If I lied, the Supreme Leader heard it and said 'Zarif is honest,' and if I said the truth, he heard that too and said 'Zarif was brave.'"
"The Islamic Republic is an emerging power and it is for this reason that America, as the representative of the previous world order, has waged an all-out war against it. What is important now is to stay together, the foreign policy is not an arena to settle factional differences and that is why the foreign policy in the constitution is in the field of the Supreme Leader's responsibilities."
PS: Shouldn't leave out this clip in which #Zarif while strongly rejecting accusations of yelling MPs expresses his gratitude for their criticisms, and refers to his duty to be present at majles to respond their inquiries.https://t.co/HYqaeEyMUD https://t.co/LQtz8A4r53

— Adnan Tabatabai (@A_Tabatabai) July 5, 2020
Photo Credits: All content by Tasnim News Agency is licensed under a Creative Commons Attribution 4.0 International License.