On August 14, Iranian Foreign Minister Mohammad Javad Zarif met top Lebanese officials 10 days after twin explosions at the Beirut port killed more than 175 people and wounded some 6,000. Zarif accused Western countries of demanding political change in Lebanon as a precondition for billions of dollars in financial aid to rebuild both the port and the nation's tattered economy.
The Iranian delegation's visit came amid an international struggle over the future of Lebanon, a small but strategic country on the Mediterranean that was once known as the Switzerland of the Middle East. The failing Levantine nation is facing the greatest challenges since the end of the 15-year civil war in 1990, with its economy now on the verge of collapse, months of popular protests, and problems containing the COVID-19 crisis. "No foreign side should take advantage of the catastrophic conditions and the needs of Lebanon to impose dictates that are in their interests," Zarif said.
"We believe that it is the state and the people of Lebanon who must decide the future of Lebanon and how to move things forward," he added. "Others should not condition their aid on any change in Lebanon during this emergency situation. In our opinion, it is not humane to use the pain and suffering of people for political ends." He said that the Iranian government and private Iranian companies were willing to help with reconstruction, including rehabilitating Lebanon's long-troubled electricity sector.
French President Emmanuel Macron, who visited Beirut two days after the disaster, had called for "political change" and a new "political contract" for Lebanon. Both Macron and Zarif met with Prime Minister Hassan Diab, President Michel Aoun, Parliament Speaker Nabih Berri, and Foreign Minister Charbel Wehbe to discuss regional issues and recovery efforts. Zarif's visit also followed visits by David Hale, the U.S. Undersecretary of State for political Affairs, and French Defense Minister Florence Parly on Aug. 8.
Lebanon's sectarian political system has given rise to powerful patronage networks and systemic corruption. Iran has an interest in preserving the current political system and some of its top politicians because Hezbollah, its pivotal ally in the region, has become Lebanon's most influential political party. The Shiite movement also has the largest militia outside the Lebanese military. Prime Minister Diab, who took office in January 2020, was nominated  by Hezbollah and its allies after the collapse of Prime Minister Saad Hariri's government in October 2019.
In Beirut today to express the solidarity of the people of Iran with all Lebanese, and to offer our readiness to help.

This is a time to assist and facilitate - not to impose and dictate.

We in the region are all in this together: Lebanon's security is our security. pic.twitter.com/8jDQ9lVFbj

— Javad Zarif (@JZarif) August 14, 2020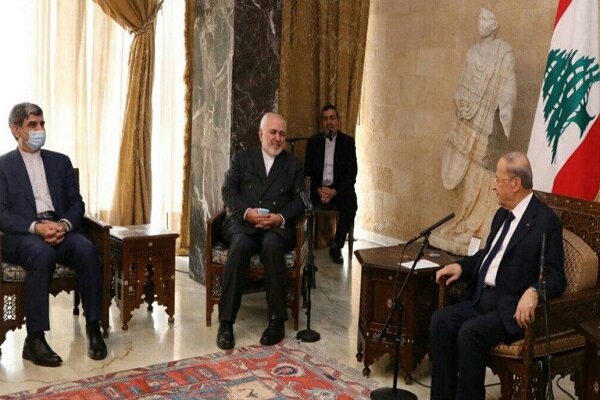 Foreign Minister Zarif and Lebanese President Michel Aoun met in Beirut on August 14