Terrorism has been a recurrent challenge for Iran since the 1979 revolution. The perpetrators, targets and frequency have fluctuated. The early attacks killed hundreds of government officials, including a president, prime minister, cabinet ministers, and dozens of members of parliament. Attacks have been carried out by a wide array of actors—ethnic separatists, Sunni militants, monarchists, Marxists and, statistically most of all, the opposition Mujahadeen-e Khalq (MEK). In 2017, the Islamic State of Iraq and Syria—a Sunni militant group—launched its first attacks against the Islamic Republic, a predominantly Shiite country.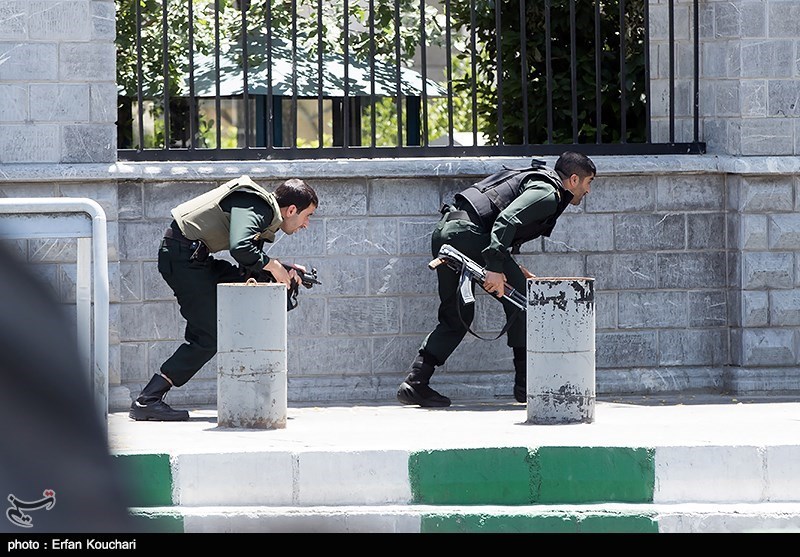 In the 1980s, terrorist attacks were mainly perpetrated by Arab separatists in Khuzestan province or by opposition groups. Separatist factions included the Arab Front for the Liberation of Ahvaz (AFLA), the Arab Popular Movement of Arabistan (APMA), and the Ahwazi Democratic Popular Front. They all sought to create an autonomous or independent Khuzestan in the southwest. Marxist Islamist groups, such as the MEK and Forqan, operated mainly in Tehran and southeastern Iran. Exiled monarchist groups operating in the United States and Europe included the Pars Group (also known as the Guardian of the Royal Regime), the Armed Movement for the Liberation of Iran (AMLI), the Azadegan Organization, and Arya. These groups were often came together under the umbrella of the Free Iran Movement led by the niece of the late Shah Mohammad Reza Pahlavi. Leftists and monarchists sought to overthrow theocratic rule. With the exception of the MEK, attacks by leftists and monarchists largely stopped after the Iran-Iraq War ended in 1988; many of their members fled the country. 
Between 1990 and 2005, terrorist attacks were less frequent and less deadly, but the targets and locations were more varied. As an insurgent group, the MEK reached its apex during the 1990s. It demonstrated global reach in April 1993 with attacks in Britain, France, Germany, and Holland. In 1994, Iran, in turn, felt a threat from outside its borders from dissidents based in Pakistan, who claimed to represent Iran's Sunni minority. 
The formation of Jundallah, a Sunni Baloch militant group operating in southeastern Sisten-e Baluchestan province, in 2003 marked another turning point. It carried out a string of attacks from 2006 to 2010 that killed almost 150 people. After 2012, Iran faced incidents launched by a wider array of movements. Kurdish separatist groups, such as the Free Life Party of Kurdistan (PEJAK) and the Free Democratic Society of Eastern Kurdistan (KODAR), claimed responsibility for separate attacks targeting Iranian soldiers in 2012 and 2015. In 2017, the Islamic State of Iraq and Syria killed 12 in coordinated strikes in Tehran. In 2018, four gunmen disguised in government uniforms opened fire on a military parade; 29 were killed. Both ISIS and an Arab separatist group, the Ahvaz National Resistance, claimed responsibility. The following is a chronology of major terrorist attacks in the Islamic Republic.
1979
April 23 — Assassins fatally shot the first armed forces chief of the newly formed Islamic Republic, Gen. Mohammad Vali Gharani, outside of his home in central Tehran. A previously unknown militant Shiite opposition group called Forqan distributed pamphlets claiming responsibility for the attack. 
May 1 — Ayatollah Morteza Motahari was gunned down in the streets of Tehran after leaving Prime Minister Mehdi Bazargan's home. An anonymous phone caller claimed that Forqan was responsible.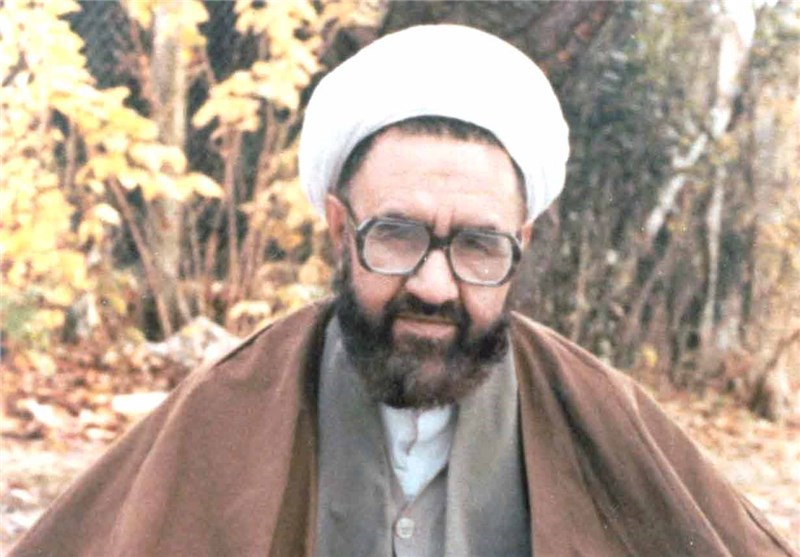 July 7 — Taghi Haj Tarkhani, an opponent of the Shah and a prominent businessman, was assassinated outside of his home in Tehran. Leaflets dropped at the scene said the perpetrators were members of Forqan.
July 15 — Arab separatists attacked a Revolutionary Guard funeral in southwestern Khorramshahr, killing seven and injuring 60. 
October 3 — Arab separatists killed five and injured 16 in a bomb attack on a passenger train in southwest Ahvaz. 
October 5 — One person was killed and 35 injured when a bomb detonated in a Khorramshahr bazaar. 
1980
February 21 — An explosion at the headquarters of an Iranian relief agency, Red Lion and Sun, killed five and injured 39. No group claimed responsibility. 
April 4 — Five people were killed and four injured when six bombs containing TNT went off in a car in Khorramshahr. 
April 10 — One person was killed and 20 were injured when a bomb went off in a market in southwestern Abadanin. 
April 30 — Twenty-six people were taken hostage in the Iranian embassy in London by Arab nationalists from Khuzestan Province. The siege lasted six days; it ended when the gunmen killed a hostage and threw his body out of a window. British special forces launched a raid that freed the hostages. During the raid, one hostage and five of the six hostage-takers were killed. 
At near-exactly this time on 5 May 1980, Operation NIMROD began by the SAS to rescue hostages at #Iran's Embassy in London, held by Arab separatists.

Mrs. Thatcher decided early against safe passage out for the terrorists; five hours after they killed a hostage, the raid began. pic.twitter.com/I2mRiUTRKg

— Kyle Orton (@KyleWOrton) May 5, 2018
June 24 — A bomb killed 11 people and injured 56 in Ahvaz. Local radio blamed Saddam Hussein's regime in Iraq and the United States.
July 23 — Multiple explosions in the underground parking garage of a Tehran shopping arcade killed six and wounded nearly 100. An anonymous caller claimed Forqan was responsible.
July 30 — A bomb planted under a motorcycle in Ahvaz killed eight and wounded 36. State media claimed that the bomb was planted by counterrevolutionaries with ties to Iraq and the United States. 
1981
June 27 — A bomb in a tape recorder seriously injured Ali Khamenei, Tehran's chief religious leader, during a Friday prayer sermon. Khamenei, who later became president and then supreme leader, permanently lost use of one arm. 
June 28 — An explosion at the Islamic Republican Party headquarters killed at least 69, including four cabinet ministers. The government initially blamed the attack on the communist Tudeh party and "American elements." It later claimed that the Mujahedin-e Khalq was responsible.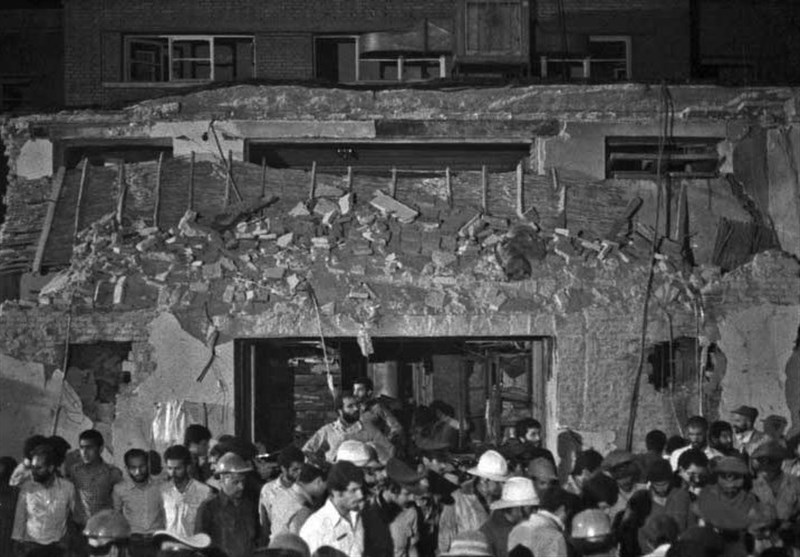 August 3 — A bomb went off near the Tehran office of President Mohammad Ali Rajaei, killing seven and injuring 10. A second bomb killed 13 people at a crowded shopping center in Kermanshah. 
August 30 — Prime Minister Mohammed Javad Bahonar and President Mohammad Ali Rajaei were assassinated in an explosion at the prime minister's office. The Mujahedin-e Khalq claimed responsibility.
September 5 — Ayatollah Hoseyn Baqeri was assassinated. 
September 11 — Ayatollah Seyyed Madani was assassinated in a suicide bombing, which also killed six others and wounded 12. 
November 24 — An explosion at Tehran's central train station killed three people. 
December 1 to January 10, 1982 — In six separate attacks, nine people were killed, including members of the Revolutionary Guards, government officials and members of parliament. 
1982
February 22 — Three members of the Revolutionary Guards were among 15 killed and 60 injured in an explosion near a military barracks in Tehran. French media reported that an anonymous caller, who claimed to speak for the Pars monarchist group, took responsibility. The monarchists later denied involvement. 
September 6 — A bomb placed under a Leyland trailer killed 20 people and injured 100 in Tehran. Local media claimed that the attackers were "American agents," although the Mujahedin-e Khalq was suspected.
September 12 — Two bombs exploded in Enqilab Square near Tehran University 
September 20 — A bomb killed one and injured 20 at Tehran's central bus station. 
October 1 — A truck filled with 330 pounds of TNT detonated across from a five-story hotel near Naqsh-e Jahan Square in Isfahan. The explosion killed 60 people and injured nearly 700. State media blamed U.S. "mercenaries."
1984
April 26 — Regime opponents attacked the Iranian consulate in London, the Iranian embassy in the Netherlands, Iran Air offices in Frankfurt, and an Iranian U.N. delegation office in Paris.
August 23 — Separate groups claimed responsibility for a bomb planted in a fruit juice vendor's cart that exploded during rush hour near Tehran's central railway station, killing 18 and injuring more than 300. Arya, an exiled monarchist group based in Paris, claimed responsibility. A caller to Agence France Presse (AFP) in Tehran later claimed responsibility on behalf of the Unity of the Week of Resistance of the Martyr Khalaghi. 
September 6 — Three people were killed after two car bombs exploded in Tehran.
December 25 — A taxi cab filled with explosives killed five people and injured 50 outside a small hotel near Shoush Square in Tehran. An anonymous call to AFP in Tehran claimed responsibility on behalf of the Mujahedin-e Khalq, although the Paris-based group later denied it. 
1985
March 15 — A suicide bomber targeted a Friday prayer service at Tehran University led by President Ali Khamenei. He was not injured, but six people were killed. 
April 6 — An explosion at an Islamic Revolutionary Guard Corps (IRGC) base killed 14 soldiers and injured three dozen. Media reports claimed that an IRGC member had placed the bomb. A second explosion injured two civilians outside of a bookshop near Tehran's Istanbul Crossroad. 
May 12 — At least 12 people were killed and more than 35 were wounded when a car bomb detonated near a central bazaar in Tehran. State media claimed that "U.S. agents" were responsible. The Mujahedin-e Khalq denied responsibility and called it "a crime committed with the sole aim of tarnishing the image of the just resistance." 
August 18 — A car bomb in Tehran injured 30 people. 
September 11 and September 19 — Two separate car bombing attacks killed one and wounded 21. 
November 3 — A car bomb wounded two people in Tehran. 
November 7 — A bombing wounded three in Tehran. 
December 7 — Two were killed and eighteen wounded in a Tehran explosion. 
1986
July 8 — A bomb planted in a Tehran tea shop wounded 37. 
August 5 — A bombing in Tehran killed one. 
August 16 — A car bomb in the holy city of Qom killed 11 and injured 100 outside of the Shrine of Masumeh. 
August 19 — A car bomb killed 20.
1988
February 16 — At least 10 were wounded by a car bomb in north Tehran. Iran's Flag of Freedom radio, an underground news outlet, criticized the government for "downplaying" the incident; it reported "scores" of killed and wounded. 
1991
April 13 — Sheikh Hossein Raffi and his driver were gunned down by unknown assailants near Lamard in the south of Far Province. 
1992
April 5 — The Mujahedin-e Khlaq coordinated raids on Iranian diplomatic missions in 10 countries, including the Iranian Mission to the UN in New York and Iran's embassies in Canada, Denmark, France, Germany, Holland, Norway, Sweden, and Switzerland. There were no deaths in the attacks. 
1994
April 19 — A bomb injured 13 people at a busy intersection in central Tehran. The Islamic Movement, a Pakistan-based group that claimed to represent Iran's Sunni minority, took responsibility.
June 20 — An explosion inside the mausoleum of Imam Reza killed 70 and injured more than 100 in the northeastern city of Mashhad. The Mujahedin-e Khalq claimed responsibility. 
1998
June 2 — An explosion at the Islamic Revolutionary Court in north Tehran killed three people and injured six. The Mujahedin-e-Khalq later claimed responsibility. 
August 8 — Eight diplomats at the Iranian consulate in Mazar-e Sharif were killed after the Taliban captured the city in northwest Afghanistan.
1999
April 11 — Lt. Gen. Ali Sayyad Shirazi was assassinated outside of his home in Tehran by the Mujahedin-e-Khalq. 
November 25 — Two people were killed and eight injured in an explosion at the Shahid Chamran Academy for Literature in Ahvaz in southwest Iran. The Mujahedin-e Khalq claimed credit.
2005
June 12 — Seven bombings in Tehran and Ahwaz took place in the run-up to the presidential election. They were claimed by the Arab Martyrs of Khuzestan, the Arab People's Democratic Front, and the Armed Renaissance Group of Ahvaz. The four bombings in Ahvaz killed eight and wounded 75. The three bombings in Tehran killed two and wounded three.
October 15 — Twin bombings killed four people and injured 102 in a crowded Ahvaz market. 
2006
March 16 — In Baluchistan, near Zahedan, militants posing as police officers and soldiers stopped cars and attacked occupants. Jundallah, a Sunni Baluch militant group formed in 2003 and operating in southeastern Sistan-e Baluchestan Province, claimed responsibility; 22 were killed.
May 13 — Jundallah barricaded a road in Kerman and killed 11 passengers in four cars, then set the vehicles on fire. 
2008
April 12 — An explosion in Shiraz killed at least 12 and injured more than 200. The Jihadi Movement of the Sunna People of Iran, a Sunni dissident group, claimed responsibility.
December 29 — A suicide bomber killed four people and wounded 12 in an attack in Saravan in southeast Iran. Jundallah claimed responsibility.
2009
May 29 — At least 20 people were killed and more than 50 wounded in an explosion during evening prayers at the Amir Al-Momenin mosque in southeastern Zahedan. 
October 18 — A Jundallah suicide bomber attacked a unity meeting between Sunni and Shiite tribal leaders in Sistan-e Baluchestana. The explosion killed 35 people, including 15 Revolutionary Guards and 10 tribal leaders, and wounded 25. Among the dead were General Nur-Ali Shushtari, commander of the Revolutionary Guards in Sistan-e Baluchestan Province, and General Mohammad-Zadeh, the IRGC commander in Iranshahr. 
2010
January 12 — An Iranian physics professor was killed by a motorcycle bomb outside his home in northern Tehran. Iranian media blamed the United States and Israel for the attack.  
July 15 — Two suicide bombers killed 28 people, including IRGC troops, and injured more than 300 worshippers at the Grand Zahedan Shiite Mosque in southeastern Iran. Jundullah claimed responsibility.
November 29 — Two identical attacks targeted senior Iranian scientists during their morning commute. Majid Shahriari, a nuclear engineer, was killed and his wife and driver injured after a small explosive was planted on the rear door of his car by a passerby on a motorcycle. A second car bomb seriously wounded nuclear physicist Fereidoun Abbasi and his wife after they attempted to flee their vehicle. President Mahmoud Ahmadinejad blamed a "western government" and Israel for the attacks.
The car in which Majid Shahriyari, #Iran nuclear scientist, was killed by bomb in 2010. Now a memorial in Tehran. pic.twitter.com/Si3mQCFUM8

— David Blair (@davidblairdt) July 28, 2015
December 15 — At least 39 people were killed and 50 wounded in a suicide bombing outside the Imam Hossein Mosque in the southeastern coastal city of Chabahar. Jundallah claimed responsibility. 
2011
July 23 — Motorcycle gunmen killed Darioush Rezaeinejad and wounded his wife outside of their home in eastern Tehran. Iranian officials claimed the attack was part of an assassination campaign targeting the country's nuclear program by British, American, and Israeli intelligence. 
2012
January 11 — Iranian nuclear scientist Mostafa Ahmadi Roshan and his driver were assassinated during their morning commute in Tehran after a motorcyclist planted a magnetic device on their car. Iranian officials accused Israel and the United States. 
#Iran uses #NAM to push its own message -- Tehran displays damaged cars of three murdered nuclear scientists pic.twitter.com/lKiyMA6E

— Mehrzad Kohanrouz (@MehrzadBBC) August 27, 2012
2013
February 24 — A commander of the Revolutionary Guards, General Hamid Tabatabaei, was assassinated. The Free Life Party of Kurdistan (PEJAK), a militant Kurdish separatist group, was suspected.
November 19 — Two suicide bombers killed 23 and wounded 146 inside the Iranian embassy in Beirut. The Abdullah Azzam Brigades, a Lebanon-based group linked to al Qaeda, claimed responsibility.
2015
August 7 — Twenty soldiers were killed in an attack on an army base in Marivan. The Free and Democratic Society of Eastern Kurdistan (KODAR), a Kurdish separatist group, claimed responsibility, although government media implicated PEJAK. 
2017
June 7 — Six gunmen killed 12 people and wounded 46 in two coordinated attacks in Tehran. The first attack targeted Parliament; the second hit the mausoleum of Ayatollah Ruhollah Khomeini. The Islamic State of Iraq and Syria (ISIS), a Salafi-Jihadist militant group, claimed responsibility. 
Iran executes 8 ISIL members over the 2017 attack on Tehran's parliament and Ayatollah Khomeini mausoleum https://t.co/kMR7sts6ev pic.twitter.com/6bqOncMW3o

— Al Jazeera English (@AJEnglish) July 7, 2018
2018
September 22 — Four gunmen wearing military uniforms killed 29 and wounded 53 in an assault on a military parade in Ahvaz. Both the Islamic State and Al Ahwaz, an Arab separatist group advocating independence for Khuzestan province, claimed responsibility. Iranian officials suggested that the United States and its Gulf allies had a role. 
Etemad Newspaper: "Ahvaz in Blood"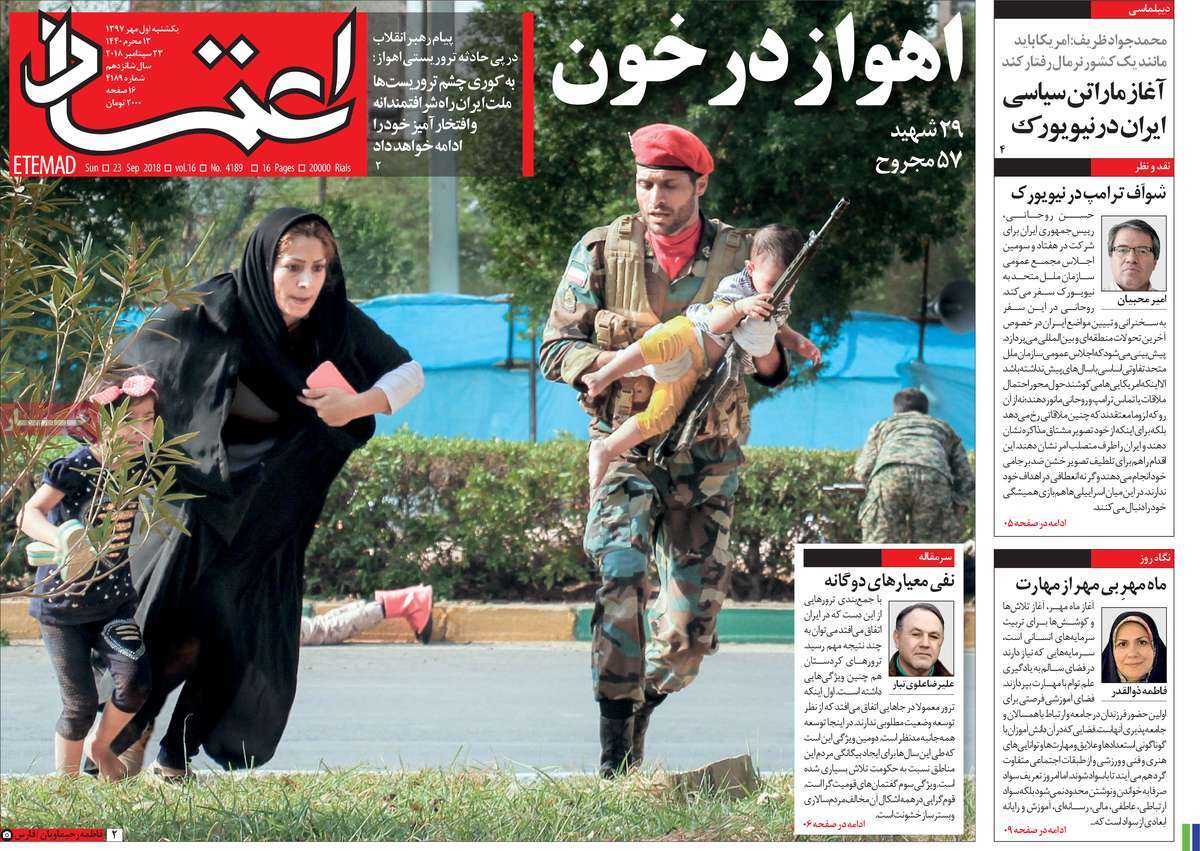 October 25 — Two members of the Basij were killed in an ambush on their way home from a base near Sarvabad in western Kurdistan province.
December 6 — A suicide bomber killed four and injured 42 others outside of police headquarters in the southeastern port city of Chabahar. Ansar al Furqan, or "Guardians of the Criterion," a Baluch militant group, claimed responsibility for the attack. The goals of Ansar al Furqan, a Sunni Islamist group, are "to topple the Iranian regime, and raise the word of Allah, and lift injustice" against "the oppressed." Iranian officials accused "foreign-backed" terrorists of conducting the attack and vowed that such crimes "would not go unpunished."
 
Foreign-backed terrorists kill & wound innocents in Chabahar. As we've made clear in the past, such crimes won't go unpunished: In 2010, our security services intercepted & captured extremists en route from UAE. Mark my words: Iran WILL bring terrorists & their masters to justice pic.twitter.com/Tij1I7zemx

— Javad Zarif (@JZarif) December 6, 2018
2019
January 29 — Two bombs went off outside of a police station in Zahedan, the capital of southeast Sistan and Baluchistan province. The explosions wounded three officers and damaged a police car and a motorcycle. Jaish ul Adl, a Baluch Sunni Islamist group, claimed responsibility. 
February 2 — Two gunmen snuck into Nikshahr, a Basij paramilitary base in southeastern Sistan and Baluchistan province. They opened fire during the morning flag raising ceremony. One IRGC member was killed, and five were wounded. Both attackers escaped. Jaish ul Adl claimed responsibility for the attack.   
February 6 — Two militants shot at a tanker filled with liquified gas at a petrol station in central Markazi province. The explosion killed one policeman and injured another. The attackers were not identified.  
February 13 — A suicide bomber detonated a car packed with explosives alongside an IRGC bus traveling between the cities of Zahedan and Khash near the Pakistani border. The attack left 27 IRGC members dead and 13 others wounded. Jaish ul Adl claimed responsibility for the attack. But officials did not confirm the group's involvement. Foreign Minister Javad Zarif implied in a tweet that the timing of the attack was not a coincidence. It coincided with a Middle East security conference in Warsaw co-hosted by the United States in which Iran was a major topic. 
Is it no coincidence that Iran is hit by terror on the very day that #WarsawCircus begins? Especially when cohorts of same terrorists cheer it from Warsaw streets & support it with twitter bots? US seems to always make the same wrong choices, but expect different results.

— Javad Zarif (@JZarif) February 13, 2019
#Iran Says #Pakistan Involved in Zahedan's Attack https://t.co/23Y1IKiw16 pic.twitter.com/kHCE8ndXY6

— Asharq Al-Awsat English (@aawsat_eng) February 17, 2019
July 7 — An IRGC vehicle was ambushed by unknown attackers traveling outside Piranshahr city in West Azerbaijan province. Three IRGC members were killed and one was injured in the attack.
2020
July 15 — Militants attacked a Basij member, a local official and a civilian near the village of Bolbar in Kurdistan province. Two of them were killed and the other was wounded. The media did not report names or specify who died.   
2021
March 2 — Jaish ul Adl claimed responsibility for killing at least five IRGC members and abducting three others in the southeastern city of Saravan.
March 21 — A bomb explosion killed one person and wounded three in the city square of Saravan. State media blamed a terrorists linked to "global arrogance," a term used to describe the United States, but no group claimed responsibility.     
2022
April 5 — A 21-year-old Uzbek from Afghanistan stabbed three clerics at the Imam Reza Shrine in the northeastern city of Mashhad. One cleric died at the scene, and two others were injured. A second cleric died of his wounds days later. On June 20, Iran hanged the perpetrator, Abdollatif Moradi, who was convicted of "war against God." Moradi had reportedly been inspired by ISIS.  
October 26 — A gunman killed 13 people and injured at least 20 others at the Shahcheragh shrine in Shiraz, the capital of Fars province. ISIS claimed responsibility for the attack. Iran said that the attacker, Sobhan Komrouni, was from Tajikistan. He died in a hospital days later. The intelligence ministry said that he had two accomplices, one from Afghanistan and one from Azerbaijan. Authorities arrested 26 people from Afghanistan, Azerbaijan and Tajikistan in connection to the attack in the following weeks. In July 2023, Iran executed two Afghan nationals who allegedly "had a direct role in planning and supporting the main perpetrator of the attack."
November 3 — Gunmen shot and killed Sajjad Shahraki, a cleric at a mosque in Zahedan, the capital of southeastern Sistan and Baluchistan province. A week later, security forces captured five suspects in Sistan and Baluchistan province who confessed plans to foment a "sectarian war" in the province by attacking Sunni and Shiite leaders. 
November 16 — Gunmen on motorcycles fired into a crowded market in the city of Izeh in southwestern Khuzestan province. Seven civilians were killed, and more than a dozen were injured. A second group repotedly set fire to a seminary.   
On the same day, two men on motorcycles opened fire on security forces in Isfahan. Two Basij members were killed, and another was injured. Seven law enforcment officers were also injured. 
November 28 — A Basij member was shot and killed by unknown assailants on his way to work in Isfahan in what the IRGC called a "terrorist action carried out by mercenaries of the global arrogance," a term used to describe the United States. 
2023
August 13 — A gunman killed at least one person and injured eight others at the Shahcheragh shrine in Shiraz, Fars province. Security forces and shrine workers reportedly detained the assailant, Tajik national Rahmatollah Nowruzof. Security forces also detained at least ten foreign nationals allegedly connected to the incident and discovered a safe house. The plot was the second targeting the Shiite shrine in less than one year. 
Click here for a history of Iran-backed terrorist attacks. 
This article, by Andrew Billingsley, was first published in November 2018. It was last updated in August 2023. 
Some of the information in this article was originally published on November 7, 2018.