Iran's leaders have hailed the interim agreement as a victory and start of a new era for Tehran and its relations with the outside world. In a televised statement, President Hassan Rouhani called the nuclear deal an important "first step" toward solving an "unnecessary crisis" and opening "new horizons." The successful talks "showed that the big powers can be urged to respect Iran's rights," Rouhani wrote in a letter to Supreme Leader Ayatollah Ali Khamenei.
            After four days of grueling talks, Zarif announced the deal in a tweet at 3:03 AM on November 24. The foreign minister was so excited about the outcome that he hugged his French counterpart, Laurent Fabius, even though additional demands from Paris reportedly blocked a deal earlier in November. "I believe it [the deal] was a victory for everybody… [but] I think the West,  particularly the U.S., needs to do a lot to at least partially restore confidence," Zarif told NBC shortly after the talks. He also warned that the deal would fall apart if new sanctions are imposed.
Photo: Joy of #Iran's foreign minister (centre left) over nuclear deal. Latest reaction http://t.co/5k7O6NDNfp & pic.twitter.com/NlNeXyE1KT

— BBC News (World) (@BBCWorld) November 24, 2013
But Iranian leaders interpreted the deal somewhat differently than their Western counterparts.  "Let anyone make his own reading, but this right [to enrich uranium] is clearly stated in the text of the agreement… and I announce to our people that our enrichment activities will continue as before," Rouhani said in a televised statement. Secretary of State John Kerry, however,  
emphasized
that "no inherent right to enrich" was included in the agreement. The following are excerpted remarks by Iran's top leaders.
President Hassan Rouhani
      "Iran's right to uranium enrichment on its soil was accepted in this nuclear deal by world powers… Let anyone make his own reading, but this right is clearly stated in the text of the agreement that Iran can continue its enrichment, and I announce to our people that our enrichment activities will continue as before.
      "The sanctions regime will begin to shatter with the [implementation] of this agreement.
      "The administration of hope and prudence seeks to create an atmosphere of trust between the Islamic Republic and countries that are interested in having friendly relations with this great nation."
           Rouhani also commented on the deal in several tweets.
          "The successful nuclear talks highlighted the fact that it is possible to offer views of the Iranian nation to the world public opinion in a logical and reasonable manner and with respect to the country's red lines, in a way which will make the big powers to respect the rights of the nation... This agreement benefits all regional countries and global peace."
          Nov. 24, 2013 in a letter to Supreme Leader Ayatollah Ali Khamenei
Foreign Minister Mohammad Javad Zarif

            "It is important that we all of us see the opportunity to end an unnecessary crisis and open new horizons based on respect, based on the rights of the Iranian people and removing any doubts about the exclusively peaceful nature of Iran's nuclear program. This is a process of attempting to restore confidence."
            The agreement "covers several important domains, the most important of which is the recognition of the right to enrichment…an inalienable right."
            The deal is an "important achievement" and a "first step" toward resolving an "unnecessary crisis" and working together based on an "equal footing, mutual respect and common benefits."
            "The Iranian people demand respect for their rights but demand respect for their dignity [too] and it is important to restore their confidence, and I hope this process can do that.
            "We believe that the current agreement ... has a very clear reference to the fact that [the] Iranian enrichment program will continue and will be part of any agreement now and in the future."
            "If there are new sanctions, then there is no deal. It's very clear. End of the deal. Because of the inability of one party to maintain their side of the bargain.
            "It was important for everybody to use the opportunity, we all knew that this was a small window that had to used, otherwise it would be shut. What I hope is important is that we will all work to a final resolution of this issue. Now we are just taking a first step, the difficult work is ahead of us.
            "It [the agreement] says that Iran has a an enrichment program and a right to nuclear technology for peaceful purposes. For me the right to nuclear for peaceful  purposes incorporates the right to enrichment.
            "I believe it was a victory for everybody, that they are moving from confrontation to the recognition of the realities on the ground… I think the West,  particularly the U.S., needs to do a lot to at least partially restore confidence — the confidence of the Iranian people."
            Nov. 24, 2013 in an interview with NBC
Supreme Leader Ayatollah Ali Khamenei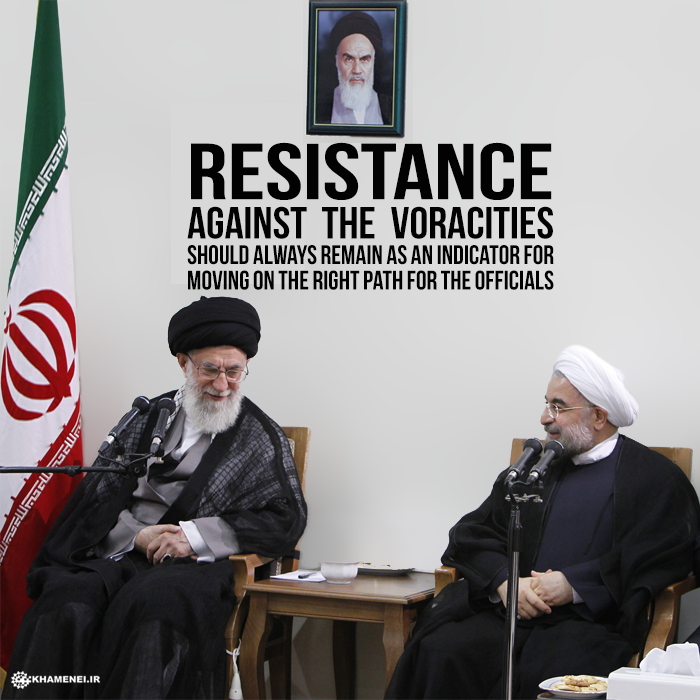 Dear Mr. President [Rouhani],
      The achievement of what you have described deserves appreciation and [I send my] gratitude to the nuclear negotiating team and other contributors. [This agreement] can be a basis for further intelligent actions. Undoubtedly, the grace of God and the prayers and support of the Iranian nation have been and will continue to be a factor for in this achievement, God willing. Resistance against excessive demands should be the criteria for [nuclear] officials, and God willing this will be the case.
            Nov. 24, 2013 in a letter to President Rouhani