Iran was one of the few countries that failed to officially note or express condolences on the death of Queen Elizabeth II. But its hardline press featured scathing editorials that reflected the Islamic Republic's longstanding condemnation of monarchy as a system of government and its history of tensions with Britain.
"Queen Elizabeth II's death resurfaces seven decades of British crimes against Iranians," state television Press TV reported. Her death comes at the end of a century of British decline, Javan, a hardline daily, editorialized. Fars, a hardline website affiliated with the Revolutionary Guards, called her "a bloody queen who murdered many people." The queen's "dark legacy still lives on," headlined the Tehran Times.
Jam-e Jam ran a caricature of the queen under the headline "The end of the coup queen," a reference to CIA-backed British operation to oust a democratically elected prime minister and put Shah Reza Pahlavi back on the throne in 1953. 
Iran's revolutionaries, who ended more than 2,500 years of monarchy after ousting the shah in 1979, have long opposed dynastic rule. Ayatollah Ruhollah Khomeini called monarchies a "sinister" and "evil" form of government. "Islam proclaims monarchy and hereditary succession wrong and invalid," he said in 1970. In a headline, IRNA, the state news agency, pondered, "Is the British Empire in the world coming to end?"
Some reformist politicians and newspapers, however, praised Queen Elizabeth for providing stability in a changing and turbulent world. On Instagram, the former reformist President Mohammad Khatami (1997-2005) posted photos of his 2004 meeting with Prince Charles, who visited Tehran and Bam to deliver humanitarian aid after an earthquake killed 40,000 in southeastern Iran. Now king, Charles is the only member of the royal family to have visited Iran since the 1979 revolution.   
Since the late 19th century, Iran and Britain have had a contentious relationship. Iranians have long accused Britain of exploiting the country's natural resources and interfering in domestic politics. Key flashpoints have included:
Timeline: Britain-Iran Relations
1872: Nasir al Din Shah, the ruler of Iran, and Baron Julius de Reuter, a British businessman, signed a contract that granted Reuter exclusive rights over the development of industries and infrastructure in Iran for 70 years. Iranian businessmen, religious leaders and nationalists eventually pressured the shah to cancel the contract in 1873.
1891: Grand Ayatollah Hassan al Shirazi issued a fatwa against smoking tobacco after Iranians protested in major cities against the British monopoly over the cultivation, sale and export of tobacco in Iran. The fatwa and protests marked the beginning efforts by merchants and religious figures to contest the shah's power. The Iranian government canceled the concession to the British in 1892.
Aug. 31, 1907: Britain and Russia signed the Anglo-Russian Agreement, dividing Iran into three zones: a Russian sphere of influence in the north, a British sphere of influence in the south, and a neutral zone between them. The two colonial powers agreed to not interfere in the economic activities of the other in their respective zones. The Soviet government later terminated the agreement in 1918.
1901-1909: William Knox D'Arcy, a British businessman, secured a 60-year oil concession for exclusive rights to discover and export both oil and natural gas. D'Arcy struck oil for the first time in May 1908. The Anglo-Persian Oil Company (APOC), the precursor to British Petroleum, was formed in 1909 to administer D'Arcy's concession. The British government became the majority stakeholder in APOC in 1914, taking over ownership of the concession. Iran canceled the concession in 1932. The following year, Britain negotiated a smaller concession over a smaller part of Iran that was intended to last for 60 years.
Aug. 9, 1919: Britain and Iran provisionally signed the Anglo-Persian Agreement, which would have granted Britain significant control over Iran's financial, military, and infrastructure affairs. Russia withdrew troops from Iran following the Bolshevik Revolution, and Britain intended to assume more control over Iran. Iran's parliament never ratified the agreement, and Iran suspended it in 1920 following reports that London bribed senior Iranian officials to secure the agreement's passage.
1920-1921: In 1920, British Major General Edmund Ironside selected Reza Khan, an ambitious Iranian military officer, to lead the Cossack Brigade based in Qazvin in 1920. Ironside reportedly encouraged or enabled Khan to take control of the military and depose Prime Minister Fathollah Khan Akbar in 1921.
1925: Reza Khan, with British support, deposed Ahmad Shah Qajar and became Reza Shah in 1925. "I fancy that all the people think that I engineered the coup d'état. I suppose I did, strictly speaking," Major General Ironside wrote in his diary.
Aug. 25, 1941: British and Soviet troops invaded and occupied Iran. The Allies were nervous about Iran's warming ties with Germany, and they wanted to use the territory as a conduct for supplying Soviet forces. British and Soviet troops remained in Iran until 1946.
September 1941-1942: Reza Shah abdicated, and Britain exiled him to Mauritius and then South Africa (where he died in 1944). His son, Mohammad Reza Shah Pahlavi, became king and shifted Iranian support toward the Allies instead of Germany by signing the Tripartite Treaty with Britain and Russia in 1942. The treaty also guaranteed Iran's territorial and political independence by committing Britain and Russia to withdraw troops from Iran following the end of their hostilities with Germany.
March-April 1951: Iranian lawmaker Mohammad Mossadegh called for the nationalization of Iran's oil industry. The proposal sparked rallies in major cities in support of nationalization. Iran's parliament passed the nationalization bill on March 20. In April, the shah appointed Mossadegh as prime minister after he won 90 percent of lawmakers' votes. Mossadegh became a widely popular prime minister and led efforts to limit British control over Iran.
August 1953: The United States and Britain planned and carried out a coup d'état against Prime Minister Mossadegh. The CIA utilized propaganda to undermine the Mossadegh government. The shah dismissed Mossadegh on August 14, but Mossadegh held onto power. The shah fled to Iraq on August 16. On the following day, Iranian General Fazlollah Zahedi announced that he was the new prime minister and had the shah's support. Supporters of the shah, led by Zahedi, ousted Mossadegh on August 19. The coup allowed the shah to return to power and ended the brief nationalization of the oil industry. A military tribunal placed Mossadegh on trial, and Mossadegh spent the remainder of his life under house arrest.
1954: A consortium of British, European and American oil companies concluded a contract with the government to continue developing the oil industry in exchange for half of the profits.
May 1959: The shah visited Britain and met with several members of the royal family and government, including Queen Elizabeth II and Prime Minister Harold Macmillan.
March 1961: Queen Elizabeth and the Duke of Edinburgh, Prince Philip, visited Iran. The shah hosted a state banquet along with his wife, Empress Farah.
October 1971: Prince Philip and Princess Anne attended the shah's lavish celebration of the 2,500th anniversary of the founding of the Persian Empire. Queen Elizabeth decided not to go after the British Foreign Office indicated that the celebration may be insecure. British diplomats warned that shah could take Queen Elizabeth's absence as a personal insult, so Prince Philip and Princess Anne attended instead.
1971: Britain terminated protective treaties with Gulf states and withdrew forces from the Middle East region in part due to domestic economic difficulties, fulfilling a 1968 pledge to withdraw from the Persian Gulf. Britain scaled back direct military involvement in Iran. The United States began planning to fill the gap left by the British withdrawal and encouraged Iranian primacy in the region to protect Western interests.
1979: Britain denied the shah asylum following the 1979 revolution to avoid retribution from the new government in Iran. London attempted to establish ties with the new government by signaling it would honor economic and military commitments made to the shah, including supplying arms and training Iranian officers.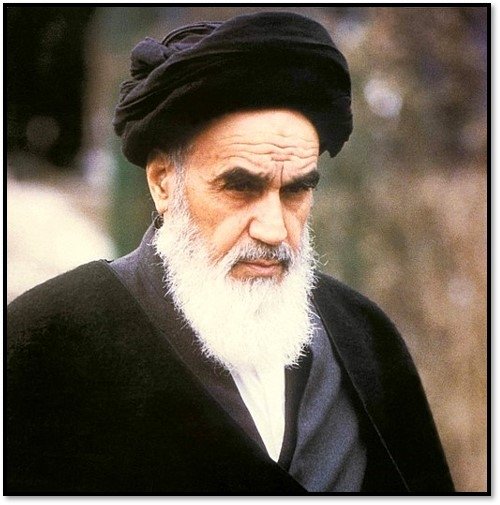 April 30, 1980: Six terrorists opposed to Iranian Supreme Leader Ayatollah Ruhollah Khomeini stormed the Iranian embassy in London and took 22 hostages. British special forces raided the building, killed five of the terrorists, and freed 19 hostages. The terrorists killed one hostage and injured two others during the raid.
1980: Britain closed its embassy in Tehran due to the upheaval following the 1979 Islamic Revolution. Iran had previously arrested several British missionaries after Britain detained Iranian students demonstrating outside the U.S. embassy in London. Britain finally decided to close its embassy due to security threats. London stationed its diplomats in Iran at the Swedish embassy in Tehran and maintained a diplomatic presence in Iran until 1987.
1987: Iran's Islamic Revolutionary Guards Corps (IRGC) abducted and beat the British chargé d'affaires, Edward Chaplin, in Tehran following the arrest of an Iranian consular official on shoplifting charges. Britain withdrew all but one diplomat from Iran and expelled all but one Iranian diplomat from Britain following Chaplin's release. London again utilized the Swedish embassy in Iran to represent its interests and claimed that its decision to reduce its diplomatic relations with Iran did not constitute a breach of relations.
November 1988: Britain and Iran agreed to resume full diplomatic relations and exchange ambassadors following the end of the Iran-Iraq war.
Feb. 14, 1989: Supreme Leader Khomeini issued a fatwa calling on Muslims to kill British author Salman Rushdie for his book "The Satanic Verses." The novel is "against Islam, the Prophet and the Koran, and all those involved in its publication who are aware of its content are sentenced to death," Khomeini proclaimed. Rushdie said that his book was not blasphemous. "I doubt very much Khomeini or anyone else in Iran has read this book or anything more than selected extracts taken out of context."
March 8, 1989: Iran cut off diplomatic relations with Britain after demanding Britain denounce Salman Rushdie's book. Iranian Prime Minister Mir Hossein Moussavi said that Iran was defending Islam by severing ties.
Sept. 14, 1989: In Britain, four bombs were placed outside bookstores owned by Penguin, the publisher of "The Satanic Verses." One bomb exploded, but no one was hurt. The others were defused.
October 1990: Britain and Iran resumed limited diplomatic ties.
1992: Britain and Iran each expelled one diplomat, and Britain expelled three Iranians from London due to an alleged plot to kill Rushdie.
1997: Britain and Iran improved relations following the election of Mohammad Khatami, a reformist open to engagement with the West. European powers upgraded a European Community-Iran dialogue in 1997.
Sept. 22, 1998: President Khatami told journalists that the Rushdie affair should be considered finished. "From now on," he said, "rather than the war of civilizations, we want to promote the dialogue of civilizations, and we hope we have entered the era of dialogue."
Sept. 24, 1998: The Iranian government "has no intention, nor is it going to take any action whatsoever, to threaten the life of the author of 'The Satanic Verses' or anybody associated with his work, nor will it encourage or assist anybody to do so," Iranian Foreign Minister Kamal Kharrazi told British Foreign Secretary Robin Cook.
May 18, 1999: Iran said relations with Britain had been restored to ambassadorial level. London had pledged to restore full relations in September 1998 following the resolution of the dispute over Supreme Leader Khomeini's fatwa against Rushdie. 
Sept. 24, 2001: British Foreign Minister Jack Straw visited Iran to coordinate anti-terror efforts following the 9/11 attacks. Straw was the first British foreign secretary to visit Iran since the 1979 revolution.
2002: Iran rejected British Ambassador to Iran David Reddaway, claiming Reddaway was an MI6 agent.
June 21, 2004: Iran arrested six British sailors – part of the U.S.-led force in Iraq – for trespassing into Iran's territorial waters. As a blow to Britain, Tehran paraded the servicemen through the city and forced them to apologize. They were released three days later, after negotiations.
February 9, 2004: Queen Elizabeth's son, Prince Charles, became the first member of the royal family to visit Iran since the 1979 revolution. He visited Tehran and Bam to deliver humanitarian aid after an earthquake killed 40,000 in southeastern Iran. London indicated that the trip was purely humanitarian and not political. Prince Charles was head of the British Red Cross at the time.
March-April 2007: Iran seized eight British Royal Navy sailors and seven marines near Iran's maritime border with Iraq. Iran released them in April.
June-December 2009: Tensions between Britain and Iran escalated after British Prime Minister Gordon Brown condemned Iran's crackdown on protestors who disputed the victory of Ahmadinejad in the presidential election. Iran and Britain each expelled two diplomats in late June, and Iran detained eight British embassy staff in Tehran for their supposed involvement in post-election unrest. Iran later released the workers but charged one, Hossein Rassam, for espionage.
Iran detained five British citizens yachting from Bahrain to Dubai in late November-early December. Iranian Foreign Minister Manouchehr Mottaki threatened Britain for interfering in Iranian affairs in late December, and British Ambassador Simon Gass demanded that Iran respect its citizens' rights.
Nov. 21, 2011: Britain imposed new financial sanctions on Iran after the U.N. nuclear watchdog reported that Iran may have performed "preparatory experimentation" relevant to explosive nuclear testing. The report expressed "deep and increasing concern" about Iran's nuclear program. London also severed ties with all Iranian banks.
Nov. 27, 2011: The Iranian parliament voted to expel the British ambassador to Iran.
Nov. 29-30, 2011: Iranian protesters stormed the British embassy in Tehran during a demonstration against British sanctions. Britain evacuated its diplomatic staff and expelled all Iranian diplomats from London but did not sever ties. France, Germany and the Netherlands also recalled their ambassadors for consultations.
Oct. 8, 2013: Britain and Iran announced that they would resume diplomatic ties at the chargé d'affaires level.
Dec. 13, 2013: The newly appointed British chargé d'affaires, Ajay Sharma, visited Iran in the first high-level diplomatic visit since London pulled its diplomats from Tehran in 2011.
Feb. 20, 2014: Britain and Iran agreed to restart direct diplomatic relations. The Iranian embassy in London reopened on February 20, 2014 and the British embassy in Tehran reopened on August 23, 2015.
July 14, 2015: Iran and the world's six major powers – Britain, China, France, Germany, Russia, and the United States ­– reached a historic deal to limit Iran's nuclear program in exchange for sanctions relief. The deal was formally known as the Joint Comprehensive Plan of Action (JCPOA).
May 8, 2018: President Donald Trump announced the U.S. withdrawal from the JCPOA and reimposition of sanctions on Iran. Britain, France, and Germany moved to salvage the accord.
Jan. 31, 2019: Britain, France, and Germany announced the establishment of a Special Purpose Vehicle (SPV) for European companies to facilitate trade with Iran. The entity, formally named the Instrument in Support of Trade Exchanges (INSTEX), was designed to facilitate trade with Iran in humanitarian goods that are exempt from U.S. sanctions under the Trade Sanction Reform and Export Enhancement Act of 2000. INSTEX enabled firms to barter those goods with Iran, thereby avoiding transactions in U.S. dollars.
2019: Maritime disputes escalated between Iran and the West. Britain seized an Iranian-flagged oil tanker near Gibraltar in early July over suspicions that the ship was delivering oil to the sanctioned Syrian regime. Iran responded by attempting to intercept a British-flagged tanker in the Gulf. The IRGC captured a British-owned tanker in mid-July and arrested over 20 crew members. Britain and Gibraltar released the Iranian-flagged tanker in mid-August. Iran released the British-flagged tanker and its crew in late September.
January 2020: British Prime Minister Boris Johnson called for de-escalation following the U.S. assassination of IRGC Quds Force commander Qassem Soleimani. Johnson described Soleimani as a destabilizing threat to the Middle East but issued a joint statement with French President Emmanual Macron and German Chancellor Angela Merkel calling for restraint.
Jan. 14, 2020: Britain, France, and Germany triggered the dispute resolution mechanism under the JCPOA after Iran repeatedly breached the deal. It was the strongest action taken by European powers to enforce the agreement. If Iran does not return to compliance, the process could result in the reimposition of U.N. sanctions and ensure that an arms embargo does not expire in October 2020. On the following day, President Rouhani responded defiantly. "In recent days I… made it clear to two European leaders that what we have done is reversible for one, and that everything we do regarding the nuclear issue is under the supervision of the IAEA," Rouhani said. "If you take the wrong step, it will be to your detriment. Pick the right path. The right path is to return to the nuclear deal." 
April 6-9, 2021: The European Union hosted indirect talks between Iran and the United States on restoring the JCPOA. Britain, China, France, Germany, and Russia participated as well. Britain participated in seven subsequent rounds of talks from April 2021 to March 2022.
Aug. 15, 2022: Iranian Foreign Ministry Spokesman Nasser Kanaani denied Iranian involvement in the stabbing of Salman Rushdie in New York by a U.S. citizen. He implied that Rushdie had brought the attack on himself by insulting Islam. "We don't consider anyone deserving reproach, blame or even condemnation, except for (Rushdie) himself and his supporters."
Garrett Nada, managing editor of The Iran Primer, and Connor Bradbury a senior program assistant at the U.S. Institute of Peace, contributed to this report. 
Photo Credits: Prince Charles and President Khatami (ISNA);