On August 12, award-winning novelist Salman Rushdie was stabbed in the neck and abdomen in an assassination attempt while lecturing at the Chautauqua Institution in New York. Hadi Matar, the 24-year-old assailant and the son of immigrants from Lebanon, supported Iran and Hezbollah, its Lebanese proxy. Rushdie has been a target of militant Muslims since 1989, when Ayatollah Ruhollah Khomeini issued a fatwa condemning the British-American writer to death for alleged blasphemy in his novel "The Satanic Verses." A religious foundation offered millions in reward money. Rushdie went into hiding, with protection from Scotland Yard, for almost a decade.
President Joe Biden condemned the "vicious attack" and lauded Rushdie for his "refusal to be intimidated or silenced" for more than three decades. Secretary of State Antony Blinken specifically criticized Iran for having "incited violence against Rushdie for generations." He stopped short of implicating Tehran.
Iran denied involvement. The Foreign Ministry instead implied that Rushdie had brought the attack on himself by insulting "the holiness of Islam." On August 15, Foreign Ministry Spokesperson Nasser Kanaani said, "We don't consider anyone deserving reproach, blame or even condemnation, except for (Rushdie) himself and his supporters." Hardline Iranian newspapers, however, praised the attack. Kayhan, a hard-line newspaper who editor is appointed by Khamenei, lauded the stabbing within hours. "A thousand bravos . . . to the brave and dutiful person who attacked the apostate and evil Salman Rushdie in New York," read an article published online. A frontpage headline on August 14 declared that former President Donald Trump and former Secretary of State Mike Pompeo "are next" in line for "divine vengeance."
Hadi Matar
On August 13, Matar, who was born in the United States to Muslim parents from southern Lebanon, pleaded not guilty to charges of attempted murder and assault. "This was a targeted, unprovoked, pre-planned attack on Mr. Rushdie," district attorney Jason Schmidt said.
Matar's social media accounts indicated sympathy for Shiite extremism and Iran's Revolutionary Guards. Matar's Facebook profile, which was deleted after the attack, included photos of Khomeini, Khamenei, and General Qassem Soleimani, the commander of Iran's elite Qods Force who was killed in U.S. drone strike in 2020. A Twitter account in Matar's name also included pro-Hezbollah images was also suspended. Matar carried a fake New Jersey driver's license with the name "Hassan Mughniyah," an alias that may have been culled from Hassan Nasrallah, the Hezbollah secretary general, and Imad Mughniyah, the Hezbollah military commander assassinated in a 2008 car bombing. His parents had immigrated from Yaroun, a stronghold of Hezbollah that is two-thirds Shiite and one-third Christian. Since a trip to Lebanon in 2018, Matar had become more religious, his mother, Silvana Fardos, told media in New Jersey.
The Fatwa 1989-2022
"The Satanic Verses," which was published in September 1988, was banned in several Muslim countries and eventually triggered violent protests. Iran did nothing for nearly five months. But after six people were killed in Pakistan on Feb. 12, 1989, Khomeini's fatwa condemned Rushdie – along with any editors and publishers – to death. "I call on all valiant Muslims wherever they may be in the world to kill them without delay, so that no one will dare insult the sacred beliefs of Muslims henceforth."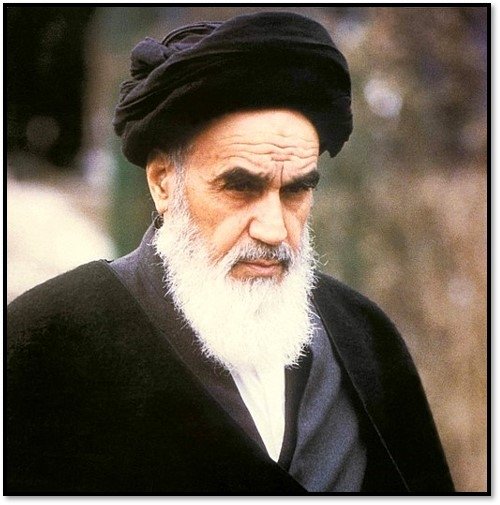 The fatwa rippled across the literary world, spawning attacks against translators and a publisher of foreign editions of Rushdie's book, and redefined security. In 1991, Ettore Capriolo, the Italian translator of "The Satanic Verses," was stabbed at his Milan apartment. Days later, the Japanese translator, Hitoshi Igarashi, was stabbed to death at the university near Tokyo where he taught Islamic culture. His murder remains unsolved two decades later. In 1993, William Nygaard, who published Rushdie's book in Norway, William Nygaard, was shot near his home in Oslo. He, too, survived. In 2018, two days before the 25-year statute of limitations expired, the Norwegian police for the first time charged that the assassination attempt was linked to the Rushdie book. But the assailants have still not been caught.
In Tehran, the fatwa remained a political football for more than three decades—pitting reformers against hardliners. President Mohammad Khatami (1997-2005), a reformist, tried to mend ties with the West during his tenure. The Rushdie case was a key issue in talks with Britain that eventually restored diplomatic ties. "We should think of the Salman Rushdie issue as completely finished," Khatami told journalists in 1998. A few days later, his foreign minister said that "government disassociates itself from any reward which has been offered in this regard and does not support it." After nine years of living in secret locations, Rushdie began to appear in public with little or no visible security. 
But hardliners continued to encourage action on Khomeini's fatwa. "The decree is as Imam Khomeini issued," the current Supreme Leader, Ayatollah Ali Khamenei, said in 2017 when asked if the fatwa was still binding. Since 2020, hardliners have gained control of all three of Iran's branches of government. They won a sweeping victory in 2020 parliamentary elections. In 2021, Ebrahim Raisi, a cleric and former prosecutor tied to the 1988 massacre of political prisoners, won the presidency. The judiciary and military had long been controlled by hardliners.
On August 7, 2022 – five days before the Rushdie attack in western New York – a state-controlled website in Tehran republished the fatwa. The decree is "a great and unforgettable fatwa for the Muslims of the world," Iran Online reported. "Now after 33 years, Salman Rushdie is left with the nightmare of death that will never leave him. He has now become a lesson for all those who harbor illusions of insulting Islam under the pretext of freedom."
Iranian Plots
The Rushdie attack followed a Justice Department announcement charging a member of the Revolutionary Guards, Shahram Poursafi, for plotting to murder John Bolton, a national security advisor to President Donald Trump. Former Secretary of State Mike Pompeo and former Defense Secretary Mark Esper were reportedly also targeted by Iran. All three were under around-the-clock government protection. "We face a concerted threat to America itself, not unconnected threats to random individuals. Iran does not fear U.S. deterrence," Bolton wrote in The Washington Post. The following are reactions from U.S. officials.
U.S. Statements
President Joe Biden
Statement on Aug. 13, 2022: "Jill and I were shocked and saddened to learn of the vicious attack on Salman Rushdie yesterday in New York. We, together with all Americans and people around the world, are praying for his health and recovery. I am grateful to the first responders and the brave individuals who jumped into action to render aid to Rushdie and subdue the attacker.
"Salman Rushdie—with his insight into humanity, with his unmatched sense for story, with his refusal to be intimidated or silenced—stands for essential, universal ideals. Truth. Courage. Resilience. The ability to share ideas without fear. These are the building blocks of any free and open society. And today, we reaffirm our commitment to those deeply American values in solidarity with Rushdie and all those who stand for freedom of expression."
Secretary of State Antony Blinken
Statement on Aug. 14, 2022: "We join those across the country and around the world who are keeping Salman Rushdie in our thoughts in the aftermath of this heinous attack. More than a literary giant, Rushdie has consistently stood up for the universal rights of freedom of expression​, freedom of religion or belief, and freedom of the press. While law enforcement officials continue to investigate the attack, I am reminded of the pernicious forces that seek to undermine these rights, including through hate speech and incitement to violence
"Specifically, Iranian state institutions have incited violence against Rushdie for generations, and state-affiliated media recently gloated about the attempt on his life.  This is despicable.
"The United States and partners will not waver in our determination to stand up to these threats, using every appropriate tool at our disposal. The strength of Rushdie — and that of all of those around the world who have endured such threats — steels our resolve and underscores the imperative of standing united as an international community against those who would challenge these universal rights."
National Security Advisor Jake Sullivan
Statement on Aug. 12, 2022: "Today, the country and the world witnessed a reprehensible attack against the writer Salman Rushdie.  This act of violence is appalling.  All of us in the Biden-Harris Administration are praying for his speedy recovery.  We are thankful to good citizens and first responders for helping Mr. Rushdie so quickly after the attack and to law enforcement for its swift and effective work, which is ongoing."
Iranian Statements
Foreign Ministry Spokesperson Nasser Kanaani
Remarks on Aug. 15, 2022: "Regarding the attack against Salman Rushdie in America, we don't consider anyone deserving reproach, blame or even condemnation, except for (Rushdie) himself and his supporters."
"In this regard, no one can blame the Islamic Republic of Iran. We believe that the insults made and the support he received was an insult against followers of all religions."
"We did not see anything about the person who did this action, other than what we heard from the American media."
Member of Parliament Javad Karimi Ghodoosi
Remarks on Aug. 15, 2022: "The Islamic Republic doesn't need to send the IRGC to the heart of the enemy. There are zealots with fire power aware of our positions. If they get an opportunity, they'll take revenge on the likes of Trump, Pompeo, etc."  
Iranian Media Reaction
Jam-e Jam (conservative) 
Headline: "Satan's Eye Has Been Blinded" (August 14)
Khorasan (centrist)

Headline: "The Devil on the Way to Hell" (August 13)
Kayhan (hardline)
Headline: "Divine Vengeance Befell Salman Rushdie, Trump and Pompeo are Next" (August 14)
Timeline of Events 1988-2022
Sept. 26, 1988: "The Satanic Verses" was published by Viking Penguin in Britain.
Feb. 12, 1989: Hundreds of demonstrators attacked the U.S. cultural center in Islamabad, Pakistan, to protest the publication of Salman Rushdie's "The Satanic Verses." Local police fired on protesters, killing six people and wounding more than 80 others.
Feb. 14, 1989: The Supreme Leader of Iran, Ayatollah Ruhollah Khomeini, issued a fatwa calling on Muslims to kill Rushdie for blasphemy. "The Satanic Verses" is "against Islam, the Prophet and the Koran, and all those involved in its publication who are aware of its content are sentenced to death," Khomeini proclaimed. Rushdie said that his book was not blasphemous. "I doubt very much Khomeini or anyone else in Iran has read this book or anything more than selected extracts taken out of context."
Feb. 22, 1989: "The Satanic Verses" was published in the United States.
Feb. 24, 1989: Some 10,000 demonstrators marched on the British High Commission in Mumbai, India. Police opened fire on the crowd, killing a dozen people. At least 40 others were injured.
May 27, 1989: An estimated 20,000 Muslims protested in central London. They burned an effigy of Rushdie and called for his death. The demonstrators marched to Westminster, where the British Parliament meets. Clashes broke out between Iranians and Iraqis. Police arrested 101 protestors, including 15 who allegedly attacked officers. 
Sept. 14, 1989: In Britain, four bombs were placed outside bookstores owned by Penguin, the publisher of "The Satanic Verses." One bomb exploded, but no one was hurt. The others were defused.
July 3, 1991: Ettore Capriolo, the Italian translator of "The Satanic Verses," was beaten and stabbed with a knife in his apartment in Milan. The attacker claimed to be Iranian. 
July 12, 1991: Hitoshi Igarashi, the Japanese translator, was stabbed to death at Tsukuba University, where he had been teaching comparative Islamic culture for five years. Igarashi was stabbed to death by an unknown assailant, and the case was never solved. e
Sept. 7, 1995: Rushdie, after spending six years living in various safe houses, made his first publicly scheduled appearance in London at a panel discussion called, "Writers and the State."
Feb. 12, 1997: The 15th Khordad Foundation, a religious charity, increased its bounty on Rushdie to $2.5 million eight years after it initially offered a reward. 
Sept. 22, 1998: Iranian President Mohammad Khatami told journalists that the Rushdie affair should be considered finished. "From now on," he said, "rather than the war of civilizations, we want to promote the dialogue of civilizations, and we hope we have entered the era of dialogue."
Sept. 24, 1998: The Iranian government "has no intention, nor is it going to take any action whatsoever, to threaten the life of the author of 'The Satanic Verses' or anybody associated with his work, nor will it encourage or assist anybody to do so," Iranian Foreign Minister Kamal Kharrazi told British Foreign Secretary Robin Cook.
Oct. 4, 1998: Some 160 members of Iran's parliament said that the fatwa against Rushdie remained in effect.
Oct. 10, 1998: In Iran, a hard-line student group claimed that it would pay $1 billion for the killing of Rushdie. 
Oct. 12, 1998: The 15 Khordad Foundation raised the bounty of Rushdie's head from $2.5 million to $2.8 million. "To set a reward for killing Salman Rushdie has been a great honor for this foundation and we will keep this honor," Ayatollah Hassan Saneii, the head of the foundation, said. "We should not let this issue be forgotten."
Feb 3, 1999: India granted a visa to Rushdie, who had been born in Mumbai. Muslims protested in response to the move. Police opened fire and killed at least 12 rioters on February 25.
June 15, 2007: Rushdie was granted knighthood by Queen Elizabeth of Great Britain for his services in literature. Protests were held in Iran, Malaysia and Pakistan.
Jan. 20, 2012: Rushdie canceled a trip to India to attend the Jaipur literary festival, Asia's largest literary festival, due to the threat of assassination.
Sept. 16, 2012: The 15 Khordad Foundation raised its bounty on Rushdie from $2.8 to $3.3 million.
June 20, 2014: Rushdie was awarded the annual PEN/Pinter Prize for "his books and his many years of speaking out for freedom of expression, but also for his countless private acts of kindness," head judge Maureen Freely said.
Oct. 13, 2015: At the Frankfurt Book Fair, Rushdie warned against new dangers to freedom of expression in the West, including attacks on writers and excessive political correctness. Iran's Ministry of Culture canceled its stand at the fair due to Rushdie's presence.
Feb. 22, 2016: Forty Iranian news outlets, including state-run ones, added $600,000 to the bounty for the killing of Rushdie. "These media outlets have set the $600,000 bounty on the 27th anniversary of the historical fatwa to show it is still alive," Mansour Amiri, the organizer of the exhibition/ where the bounty was announced, told Reuters.
June 1, 2022: Queen Elizabeth made Salman Rushdie a Companion of Honour in the Queen's annual birthday honors.
Aug 12, 2022: Rushdie was stabbed in the neck and abdomen in an assassination attempt while lecturing at the Chautauqua Institution in upstate New York. Hadi Matar, the 24-year-old assailant and the son of immigrants from Lebanon, supported Iran and Hezbollah, its Lebanese proxy.
Photo Credits: Rushdie by CK, CC BY-SA 4.0, via Wikimedia Commons