October 18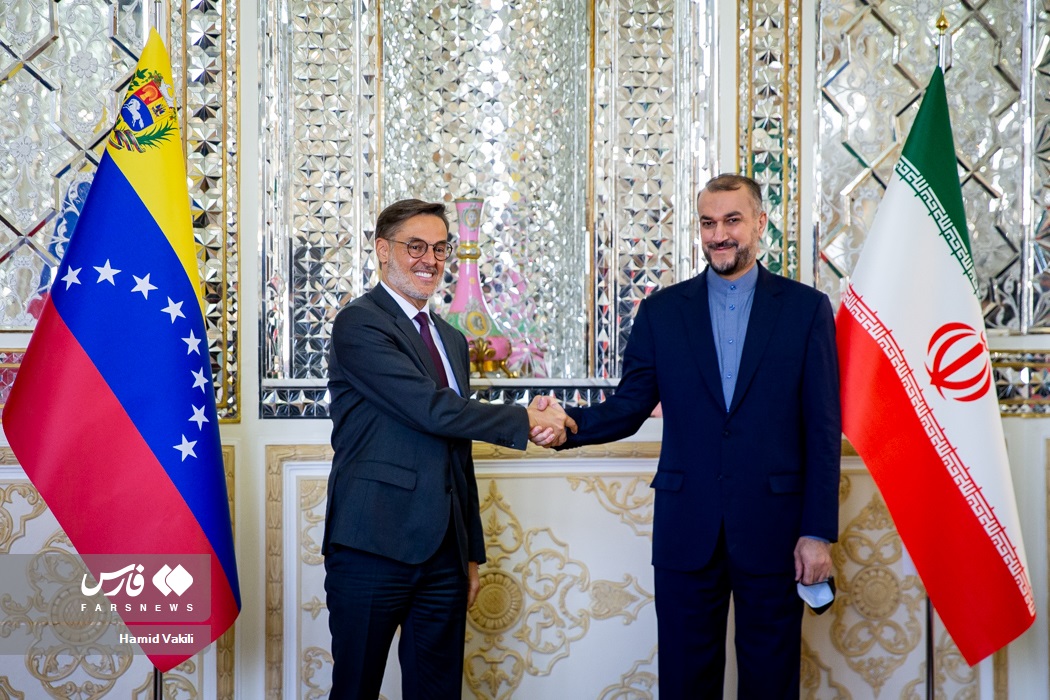 Diplomacy: Venezuelan Foreign Minister Felix Plasencia met with his Iranian counterpart, Hossein Amir-Abdollahian, as well as President Ebrahim Raisi, in Tehran. During a joint press conference, Amir-Abdollahian announced that the two countries would sign a 20-year agreement of cooperation "in the next few months." A joint commission in Tehran would finalize the agreement by the end of 2021.
Two days before Plasencia's visit, an Iranian supertanker – transporting two million barrels of heavy crude oil – left Venezuela for Iran. The exchange proceeded from a bilateral agreement to trade Iranian condensate for Venezuelan Merey crude in order to help alleviate Venezuela's diluent shortage, which has hampered its oil production and exports.   
Nuclear: In an interview on state television, President Raisi said that Iran seeks "serious result-oriented negotiations" on restoring the 2015 nuclear deal. He added that the "unjust U.S. sanctions imposed on Iran must be lifted." 
President Raisi dedicated 88 seconds of his 50 min televised interview tonight to the nuclear deal.

He reiterated that Tehran is "serious about result-oriented negotiations" and called for the removal of "unjust" US sanctions against Iran. Gave no dates for resumption of talks. pic.twitter.com/mE1eNwiCAj

— Kian Sharifi (@KianSharifi) October 18, 2021
Nuclear: State Department Spokesperson Ned Price said that a meeting between Iranian and E.U. officials in Brussels was "not necessary" for resuming talks on restoring the 2015 nuclear deal. "The destination we seek is in Vienna, not an intermediate step in Brussels," he told reporters.  
October 19
Nuclear: The International Atomic Energy Agency chief Rafael Grossi said that the "stop-gap" measures on monitoring Iran's nuclear facilities agreed to in February were no longer "intact." In an interview with the Financial Times, Grossi said that Iran was not permitting surveillance cameras at the Tesa Karaj facility, which produces parts of centrifuges that can enrich uranium.
October 20  
Human Rights: Payam Derafshan, the former chairman of the Iranian Bar Association's Lawyer Defense Committee, was reportedly tortured in Tehran's Evin Prison, according to the Center for Human Rights in Iran (CHRI). He bit off part of his tongue during seizures that may have been caused by an injection of an unknown substance. "Derafshan was not taken to a specialist hospital but instead transferred in ankle and handcuffs to Razi Hospital for the mentally ill, where he was subjected to electric shocks, seriously damaging his neurological system and causing him to lose consciousness," Saeid Dehghan, an Iranian defense attorney and human rights expert, told CHRI.
"This is a horrifying example of the way the Iranian judicial system tortures individuals accused of criticizing the state," said @vakilroaya, an Iranian defense attorney and human rights expert, in an interview with CHRI. https://t.co/kARvhTGjTr

— IranHumanRights.org (@ICHRI) October 20, 2021
Nuclear: U.S. Special Envoy for Iran Rob Malley, following a four-day trip to the Gulf states, was due to travel to Paris on October 22 to discuss the stalled nuclear talks, Axios reported. Malley would meet with senior French, German, and British diplomats.
Israel: Israeli Channel 12 reported that the Israeli government will vote, sometime in November, on a $1.5 billion budget that includes funding for aircraft, weapons and drones that would be necessary for a strike on Iran's underground nuclear facilities.  
October 21
Climate: In a new estimate, the U.S. Office of the Directorate of National Intelligence warned that "Iran probably will face more frequent droughts, intense heat waves, and expanding desertification that, combined with poor water management, will lower food production and increase import costs during the coming decades, increasing the risk of instability, localized conflict, and displacement." 
Photo Credits: Fars News Agency (CC BY 4.0)