The coronavirus outbreak has significantly dampened celebrations of Nowruz, the Persian New Year. Across the country, signs implored families to stay home instead of traveling to see friends and family for the holiday. Media coverage reflected the somber tone during what is usually the most festive time in Iran. On its front page, the newspaper Ebtekar featured a picture of a home shrouded in a face mask. The caption read: "A Corona-Hit Nowruz."
Nowruz, literally "New Day," marks the first day of spring. The holiday, which usually falls on or around March 21, is celebrated by virtually every religious and ethnic community in Iran. Many of the season's traditions have roots in Zoroastrianism, an ancient monotheistic faith still practiced by some 25,000 in Iran. Traditions performed during the two-week period include spring cleaning, exchanging gifts, preparing symbolic foods, jumping over bonfires, and more.
Medical staff, who have been working long hours to care for the increasingly number of patients, celebrated in hospitals. Traveling troubadours portraying folk characters Amoo, or "Uncle," Nowruz and his sidekick Haji Piruz visited hospitals to cheer up patients.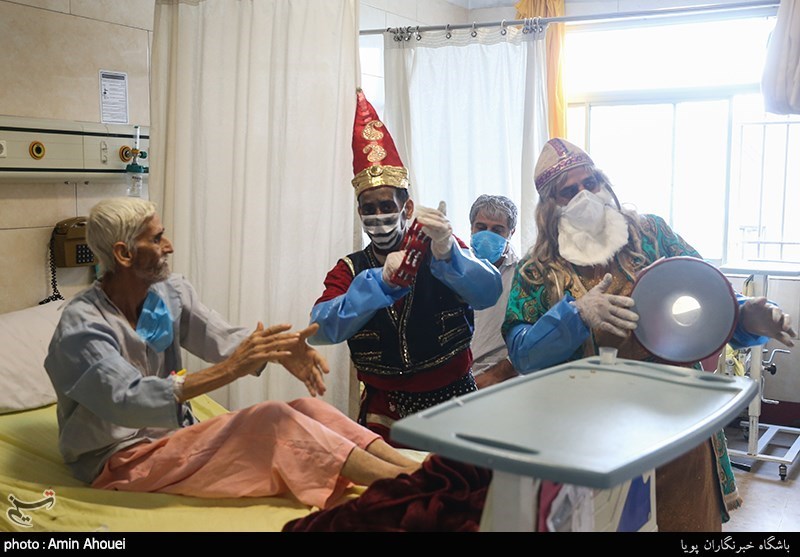 Men dressed up as folk characters raised the spirits of patients at Baharloo Hospital in Tehran on March 19.
Medical staff at an army hospital posed with a Haft Seen table, which includes several symbolic items all starting with an "s" sound, on March 20.
Crews disinfected streets that usually would been filled with shoppers.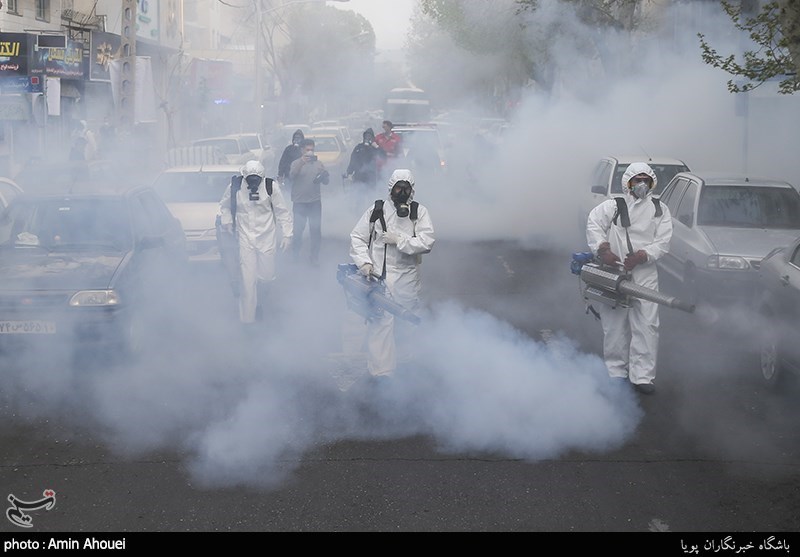 Firefighters disinfected the Nazi Abad neighborhood in Tehran on March 19.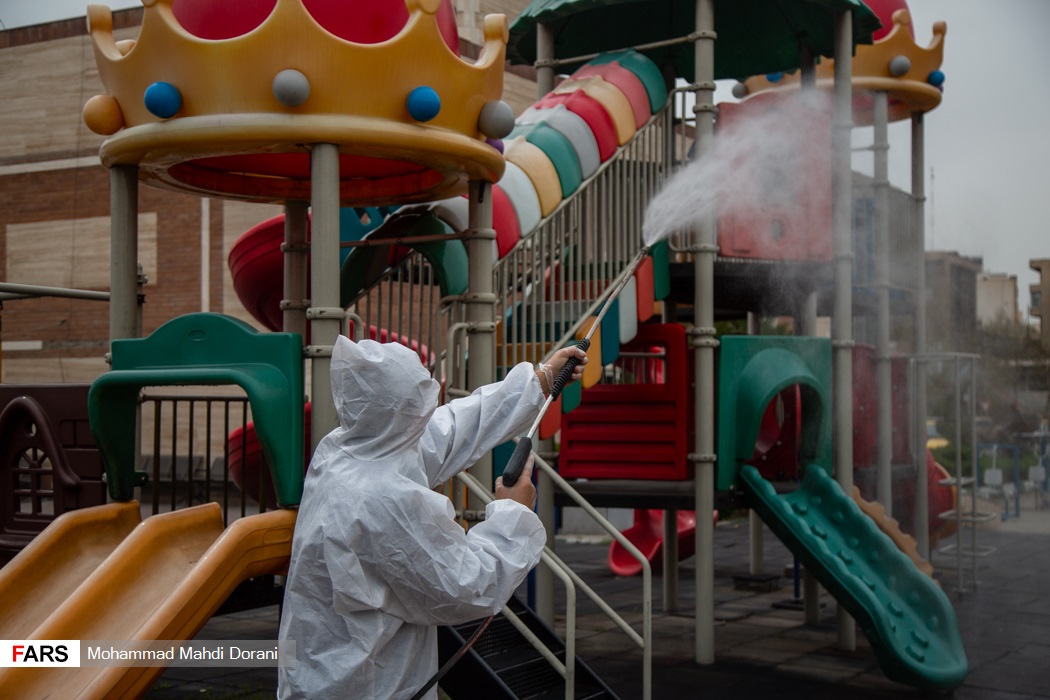 Workers disinfected playgrounds and other outdoor facilities in Tehran on March 22.
The shrine of Ali ibn Mahziar Ahvazi in Ahvaz, in Khuzestan province, was converted into a makeshift workshop for making face masks.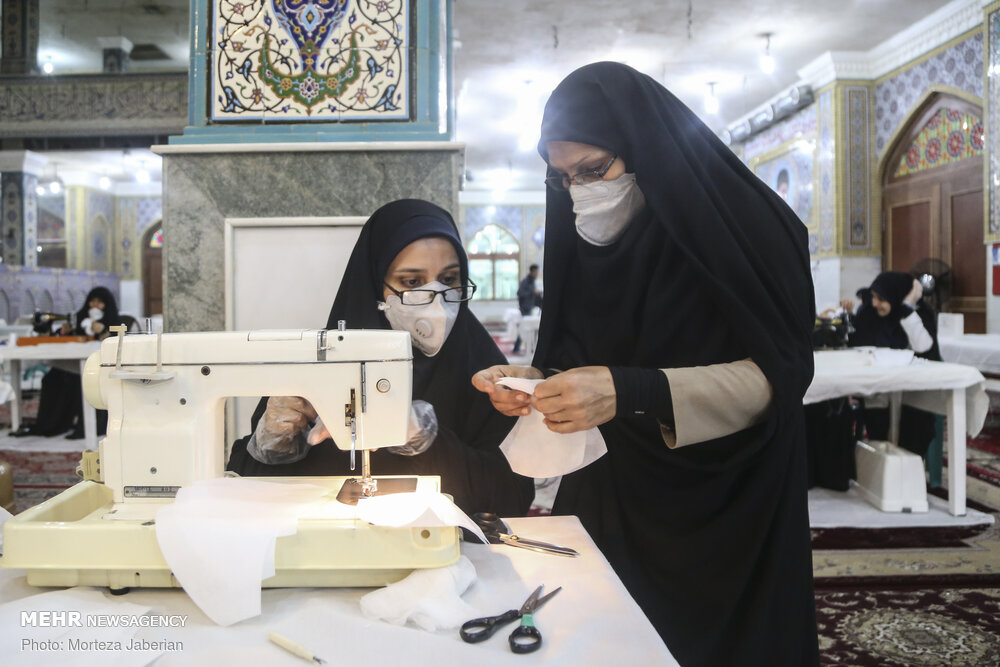 Two women examined mask components on March 18.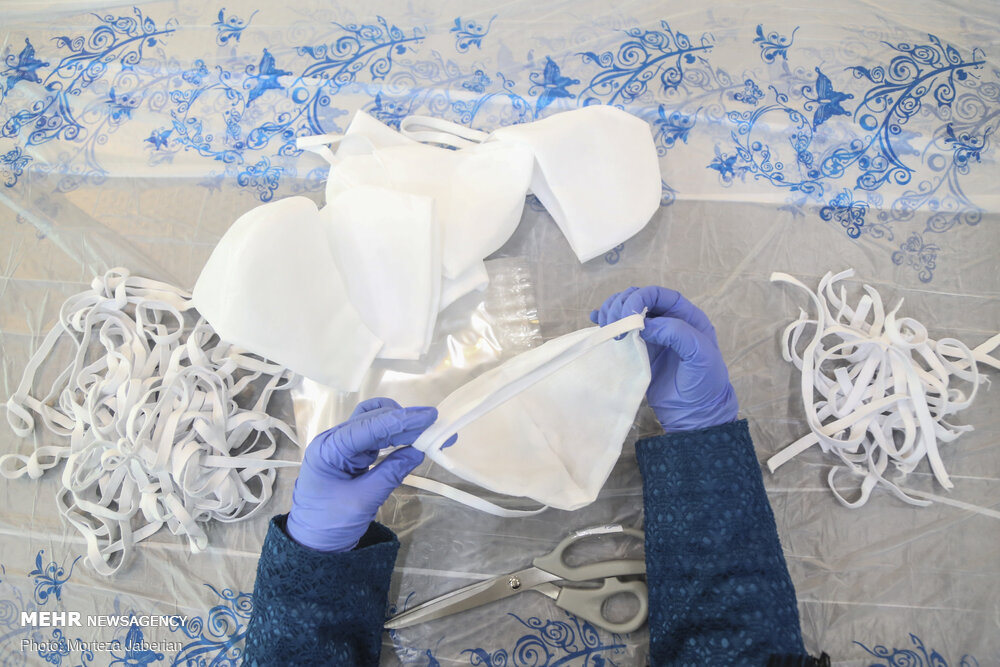 A woman completed a face mask on March 18.
Iranian officials urged families to stay home, but the government did not impose compulsory quarantines. More than 1.2 million people chose to drive between cities on March 19, according to a police estimate. Long lines formed as people were screened for the disease. Families, in tens of thousands of cars, headed to holiday destinations on the Caspian Sea coast.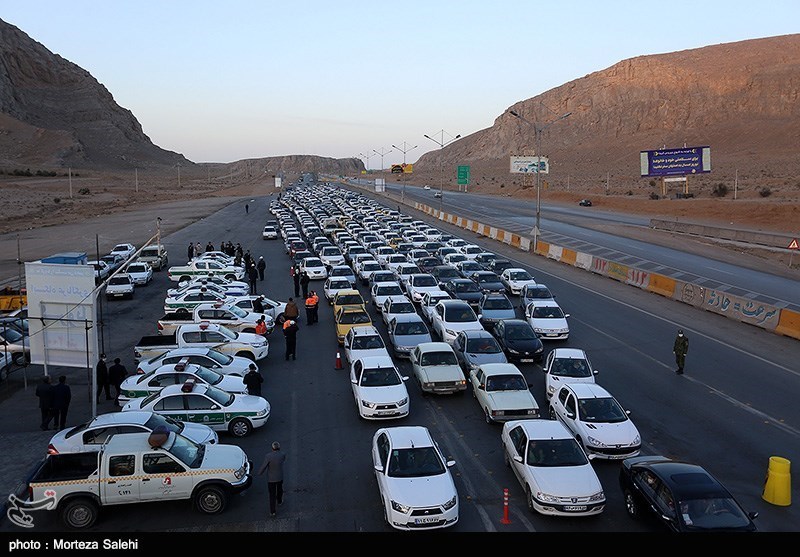 Cars stopped for screening near Isfahan on March 20.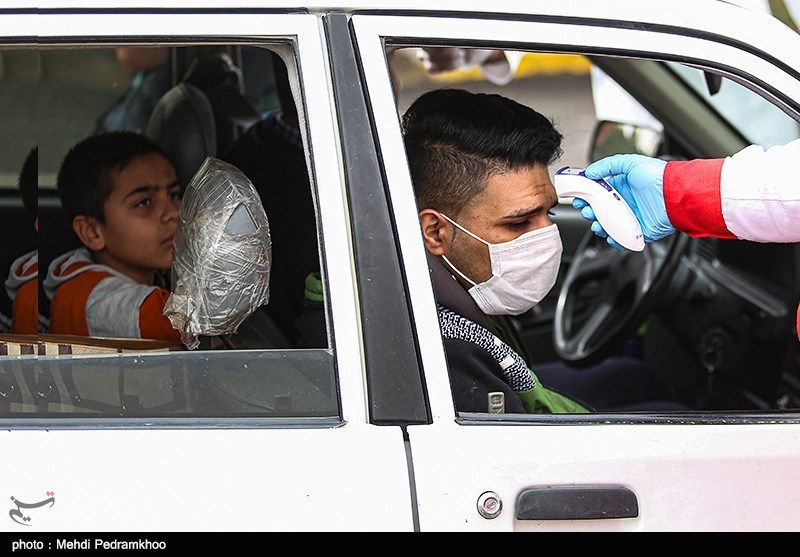 A Red Crescent worker took the temperature of a passenger in Ahwaz in western Iran on March 22.
The government closed historic sites and museusm to the public to discourage large gatherings. In Isfahan, parts of the city that would usually be bustling were eerily silent. 
The Imam Mosque in Isfahan was closed to the public. The site was vacant on March 22.
In Isfahan, shops catering to foreign tourists and Iranian travelers were shuttered.
In Shiraz, main streets and markets were virtually deserted.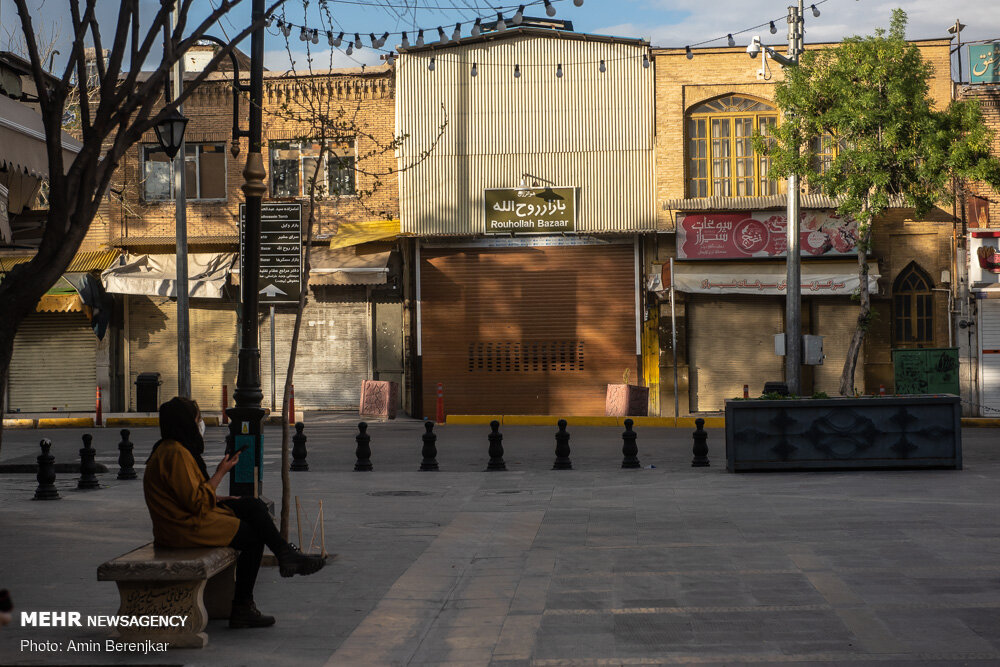 A woman sat on a bench near a bazaar in Shiraz on March 19.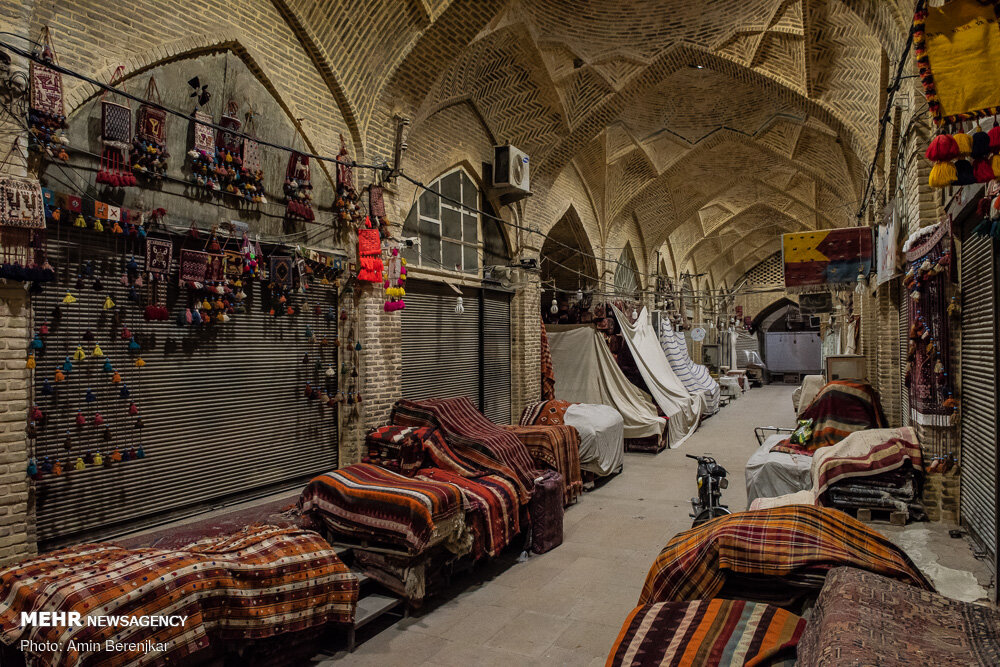 Shops in Shiraz's bazaar were closed on March 19.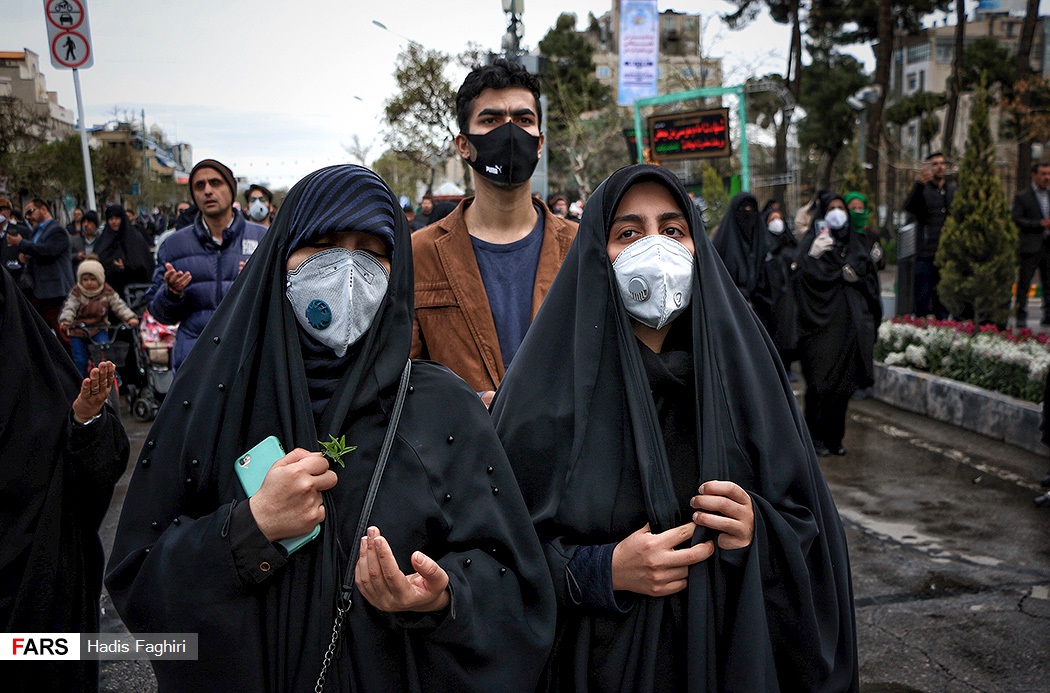 In Mashhad, the Imam Reza Shrine was closed. Pilgrims offered prayers outside the gates on March 20.
A woman prayed outside of the Imam Reza Shrine on March 20.
Some markets and shops remained open to provide customers with plants and decorations for the holiday. Many shoppers wore face masks to protect themselves.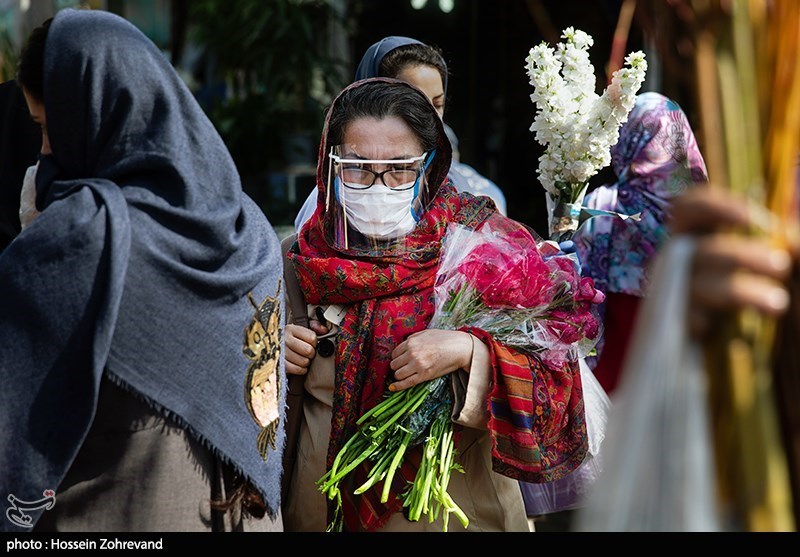 A woman shopped for flowers wearing a face mask and plastic visor on March 18.
A shopkeeper in a face mask posed with sweets on March 18.
In the city of Alashtar, in Lorestan province, local authorities blocked off main streets. Almost all shops were closed except for pharmacies and grocery stores.
امروز ورودی خیابان‌های اصلی شهر الشتر در لرستان با قرار دادن موانع بسته شد. تقریبا تمام مغازه‌های شهر به جز برخی فروشگاه‌های مواد غذایی و داروخانه‌ها بسته هستند. وضعیت الشتر به خاطر #کرونا قرمز است. pic.twitter.com/reWunWgzJp

— Sobhan Hassanvand (@Hassanvand) March 16, 2020