Daily life in Iran has been increasingly disrupted by COVID-19, which was first reported in the country on February 19.
There is no plan to put cities into lock down in Iran.

That's why #IRGC Chief Gen. Salami urges and requests Iranians to stay indoor and not to travel during #coronavirus #covid19 outbreak.

Still not many Iranians have heeded officials health warnings. pic.twitter.com/ru07SWuz58

— Mohammad Hashemi (@mo_hashemi) March 16, 2020
Political life
Most government officials, except for President Hassan Rouhani, wore face masks during meetings. Some bodies, including parliament, moved their meetings online via videoconference.
Ministers wore face masks at a cabinet meeting on March 11. 
Foreign Minister Mohammad Javad Zarif wore a mask at a cabinet meeting on March 11.
President Rouhani's government increasingly focused on COVID-19's wide-ranging impact. On March 11, Rouhani assumed the chairmanship of the national task force for fighting the virus. He spoke with provincial governors from all 31 provinces via videoconference. 
National Task Force for Combating #CoronaVirus in #Iran held a session led by president Rouhani today. All provincial governors joined the session via video-conference which lasted about 2.5 hours. pic.twitter.com/WCZ0CMn6ls

— Abas Aslani (@AbasAslani) March 16, 2020
Commercial Life
Iranian businesses, especially involving transportation or large gatherings, were hit hard as customers heeded government requests to stay home. 
Iran #COVID19 latest:

* 1209 new cases, nearly 14000 total
* 724 confirmed fatalities
* Budget official: 3m Iranians to receive cash transfers; 4m more eligible for low-interest loans
* @deghtesad publishes chart showing major impact on domestic business (translation below). pic.twitter.com/lp9731SAbE

— Ali Vaez (@AliVaez) March 15, 2020
A usually busy market in Ardebil was closed on March 12.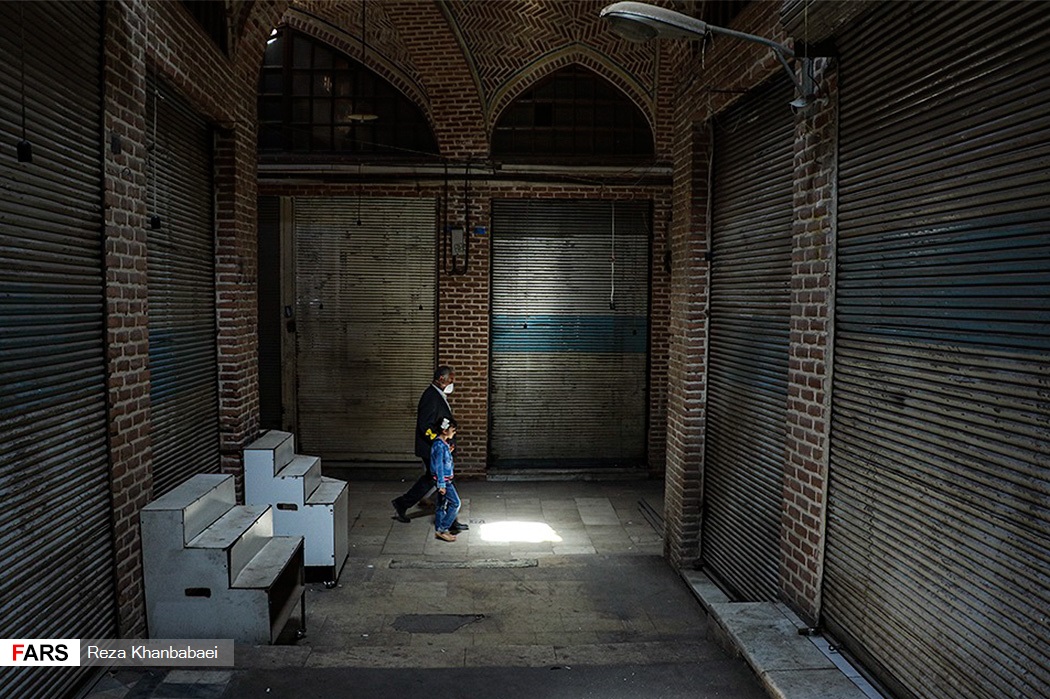 A man and his child walked through a closed market in Ardebil on March 12.
A market in Shiraz was shuttered on March 5.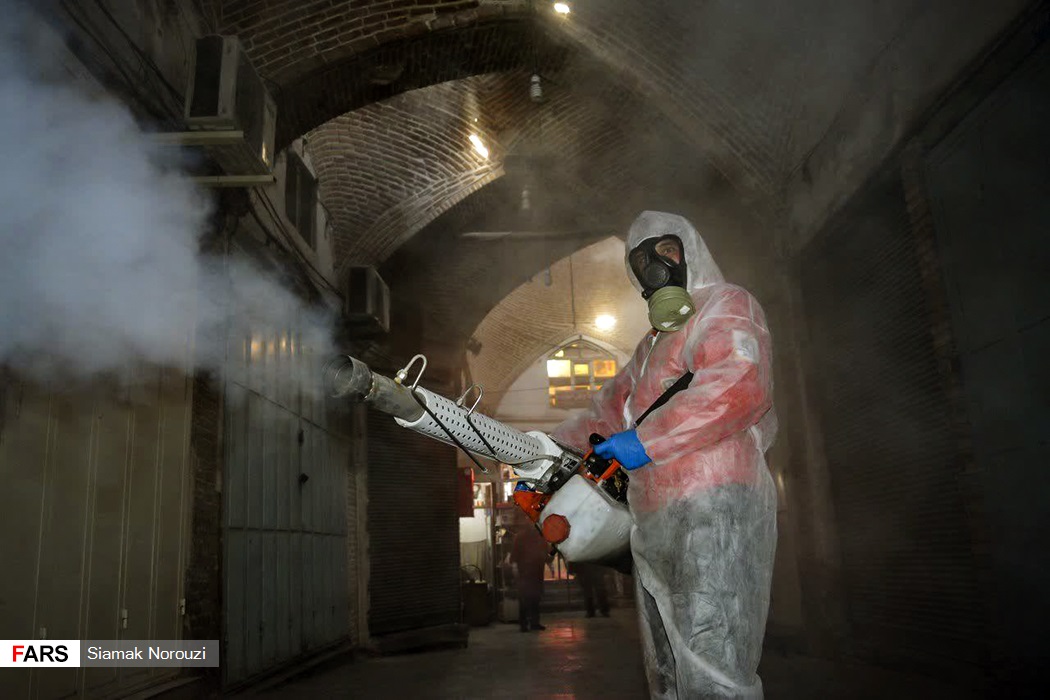 The Tabriz Bazaar was closed and disinfected on March 15.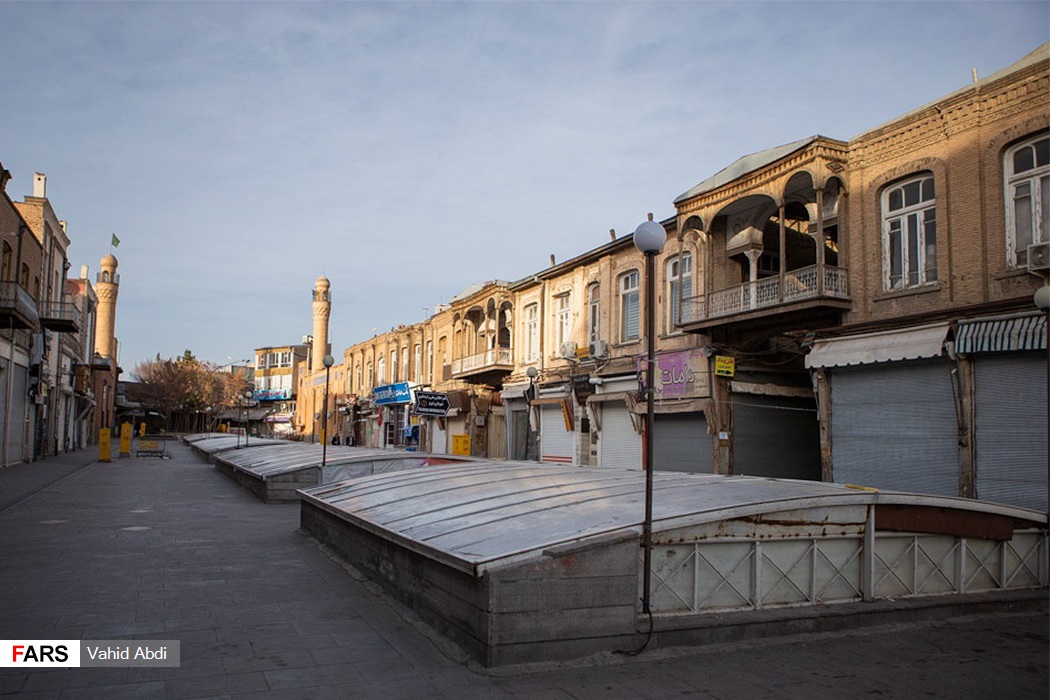 The Tabriz Bazaar was shuttered on March 15.
Shopkeepers that remained open avoided handling cash as a precaution. On March 18, food markets were reportedly crowded with shoppers ahead of the Nowruz holiday.
"For health reasons, please don't use cash. Use a card." pic.twitter.com/2q3lbfLgZ8

— Alex Shams (@seyyedreza) March 16, 2020
Many families still opted to travel between cities despite government warnings. Some highways were crowded with traffic.
5/As an e.g. the govt. has asked people to stay home but failed to convinced them to take warning seriously & avoid making unnecessary travel before Nowruz holiday to prevent further spreading the contagion.pic.twitter.com/V4l1RnMSZp

— Mohammad Hashemi (@mo_hashemi) March 18, 2020
Nowruz Celebrations
Nowruz, the Persian new year, is the most widely celebrated holiday in Iran. Many businesses depend on the large uptick in shopping ahead of and during Nowruz, which falls on March 21. On March 12, the culture ministry ordered officials in all 31 provinces to cancel Nowruz festivals and close museums during the holiday to prevent large gatherings of people. 
Life is a standstill at what is usually the busiest time of the year, when people go shopping for gifts for Nowruz Persian New Year holiday. pic.twitter.com/BCLzFqnxKB

— Alex Shams (@seyyedreza) March 16, 2020
Signs around town tell people please not to travel over the holiday:

"For the sake of the health of our compatriots, we don't travel." pic.twitter.com/uBileTHNzD

— Alex Shams (@seyyedreza) March 16, 2020
#Nowruz Khani or singing for Nowruz (Persian New Year) is an age-old tradition practiced in northern provinces of #Iran to welcome the new year. This year Nowruz Khans (singers) are also singing about #coronavirus to raise awareness among the people. pic.twitter.com/heCIGP7FuF

— Press TV (@PressTV) March 15, 2020
Family Life
Since shortly after the first case was announced on February 19, families adjusted to spending much more time indoors. Children watched their lessons on television after schools were closed nationwide on February 28. Video-on-demand services waived fees for the last weeks of the Iranian year. Four services allowed free access to children's programming. On March 11, the National Library of Iran made 23,300 digital copies of children's books available online for free.
Schools are taught through TV: each grade has its classes at a different time, and kingside the teacher slides are shown.

This is a science class- they're discussing recycling. pic.twitter.com/wSPvYst1OB

— Alex Shams (@seyyedreza) March 16, 2020
This guy is discussing tips for long multiplication on the Concur, the national university entrance exam.

I love how in Iran men aren't afraid to dress in colors- pink, red, purple is a perfectly suitable outfit for teaching math on TV pic.twitter.com/GOUt0cVsmY

— Alex Shams (@seyyedreza) March 16, 2020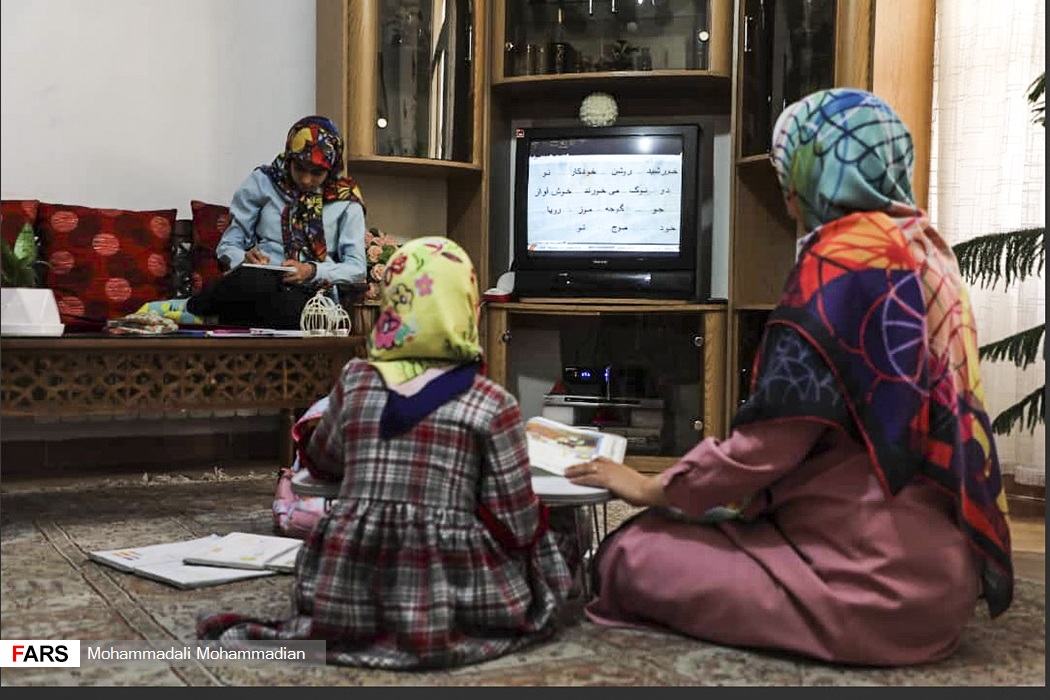 Children studied a television lesson in March.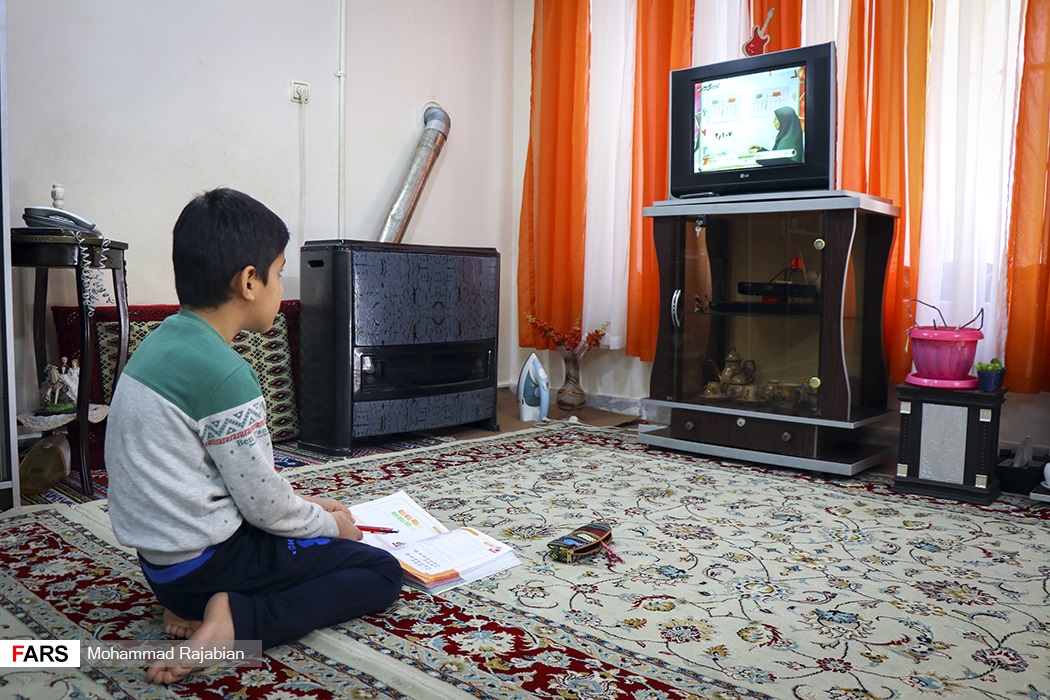 A boy watched a recorded lesson in March.
Social Life
To boost spirits, some Iranians sang songs from their balconies. Videos were posted to social media in mid-March. The same phenomenon happened in Italy, Lebanon and other countries hit by COVID-19.
 
Beautiful! Iranians are singing Ey Iran, a patriotic song considered by many as the unofficial national anthem. #coronavirus #LifeInTheTimeOfCorona pic.twitter.com/KKKJdmn7qh

— Golnaz Esfandiari (@GEsfandiari) March 15, 2020
Religious Life
In mid-March, mosques and holy shrines were closed to the public to reduce large gatherings of people. But on March 16, crowds of devotees broke into shrines in Qom and Mashhad, demanding that they be able to pray. 
بعد از بیست روز چالش، بالاخره حرم معصومه مشهور به دارالشفا به خاطر جلوگیری از شیوع کرونا بسته شد ولی برخی از مردم قم در جلوی حرم تجمع کرده و به بسته شدن آن اعتراض دارند؛ زنجیره شیوع. pic.twitter.com/XdnpXIKogp

— رضا حقيقت‌نژاد (@rezahn56) March 16, 2020
At least 25 people arrested (more to come) following clashes btw police and protesters in holy cities of Qom and Mashhad last night. Protesters were angry by seeing the closure of the shrines. They argue shrines must remain open, those fearful of spread of Covid19 don't visit'em pic.twitter.com/ijNh01MW84

— Fereshteh Sadeghi فرشته صادقی (@fresh_sadegh) March 17, 2020
Picture from #Iran's "Imam Reza" holy shrine in Mashhad which is closed to public due to #CoronavirusOutbreak https://t.co/arGi7le5uc

— Hossein Ghazanfari (@TehranDC) March 16, 2020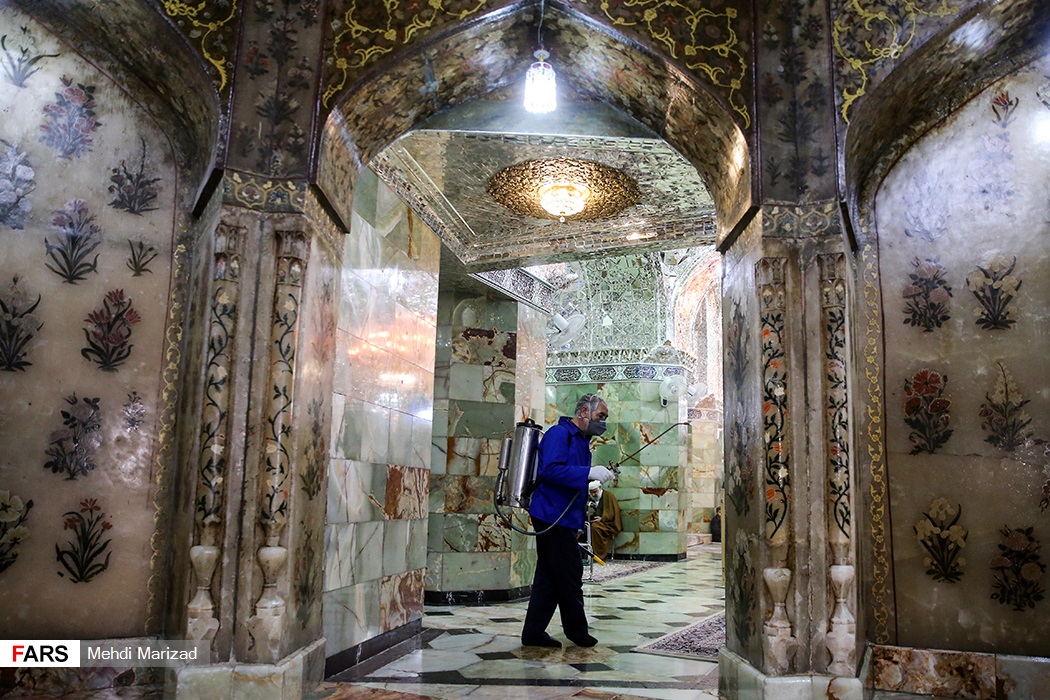 A worker cleaned the holy shrine of Fatemeh Masoumeh in Qom on February 25.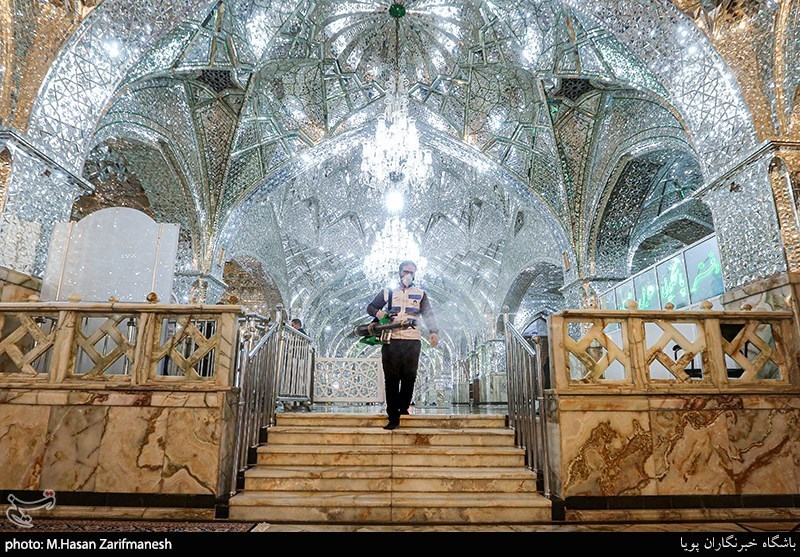 The holy shrine of Abdol Azim al Hasani in Rey, south of Tehran, was closed to the public. A man disinfected the premises on February 27.