Iran categorically denied the U.S. allegation that it was responsible for attacks on two tankers on June 13 near the Strait of Hormuz. "Neither fabrications and disinformation campaigns nor shamelessly blaming others can change the realities. The U.S. and its regional allies must stop warmongering and put an end to mischievous plots as well as false flag operations in the region," said Iran's U.N. mission following a U.N. Security Council meeting on the incidents. "Warning, once again, about all of the U.S. coercion, intimidation, and malign behavior, Iran expresses concern over suspicious incidents for the oil tankers that occurred today." 
In a tweet on June 14, Foreign Minister Mohammad Zarif accused the United States of trying to "sabotage diplomacy" and distract from what he called "economic terrorism," the damage U.S. sanctions have done to Iran's economy. Immediately after the incident, Zarif tweeted that the timing of the attacks was more than "suspicious" because they coincided with Japanese Prime Minister Shinzo Abe's meeting with Iranian Supreme Leader Ayatollah Ali Khamenei on June 13. Abe was on a mission to deescalate tensions between Iran and the United States. But Khamenei told Abe that there was no point in responding to a message from President Donald Trump, who had visited Japan on May 27. One of the two vessels attacked was owned by a Japanese shipping company. The following are reactions to the tanker crisis from Iran. 
Permanent Mission of the Islamic Republic of Iran to the United Nations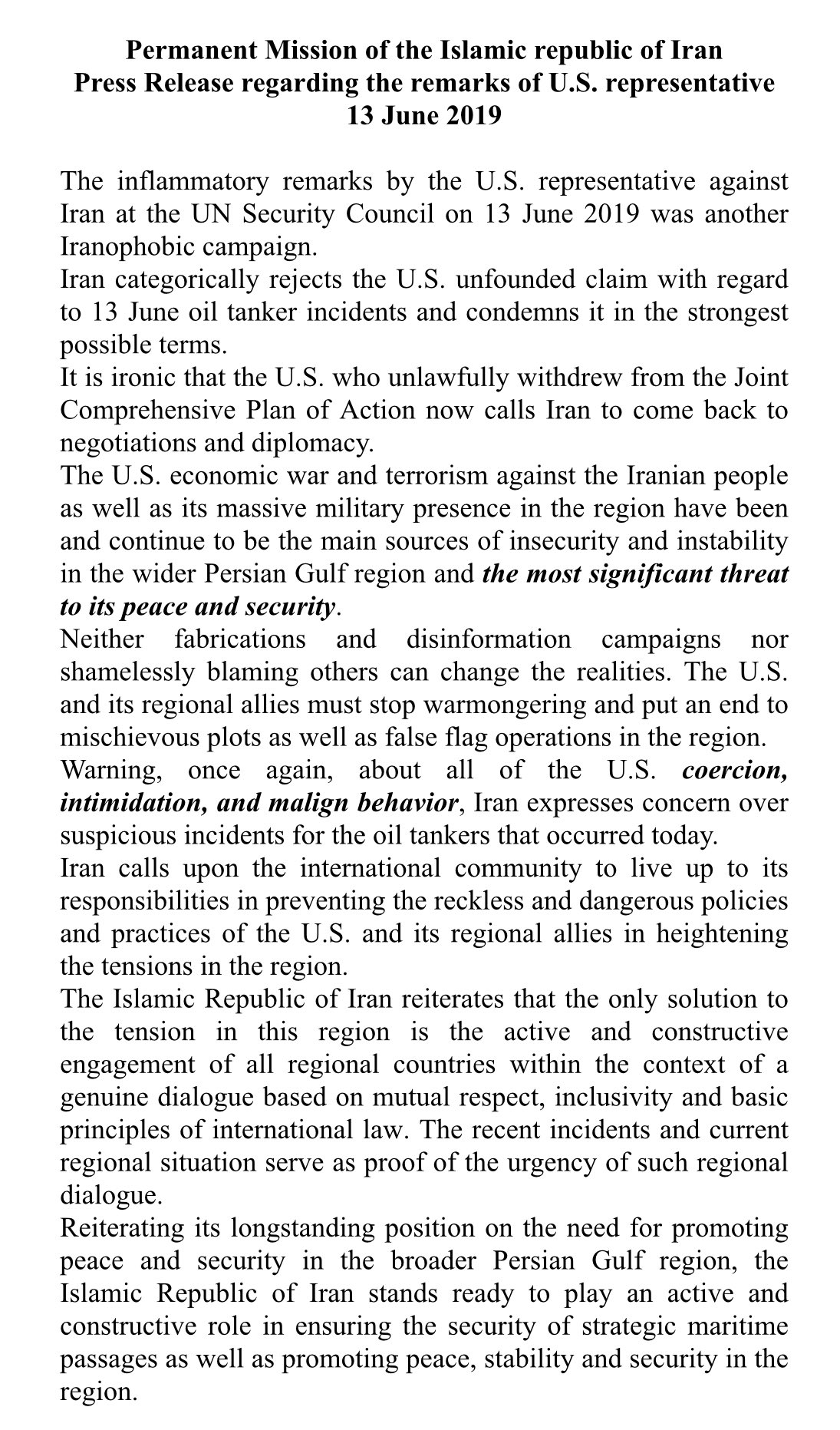 Foreign Minister Mohammad Javad Zarif 
That the US immediately jumped to make allegations against Iran—w/o a shred of factual or circumstantial evidence—only makes it abundantly clear that the #B_Team is moving to a #PlanB: Sabotage diplomacy—including by @AbeShinzo—and cover up its #EconomicTerrorism against Iran.

— Javad Zarif (@JZarif) June 14, 2019
I warned of exactly this scenario a few months ago, not because I'm clairvoyant, but because I recognize where the #B_Team is coming from.

— Javad Zarif (@JZarif) June 14, 2019
Reported attacks on Japan-related tankers occurred while PM @AbeShinzo was meeting with Ayatollah @khamenei_ir for extensive and friendly talks.

Suspicious doesn't begin to describe what likely transpired this morning.

Iran's proposed Regional Dialogue Forum is imperative.

— Javad Zarif (@JZarif) June 13, 2019
President Hassan Rouhani
"Iran will not wage war on any nation."
"Despite all of the Americans' efforts in the region and their desire to cut off our ties with all of the world and their desire to keep Iran secluded, they have been unsuccessful."
— June 18, 2019, in an speech on state television according to Reuters
Foreign Ministry Spokesman Abbas Mousavi 
"These accusations are alarming."
Blaming Iran for Thursday's attacks was "the simplest and the most convenient way for Pompeo and other U.S. officials."
"We are responsible for ensuring the security of the Strait and we have rescued the crew of those attacked tankers in the shortest possible time."
 —June 13, 2019, in an interview with Iranian state radio according to Reuters
Speaker of Parliament Ali Larijani
"Suspicious acts in the Sea of Oman against oil tankers... seem to be supplementary to the [US] economic sanctions as the Americans went nowhere with the sanctions, [also,] especially, given America's historical record in the area [of false flag ops]."
—June 16, 2019, in an address to Parliament according to CNN
IRGC Commander Hossein Salami
"These missiles can hit with great precision carriers in the sea ... These missiles are domestically produced and are difficult to intercept and hit with other missiles." 
— June 18, 2019, in an speech on state television according to Reuters
Secretary of the Supreme National Security Council Ali Shamkhani
"There will not be a military confrontation between Iran and America since there is no reason for a war. Accusing other countries has turned into a common practice among U.S. officials as they try to pressure other counties."
—June 19, 2019, to IRNA, according to Reuters