On September 22, four gunmen attacked a military parade in the southwestern city of Ahvaz. At least 29 people were killed, including women and children, and some 70 others were injured. At least eight were Islamic Revolutionary Guard Corps (IRGC) personnel, according to Iranian officials. The gunmen were reportedly dressed like IRGC members. "They were just aimlessly shooting around and did not have a specific target," one witness told Iranian state television. The parade was an annual event marking the start of the 1980-1988 war with Iraq. 
Etemad Newspaper: "Ahvaz in Blood"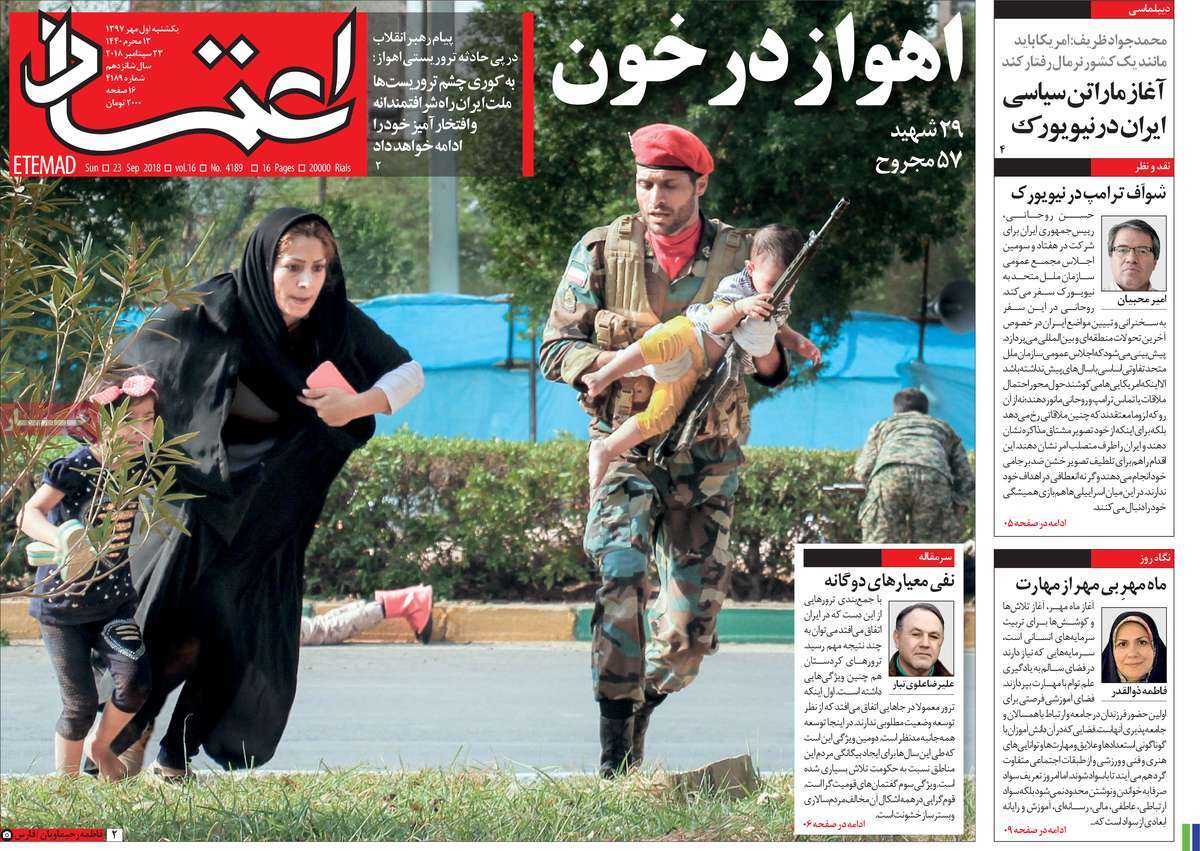 The affiliation of the attackers was not clear. Local media outlets reported conflicting information about what organization was responsible. The Islamic Republic News Agency reported that the Patriotic Arab Democratic Movement Ahwaz had claimed responsibility, but the organization issued a denial. The Arab Struggle Movement for the Liberation of Al Ahwaz was also blamed, but spokesman Yacoub Hor al Tustari told CNN that the group was not involved. Ahvaz is the capital of Khuzestan Province, in southwestern Iran, which is home to many Arabs, an ethnic minority in the predominantly Persian country. 
The Khorasan Branch of the Islamic State, also known as ISIS or Daesh, claimed responsibility for the attack. The Khorasan Branch has primarily been active in Afghanistan and Pakistan. ISIS circulated a video via its Amaq News Agency that claimed to show three of the four attackers just before the attack. In many videos previously released by ISIS, the terrorists pledged their loyalty to Abu Bakr al Baghdadi. But the men in this video did not make any reference to ISIS or its leader. They offered goodbyes to their loved ones and used generically pro-jihad language. On September 26, ISIS spokesman Abul Hasan a Muhajir, released a statement saying the men acted to "deter and suppress their enemy" and that the attack on Iran "will not be the last."
In June 2017, gunmen and suicide bombers attacked Iran's parliament building and the tomb of Iran's revolutionary leader Imam Khomeini. They were the first such attacks in Tehran in more than a decade. ISIS claimed responsibility for the simultaneous assaults, which left 12 people dead and 46 wounded. At least four of the five attackers were reportedly from Paveh, a Sunni Kurdish town in Kermanshah Province, western Iran. Iran's intelligence ministry said the attackers had fought with ISIS in Iraq and Syria and had returned to Iran to carry out the attack. 
Iranian leaders ultimately blamed the United States and its regional allies for the Ahvaz attack. Foreign Minister Mohammad Javad Zarif held an unnamed "foreign regime" and the United States responsible. 
Terrorists recruited, trained, armed & paid by a foreign regime have attacked Ahvaz. Children and journos among casualties. Iran holds regional terror sponsors and their US masters accountable for such attacks. Iran will respond swiftly and decisively in defense of Iranian lives. pic.twitter.com/WG1J1wgVD9

— Javad Zarif (@JZarif) September 22, 2018
Other Iranian leaders echoed Zarif. "It is America who supports these little mercenary countries in the region," said President Hassan Rouhani on September 23, just before departing for the U.N. General Assembly opening in New York. "Based on reports, this cowardly act was carried out by those who are rescued by Americans wherever they are entangled in Syria and Iraq, and their hands are in the Saudi and UAE pockets," said Supreme Leader Ayatollah Ali Khamenei on September 24. An IRGC spokesperson held Saudi Arabia responsible. Another IRGC official blamed Israel. 
U.S. officials criticized Iranian leaders for blaming the United States and others for the attack. "The loss of innocent life is tragic, and I wish Zarif would focus on keeping his own people secure rather than causing insecurity all around the world," Secretary of State Mike Pompeo said in an interview on September 23. U.S. ambassador to the United Nations, Nikki Haley, urged President Rouhani to "look in the mirror" and think about his own base. Rouhani tweeted a response: 
A US official has recently said terrible things about Ahvaz terrorist attack and held Iranian gov. responsible for that attack! What would Americans think if we were to say such a thing about the 9/11 terrorist attacks?

— Hassan Rouhani (@HassanRouhani) September 24, 2018
On September 24, thousands of people attended the funerals for the victims outside the Sarallah mosque in Ahvaz. Many mourners chanted "Death to Israel and America." Iran's intelligence ministry said 22 people had been arrested in connection with the attack. "We will punish every single one of the terrorists for their actions," pledged Intelligence Minister Mahmoud Alavi at the funeral.
On October 1, the IRGC fired six ballistic missiles at targets in southeastern Syria, the last area held by ISIS. "Death to the family of Saud," "Death to America," and "Death to Israel" were written on one of the missiles, according to a photo published by Iranian media. The following are reactions to the attack by Iranian officials and foreign leaders.  
Iran
Supreme Leader Ayatollah Ali Khamenei
"The bitter incident showed again that the Iranian nation has many enemies on its glorious path of progress."
"Based on reports, this cowardly act was carried out by those who are rescued by Americans wherever they are entangled in Syria and Iraq and their hands are in the Saudi and UAE pockets."
"Certainly, we will harshly punish the culprits behind this act." 
—September 24, 2018, in a meeting with the Iranian athletes
President Hassan Rouhani
"We know its perpetrators and instructors and, without a doubt, Iran will not leave this bloodshed unanswered."
"Crimes of criminals don't affect Iranian nation's resolve and the bloodshed in Ahwaz will receive a response within the framework of the law and interests of our country."
"Those who advocate human rights in the international stage must be accountable." 
"During the Imposed War (1980-1988 war with Iraq), the same group with the same names were supporting the aggressors, marking crimes."
"Until Saddam (Hussein) was living, they were his mercenaries and after him, they changed their masters and a country in the southern part of the Persian Gulf took over their financial, weapon and political affairs."
"In Khuzestan and Ahwaz, we have brave people including Persian, Arab, and Bakhtiari people who have made sacrifices both during the war and after it for the progress of the country, and we are tremendously sorry that these great, brave people are mourning their family members' deaths."
"It is completely clear for us who did this and what group they are and to whom they are affiliated."
"It is America who supports these little mercenary countries in the region. It is Americans who are provoking them. It is Americans who provide them with their required necessities to perpetrate such crimes."
"Americans will never achieve their goals in Iran towards the Iranian nation and the government is ready to counter any action by the U.S., and the Americans will regret this."
—Sept. 23, 2018, to reporters at Mehrabad Airport before leaving for New York
The Council of Ministers (President Rouhani's Cabinet)
Saturday's terrorist attack on people and defenders of people's security in Ahwaz city proved it clearly that the enemies of Iran follow no goal but to destroy Iran and Iranians, and in their anti-human bloodshed, women, children, old and young, Lur and Arab, worker and soldier will be subject to their grudge merely because they are Iranians.
The government of the Islamic Republic of Iran offers condolences to the brave people of Khuzestan and the patient family of martyrs and those injured in the incident, announcing their funeral day (Monday 24 September 2018) national day of mourning, calling on all governments, especially neighbours, to carry out clear, decisive measures in countering terrorist groups that had a role in this bloodshed or supported them, and believe in the fact that the security of the countries of the region is an integral and common capital of all the nations of the region and that the Iranian government and nation's fight against terrorism and their sponsors and cooperation in safeguarding the region's security will continue with determination until terrorism is eradicated from the region.
—Sept. 23, 2018, in a statement
IRGC Commander Brigadier General Esmayeel Kossari
"The remarks by the UAE and Saudi officials on the terrorist attack in Ahwaz, and the documents show that the Americans gave orders to Riyadh and supported this attack." 
"Some documents have been found in Iraq and Syria which show the Americans' support for Saudi Arabia and the Saudis' assistance to the terrorists."
—Sept. 24, 2018 in a statement 
IRGC Spokesman Ramezan Sharif
"The individuals who fired at the people and the armed forces during the parade are connected to the al Ahvaziya group which is fed by Saudi Arabia." 
—Sept. 22, 2018 in a statement for state media
 
Supreme National Security Council Secretary Ali Shamkhani 
"The danger of terrorism and its root causes, including the Takfiri thoughts promoted by certain regional states, has stirred crisis in the entire region and is a major obstacle on the way of the Islamic countries' growth and progress."
—September 24, 2018 in a meeting with Azerbaijan's Interior Minister Ramil Usubov in Tehran 
Deputy IRGC Commander Brigadier General Hossein Salami 
"We promise to show an annihilating and destructive response which makes them (the culprits) regret their deeds and no one will be able to kill our children in this territory, and this will not be the end of the story and we warn everyone that we will take revenge."
—Sept. 24, 2018 in a statement at the funeral ceremony of those killed in Ahvaz
The U.N. Security Council
The members of the Security Council condemned in the strongest terms the heinous and cowardly terrorist attack that took place in the Islamic Republic of Iran, in Ahvaz on 22 September. The terrorist attack, at a military parade, resulted in at least 24 people killed, including children, and 60 others injured.
The members of the Security Council expressed their deepest sympathy and condolences to the families of the victims and to the Government of the Islamic Republic of Iran and they wished a speedy and full recovery to those who were injured.
The members of the Security Council reaffirmed that terrorism in all its forms and manifestations constitutes one of the most serious threats to international peace and security.
The members of the Security Council underlined the need to hold perpetrators, organizers, financiers and sponsors of these reprehensible acts of terrorism accountable and bring them to justice and urged all States, in accordance with their obligations under international law and relevant Security Council resolutions, to cooperate actively with the Government of the Islamic Republic of Iran and all other relevant authorities in this regard.
The members of the Security Council reiterated that any acts of terrorism are criminal and unjustifiable, regardless of their motivation, wherever, whenever and by whomsoever committed. They reaffirmed the need for all States to combat by all means, in accordance with the Charter of the United Nations and other obligations under international law, including international human rights law, international refugee law and international humanitarian law, threats to international peace and security caused by terrorist acts.
—Sept. 24, 2018, in a statement
The United States
Secretary of State Mike Pompeo
"And with respect to the attacks overnight, I saw the comments of Zarif. When you have a security incident at home, blaming others is an enormous mistake. And the loss of innocent life is tragic, and I wish Zarif would focus on keeping his own people secure rather than causing insecurity all around the world."
—Sept. 23, 2018, in an interview with Chris Wallace of Fox News
Ambassador to the United Nations Nikki Haley 
"You've got a lot of rhetoric coming from Rouhani. The United States condemns any terrorist attack anywhere, period. We've always stood by that. I think what Rouhani needs to do is he needs to look at his own home base." 
"Look at the mirror."
—Sept. 22, 2018, on CNN's "State of the Union" 
Secretary of Defense James Mattis
"It's ludicrous to allege that we might have had anything to do with it."
"They've so far blamed at least three countries and I think one terrorist group. We'll see how long the list goes. But it'd be good if they knew what they're talking about before they started talking."
"We've been very clear that they [Iranians] shouldn't take us on like that. And I am hopeful that cooler, wiser heads will prevail."
—Sept. 24, 2018, to reporters at the Pentagon
Special Representative for Iran Brian Hook
QUESTION: So the U.S. has blamed Iran for the attacks in Basra.  Iran has blamed U.S.-backed allies and, by extension, the U.S. for the Ahvaz shooting attack.  Do you think that this is something that could escalate into eventual armed conflict?  You've talked about rising risk, and Ahvaz seems pretty dangerous.
MR HOOK: Iran has been repressing Arab minorities who live inside of Iran for a very long time.  It's been brutal and severe repression.  Instead of blaming the United States and the Saudis and the Israelis, whoever they blame, it's so predictable it's laughable.  They need to be worried more about protecting the security of their own people than blaming others.
—Sept. 25, 2018, to reporters in New York