The following tweets are snapshots illustrating results of and reaction to the February 26 elections for Parliament and the Assembly of Experts. 
Top Leaders
I feel responsible to appreciate this public response to the Islamic System's call. #IranElections2016 pic.twitter.com/lYhlRnU3iq

— Khamenei.ir (@khamenei_ir) February 28, 2016
Addressing the elected Majlis: #Iran's progress is main objective. Feigned progress without national dignity & independence is not accepted.

— Khamenei.ir (@khamenei_ir) February 28, 2016
Iranian nation once again could display religious democracy through its brilliant and powerful face to the world. #IranElections2016

— Khamenei.ir (@khamenei_ir) February 28, 2016
Kudos to the history-making nation of Iran. Let's open a new chapter based on domestic talents &global opportunities pic.twitter.com/P24HRkv14t

— Hassan Rouhani (@HassanRouhani) February 29, 2016
#Iran #Judiciary head says "#Reformists conformance w/ Enemies in Election is matter to be addressed" Stern Warning pic.twitter.com/qBtmCnFNtA

— Ali Alimadadi (@alialimadadi110) February 29, 2016
Winners
Etemad's front page on February 29 read:

Reformist electoral list wins landslide victory in Tehran; all 30 candidates on the list elected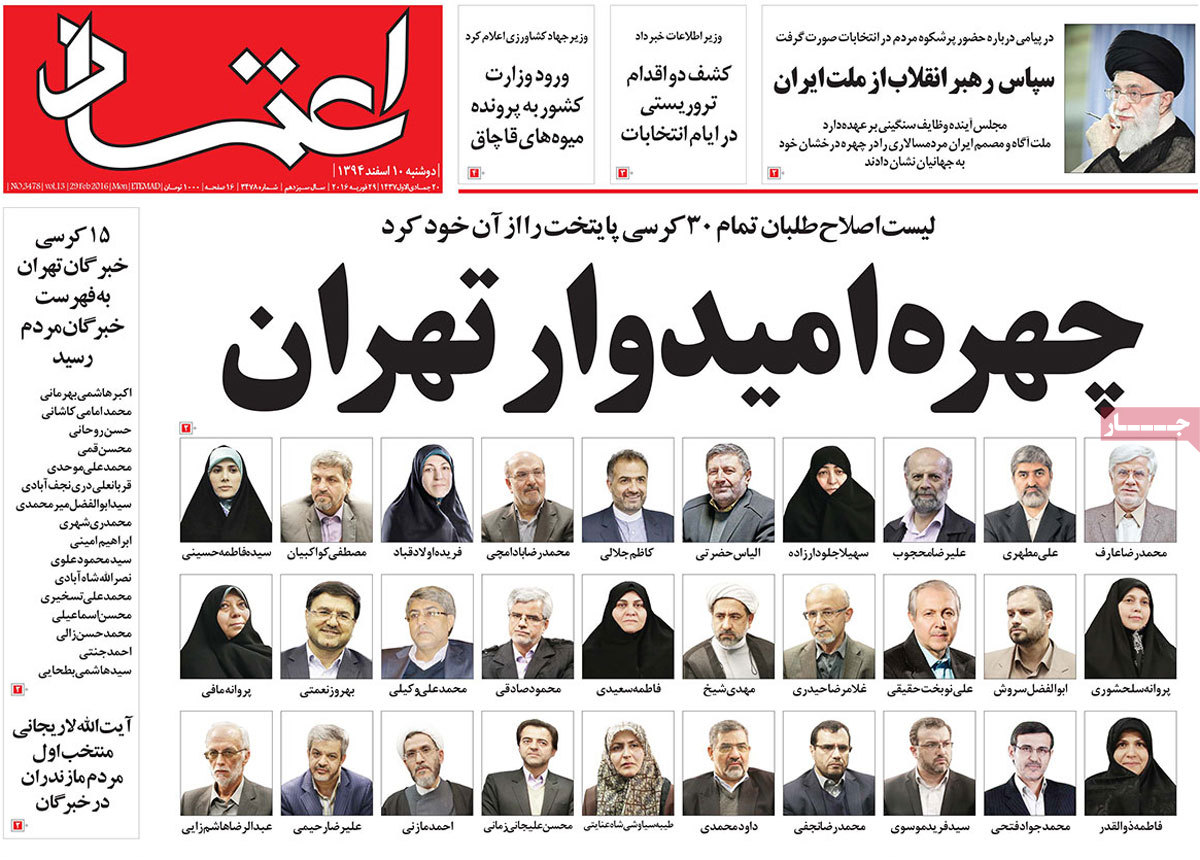 President Rouhani and his moderate allies dominate council of clerics in Iran elections https://t.co/XvyvV5xKS0 pic.twitter.com/SKEzTRD6Gk

— AJE News (@AJENews) February 29, 2016
Current parliamentary speaker Ali Larijani ran as an independent and won his seat. 
#Iran's speaker of parliament Larijani: I cannot predict whether I'm next speaker (of parliament) or not. pic.twitter.com/HoYg0Y1j2T

— Abas Aslani (@abasinfo) February 28, 2016
#IranElections2016 changes 68% of #Iran parliament; only 32% lawmakers retain their seats https://t.co/qhUgnjsgFs

— Golnar Motevalli (@golnarM) February 29, 2016
Election Results: Principlists Win #Iran , Rreformists-Moderates Win #Tehran https://t.co/bPIzPDTLxn pic.twitter.com/QDfYSPwYY8

— Fars News Agency (@EnglishFars) February 29, 2016
Helpful #IranElections2016 map via @voteforiran https://t.co/Lwm4fvbFe8 pic.twitter.com/BMheKRbi1r

— Golnaz Esfandiari (@GEsfandiari) March 1, 2016
Losers
Haddad-Adel, Head of conservatives' list in Tehran, consoled in Majlis after defeat in #IranElections2016. pic.twitter.com/pU0e4mb7E8

— raz zimmt (@RZimmt) February 29, 2016
With 1m votes hardliner Haddad Adel was first Tehran winner in last parliament (when many boycotted), now with same votes he's not elected.

— Saeed Kamali Dehghan (@SaeedKD) February 29, 2016
In #Tehran, even lead conservative candidate for parlment Haddad Adel couldn't win a seat.
(Picture: Parlmnt today) pic.twitter.com/qc8Lck10cW

— Abas Aslani (@abasinfo) February 29, 2016
Today in #Iran parliament. #Larijani may cede chairpersoning to #Aref. #Haddad set to bid farewell. pic.twitter.com/ub0GdcjWEo

— Ali Alimadadi (@alialimadadi110) February 29, 2016
Ayatollah Mesbah Yazdi lost. The spiritual leader of the Resistance Front who gave us Ahmadinejad et al. pic.twitter.com/hCL74vNBUM

— Negar نگار (@NegarMortazavi) February 27, 2016
Koochakzadeh, hardline MP who called the Foreign Minister Zarif "a traitor" was not elected in #IranElections2016 pic.twitter.com/gVIsWLiBrZ

— Bozorgmehr Sharafedi (@bozorgmehr) February 29, 2016
ZERO: 5 candidates gain NO VOTE in Tehran in #IranElections2016 pic.twitter.com/OMdabp7dTC

— Sobhan Hassanvand (@Hassanvand) March 1, 2016
#Iran Mp #Kowsari says: "Results suspicious. We wrote letter so that likely rigging be addressed." he lost new elec pic.twitter.com/5RDdgCk7vv

— Ali Alimadadi (@alialimadadi110) February 29, 2016
Women
Youngest member of Iran Parliament elected from the Reformist coalition in Tehran, Dr Fatemeh Hosseini with her son. pic.twitter.com/FVOFfGPNkL

— Negar نگار (@NegarMortazavi) February 29, 2016
#Iran 2016 #parliament poll registers record in #women participationhttps://t.co/gO3I1VqASo#IranElections2016 pic.twitter.com/v15Mu9q7P4

— Iran (@Iran) February 29, 2016
Here are the 14 women in Iran's new parliament, and we hope more are voted in in April's run-off. pic.twitter.com/0PEmT7RUgc

— MishaZand (@MishaZand) February 29, 2016
New face elected to parliament:53, Teacher. Called for release of reformist leaders held under house during campaign pic.twitter.com/iJRFanlYcl

— Alborz Habibi (@AlborzHabibi) February 28, 2016
New female face elected:49, MA in int'l relations,mag editor, kids rights activist, speaks French #IranElections2016 pic.twitter.com/73xmzCzCyb

— Alborz Habibi (@AlborzHabibi) February 28, 2016
Reaction and Commentary
Former IRGC commander, Rezaei says top CIA agent, under cover of academic visit came to #iran to plot for reformists' victory in election

— Hossein Rassam (@rassam_hossein) March 1, 2016
Hardline cleric Shojoni: Cons defeat in #IranElections in Tehran shows it became main base 4 hostility 2 revolution & rule of jurisprudence.

— raz zimmt (@RZimmt) March 1, 2016