In the last year, Iranian and U.S. naval forces have had several close encounters in the Persian Gulf. In the most recent incident, an Iranian drone came within 1000 feet of a U.S. aircraft. It was the 14th unsafe and/or unprofessional interaction between U.S. and Iranian maritime forces in 2017, according to a U.S. Navy official. In another instance, a U.S. Navy patrol boat fired warning shots near an Iranian vessel that came dangerously close to it on July 25, 2017.
In March, Iranian fast-attack vessels came within 600 yards of a U.S. tracking ship before stopping, forcing it to change course. One Iranian vessel tried to position itself between the U.S. ship and three British Royal Navy ships, according to a U.S. official. The ships were thought to belong to the Islamic Revolutionary Guards Corps (IRGC). Some of the encounters occur in or near the Strait of Hormuz, through which more than 20 percent of the world's seaborne oil passes.
Iranian and U.S. naval forces have had sporadic and sometimes hostile interactions since the 1980s. But close calls have been occurring more frequently than in the past. In 2016, 35 encounters were "assessed to be unsafe and unprofessional," according to Pentagon spokesman Capt. Jeff Davis. The United States and Iran had 250 run-ins in the first half of 2016 alone, according to U.S. 5th Fleet statistics seen by the Navy Times. In 2015, they had a total of 300 run-ins. The fleet's spokesman, Cmdr. Bill Urban, estimated that roughly 10 percent of those incidents were unsafe and/or unprofessional.
IRGC Navy Admiral Ali Fadavi boasted that Iranian patrols have deterred U.S. warships from approaching is country's territorial waters for years. In an August 2016 speech, he said the U.S. presence in the region was driving insecurity. Fadavi also claimed that the United States does not have the capability to Iran in a war on sea, air or land.  
U.S. military leaders have warned that the situation in the Gulf can escalate quickly. "I think the big concern here is miscalculation," Gen. Joseph Votel, the head of U.S. Central Command, told reporters at the Pentagon on Aug. 30, 2016. "I am concerned about rogue commanders, rogue Iranian Quds force naval commanders who are operating in a provocative manner and are trying to test us."
In November 2016, Votel said about 90 percent of the unsafe and unprofessional activities were perpetrated by the IRGC navy and not Iran's regular navy. "So this is, in my view, is not about the Iranian people," Votel said. "It's about the Iranian regime and their desire to continue to do these types of things that stoke instability or attempt to stoke instability in the region," he said after an IRGC patrol boat trained its weapon on a U.S. helicopter.
The following is a rundown of U.S.-Iran naval encounters originally compiled by Michael Connell for The Iran Primer in 2013 that has since been updated and edited. 
The First Decade of the Islamic Republic and the Iran-Iraq War
May 13, 1984: After repeated Iraqi attacks on Iranian shipping and refining facilities, Iran retaliated with attacks on neutral shipping. The tit-for-tat exchanges initiated the so-called Tanker War. The first vessel struck by Iran was the Kuwaiti tanker Umm Casbah. The United States responded by bolstering the capabilities of its Arab allies in the Gulf and increasing its own military presence in the region. Shortly afterward, Speaker of Parliament Akbar Hashemi Rafsanjani declared, "Either the Persian Gulf will be safe for all or no one."
July 24, 1987: The United States began to reflag and escort Kuwaiti tankers to protect them from Iranian attacks. The operation, codenamed "Ernest Will," was the largest of its kind since World War II. On the first escort mission, the Kuwaiti tanker al Rekkah, reflagged as the MV Bridgeton, struck an Iranian mine, suffering minor damage.
Sept. 19, 1987: U.S. forces attacked and captured the Iranian logistical vessel Iran Ajr, after it was caught dropping mines in the Persian Gulf.
Oct. 19, 1987: U.S. naval forces destroyed two Iranian oil platforms in the Rostam Oil Field. The operation—codenamed "Nimble Archer"—was in retaliation for an Iranian attack on the Kuwaiti-owned, U.S.-flagged tanker, the MV Sea Island City.
April 14, 1988: The U.S. frigate Samuel B. Roberts, which was escorting tankers in the Gulf, struck an Iranian mine. It suffered extensive damage. U.S. forces retaliated with Operation Praying Mantis, destroying two Iranian oil platforms—both of which were believed to be important Revolutionary Guards Navy staging bases—and disabling or sinking several Iranian regular navy surface assets.
July 3, 1988: The USS Vincennes, a Navy guided missile cruiser, shot down Iran Air Flight 655, bound from Bandar Abbas to Dubai, with the loss of all 290 of its passengers and crew. According to U.S. officials, the crew of the Vincennes, who were operating in a warzone, mistook the airliner for a hostile Iranian aircraft. Tehran claimed that the downing was deliberate.
U.S. Led Intervention in Iraq Spills Across Persian Gulf 
June 21, 2004: IRGC naval forces captured six British Royal Navy sailors and two Royal Marines in the disputed waters of the Shatt al-Arab, along the southern boundary between Iran and Iraq. Tehran claimed that the British had strayed into Iranian waters. The captured sailors and marines were released following negotiations. The British personnel had been operating as part of a U.S.-led naval coalition in the Gulf.
March 23, 2007: Revolutionary Guard Navy forces seized 15 British Royal Navy personnel while the latter conducted a routine boarding of merchant vessels off the coast between Iraq and Iran. Britain claimed its personnel were operating in Iraqi territorial waters. But the Iranians claimed the British had illegally entered their territorial waters. The British personnel were released after 13 days.
Jan. 6, 2008: Five high-speed Revolutionary Guard boats engaged in aggressive maneuvering against three U.S. vessels in the Strait of Hormuz. During the incident, one of the small boats placed what appeared to be small white boxes in the path of the three U.S. vessels. A threatening radio transmission also was heard on a commonly used maritime frequency. It was subsequently determined that the radio transmissions probably came from a third-party heckler, a concept known to mariners as the "Filipino Monkey."
Obama Administration and New Nuclear Diplomacy
Jan. 6, 2012: IRGC Navy small boats harassed the USS New Orleans, an amphibious transport ship, while the latter was transiting the Strait of Hormuz. On the same day, Iranian small boats also harassed the U.S. Coast Guard Cutter Adak, which was operating 75 miles east of Kuwait City. U.S. Navy officials said the small boats came within several hundred yards of both vessels and did not respond to queries or whistles, as is standard for maritime protocol.
Nov. 1, 2012: Iranian Air Force fighter jets fired on a U.S. Predator drone over the Gulf, but failed to bring it down. Iranian officials claimed that the Predator was conducting a reconnaissance mission near Bushehr, the site of Iran's only nuclear power plant.
Aug. 26, 2014: A U.S. Coast Guard vessel operating in international waters in the Persian Gulf fired a warning shot on an Iranian dhow after the crew turned a machine gun on the Americans with hostile intent. Admiral Ali Fadavi, the IRGCN chief, seemed to mock the Coast Guard. "Americans feared and felt danger from a fishing dhow," and "should be fearful" whenever they are in the Gulf, he said.
Late December 2014: An Iranian patrol aircraft warned the destroyer U.S.S. Gridley to leave an area that the Iranian military was using for a joint exercise.
March 2015: An Iranian military observation plane flew within 50 yards of an armed U.S. Navy helicopter over the Persian Gulf.
Late April 2015: A nine-ship Iranian naval convoy, that could have been carrying arms to Houthi rebels, traveled towards Yemen. But the United States dispatched an aircraft carrier and guided missile cruiser to the area. By April 24, the Iranian and U.S. ships had turned away from Yemen. Defense Department officials said the ships were sent to reassure Saudi Arabia of U.S. support and to indicate to Iran that the United States would not allow weapons shipments to Houthi rebels in Yemen, according to The New York Times.
April 28, 2015: An Iranian Navy ship fired shots across the bridge of the Maersk Tigris container ship and Iranian personnel boarded the Marshall Islands-flagged vessel. (The Republic of the Marshall Islands is a sovereign nation for which the United States has full authority and responsibility for security and defense.) U.S. Naval Forces Central Command in Bahrain (Navcent) answered a distress call from the Maersk Tigris. Navcent directed a guided-missile destroyer to monitor the situation as well as other maritime patrol and reconnaissance aircraft. The vessel was taken to the Iranian port of Bandar Abbas due to a legal dispute between the Danish company chartering the vessel and Iranian law firm. On May 7, the ship and its crew were released.
Iran releases Marshall Islands-flagged Maersk Tigris cargo ship http://t.co/wjRj8Jshm4 pic.twitter.com/ZdQYo1rYht

— NBC Nightly News (@NBCNightlyNews) May 7, 2015
Dec. 26, 2015: An Iranian military vessel fired several unguided rockets toward U.S. and French military vessels and commercial craft in international waters, according to U.S. military officials.
Jan. 12, 2016: An unarmed Iranian drone flew toward both the French aircraft carrier Charles de Gaulle and the USS Harry S. Truman while they were in international waters of the Persian Gulf.
Jan. 12-13, 2016: On January 12, Iranian military forces seized two U.S. Navy vessels and held them on Iran's Farsi Island in the Persian Gulf. Nine men and one woman were aboard the small riverine boats. A variety of human and mechanical errors led to the vessels drifting off course. The sailors were safely released to the U.S. Navy after an overnight flurry of diplomatic efforts.
July 12, 2016: Five IRGC vessels, including four speedboats and a guided missile patrol ship, came as close as 500 meters to a U.S. warship hosting a top general in the Strait of Hormuz. "As you've seen in a relatively compressed space here, there is great opportunity for miscalculations," Army General Joseph Votel, head of the U.S. military's Central Command, told reporters afterward.
Aug. 15, 2016: Seven Iranian naval vessels conducted a rocket firing exercise near the USS Nitze and Tempest. The rockets were fired within 12,000 yards of the Nitze and within 5,000 yards of the Tempest. "The vessels were seen firing eight to nine rockets away from the US ships and did not notify them of the intent to conduct a live fire exercise," said Commander Bill Urban, a spokesman for US Navy's Central Command in Bahrain.
Aug. 23, 2016: Four Iranian small boats harassed the USS Nitze, a guided missile destroyer, in the Strait of Hormuz. The boats, approached the Nitze at a high speed, in an unsafe and unprofessional manner, according to a U.S. defense official, prompting the Nitze to fire ten flares and sound its whistle several times. The Iranian boats ignored the warnings and attempts at radio communication. They finally stopped within 300 yards of the ship.
#Iran ships in 'high speed intercept' of US destroyerhttps://t.co/zQyY7UAZTr pic.twitter.com/ySdkHX4egN

— Gulf News (@gulf_news) August 25, 2016
Aug. 24, 2016: Three IRGC boats crisscrossed the USS Tempest's bow and "created a possible collision hazard" in the Northern Persian Gulf. Later, an Iranian patrol vessel approached the Tempest head-on despite multiple warnings. The USS Squall eventually resorted to firing warning shots.
Later that day, an Iranian Nassar-class boat made a run against the USS Stout, a guided missile destroyer. The Stout changed course to avoid the Iranian vessel and used unspecified devices to discourage it from approaching again. "These are incidents that carry a risk of escalation and we don't desire any kind of escalation," Pentagon Spokesman Peter Cook told reporters. "At this point, it's not clear what the intentions of the Iranian ships were, but the behavior is not acceptable, given that this U.S. ship was in international waters," White House spokesman Josh Earnest said.
Sept. 4, 2016: Several IRGC fast attack boats harassed a U.S. Navy coastal patrol ship. One sailed directly in front of the USS Firebolt, coming with 100 yards of the ship, and forced it to change course. 
Sept. 10, 2016: Iran threatened to shoot at two U.S. Navy surveillance aircraft as they flew over international waters over the Strait of Hormuz. Iranians at an air defense station said they would fire an "Iranian missile" if the U.S. pilots did not change course immediately. U.S. officials said the interaction was unprofessional but not unsafe because the aircraft were beyond known Iranian surface to air weapons range. 
Nov. 28, 2016: An IRGC patrol boat trained its weapon on a U.S. Navy Seahawk helicopter. The Navy called the event an "unsafe and unprofessional encounter." The helicopter was escorting the aircraft carrier USS Dwight D. Eisenhower on its way out of the Persian Gulf. "If they continue to test us, we are going to respond, and we are going to protect ourselves and our partners," warned Gen. Joseph Votel.
Jan. 9, 2017: The USS Mahan, a destroyer, fired warning shots and used radio calls, flares, bells and whistles to signal five Iranian ships to stay away. The ships came within 900 yards of three U.S. vessels that were entering the Strait of Hormuz, according to Pentagon spokesman Capt. Jeff Davis. They eventually left the area after a U.S. helicopter also dropped smoke grenades. 
USS Mahan Fired Warning Shots at Iranian Vessels in Strait of Hormuz | @idreesali114 @Reuters #Iran #IRGC https://t.co/MovG4xugzQ pic.twitter.com/FNOSZGr3vE

— RealClearDefense (@RCDefense) January 10, 2017
Trump Administration
March 5, 2017: Iranian fast-attack vessels came within 600 yards of the USNS Invincible, a tracking ship, before stopping, forcing it to change course. One Iranian vessel tried to position itself between the U.S. ship and three British Royal Navy ships, according to a U.S. official. The ships were thought to belong to the Islamic Revolutionary Guards Corps (IRGC). An official said that the Iranians did not reply to attempts at communicate over radio. 
Mehdi Hashemi, commander of the IRGC's Zolfaqar Flotilla, however, claimed the U.S. ship was at fault for sailing too close to IRGC vessels. The presence of American and British vessels in the Persian Gulf "endangers the security of this strategic region, which provides a huge portion of the world's energy," he said. 
March 21, 2017: Two sets of Iranian Navy fast-attack boats harassed a U.S.-led, five-vessel flotilla as it entered the Strait of Hormuz. The aircraft carrier George H.W. Bush dispatched helicopter gunships to hover over the speedboats, which came within 950 yards of the flotilla.
"What I don't like about that is they [Iranian boats] were in the middle of international transit waters [while] we had a right to be there as we were exercising freedom of navigation on our way into the Arabian Gulf," Rear Admiral Kenneth Whitesell, commander of the Carrier Strike Group 2, told journalists aboard the aircraft carrier, according to Reuters.
"They also had weapons uncovered as some of the cameras were able to tell. They had some of the weapons manned. We also have aerial data that they were arming all of these weapons."
Iran, however, denied that its vessels had harassed U.S. warships. "We emphasize that the Americans would be responsible for any unrest in the Persian Gulf, and again warn that the U.S. military must change its behavior,"said the deputy chief of Iran's armed forces, Brigadier General Masoud Jazayeri. 
April 24, 2017: A U.S. Navy guided-missile destroyer fired a warning flare toward an IRGC vessel that came within 1,100 yards of it. The vessel turned and sailed away. Zarif criticized the U.S. response via a tweet.
Breaking: Our Navy operates in —yes, correct— the Persian Gulf, not the Gulf of Mexico. Question is what US Navy doing 7,500 miles from home pic.twitter.com/XfDicbWr5s

— Javad Zarif (@JZarif) April 26, 2017
June 13, 2017: An Iranian Navy Houdong-class guided-missile boat came within 800 yards of a formation of U.S. vessels —amphibious assault ship USS Bataan (LHD-5), guided-missile destroyer USS Cole (DDG-67) and dry cargo ship USNS Washington Chambers (T-AKE-11). It harassed the formation beginning with shining a spotlight on the destroyer. "Shortly thereafter, the Iranian vessel trained a laser on a CH-53E helicopter that accompanied the formation," U.S. 5th Fleet spokesman Cmdr. Bill Urban told USNI News.
July 25, 2017: The USS Thunderbolt, a patrol ship, fired warning shots near an Iranian vessel that came dangerously close to it, within 150 yards. The American ship was taking part in an exercise with American and other coalition vessels in international waters, according to 5th Fleet spokesman Lt. Ian McConnaughey. He said that U.S. sailors only fired warning shots after the Iranian ship failed to respond to radio calls, flares and horn blasts.
July 29, 2017: The IRGC said that the USS Nimitz and an accompanying warship came close to a rocket-bearing Iranian vessel and dispatched a helicopter. The craft came close to other Iranian vessels and the Resalat oil and gas platform, according to the IRGC's official news site, Sepah News. "The Americans made a provocative and unprofessional move by issuing a warning and shooting flares at vessels ...," the statement said, according to Reuters.
The U.S. military, however, said a Navy helicopter saw several IRGC ships approaching U.S. forces at a high speed and deployed flares after it could not establish communications with the vessels. The interaction was "safe and professional," according to the statement.
Aug. 8, 2017: An Iranian QOM-1 drone came within 100 feet of an F/A-18E Super Hornet jet despite repeated radio calls to stay clear of flight operations near the USS Nimitz.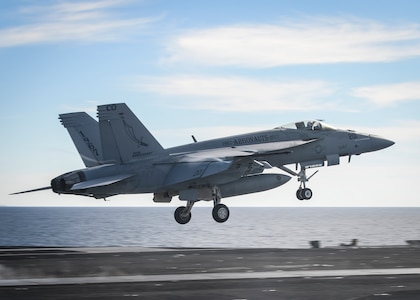 Aug. 13, 2017: An Iranian QOM-1/Sadegh-1 drone came within 1,000 feet of U.S. aircraft flying near the USS Nimitz. "The failure of the Iranian UAV to utilize standard, internationally-mandated navigation lights during a night time approach of a U.S. aircraft carrier engaged in flight operations created a dangerous situation with the potential for collision and is not in keeping with international maritime customs and laws," Lt. Ian McConnaughey said in a statement.
Jan. 22, 2018: Rear Admiral Mahmoud Mousavi said Iranian warplanes warned off two "coalition vessels" during military drills in the Gulf. He claimed the western ships approached to monitor Iranian ships.
Garrett Nada, managing editor of The Iran Primer at the U.S. Institute of Peace, contributed to this chronology.
Photo credits: F/A-18 Super Hornet by Ian Kinkead (U.S. Navy)