Iran's oil exports increased by 180,000 barrels per day in September 2013, according to a new report by the International Energy Agency. Exports were up 26 percent from 2012, probably due to increased purchases by China, India and Japan. Crude oil production, however, was down 100,000 barrels per day in September 2013, compared to the previous month. And despite the increase in demand, Iran only exported some 1,170,000 barrels per day, less than half of its potential capacity. For example, crude oil exports were approximately 2.5 million barrels per day in 2011.
            Oil exports are vital to Iran because they account for 80 percent the country's total export earnings and 50 to 60 percent of government revenue, according to the U.S. Energy Information Administration.
            Until recently, Tehran's oil exports had been on a downward trend since 2011. Tightened U.S. and E.U. sanctions had taken a serious toll. In 2012, the Islamic Republic's oil exports had dropped to their lowest level since 1986, when the country was fighting a grueling eight-year war with Iraq. The data is reflected in the following chart from a U.S. Energy Information Administration report.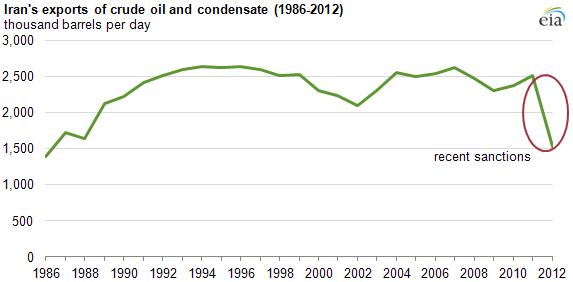 Click here
for more information on Iran's oil exports.