Nearly two-thirds of Americans support an agreement with Iran that would lift sanctions in return for Tehran restricting its nuclear program, according to a new Washington Post-ABC News poll. Some 72 percent of Democrats surveyed support such a deal compared with 57 percent of Republicans. But only 36 percent of all participants are confident that such a deal would prevent Iran from attaining nuclear weapons. The poll was conducted between November 14 and 17 on the eve of new talks between Iran and the world's six major powers.
            A CNN/ORC International poll also found that 56 percent of Americans support an interim deal. The results also indicated a partisan divide, with about two-thirds of Democrats supporting a deal. Only about 45 percent of Republicans were in favor of one. The following are excerpts from both surveys. 
The Washington Post/ABC News
Question: Thinking now about the situation with Iran, would you support or oppose an agreement in which the United States and other countries would lift some of their economic sanctions against Iran, in exchange for Iran restricting its nuclear program in a way that makes it harder for it to produce nuclear weapons?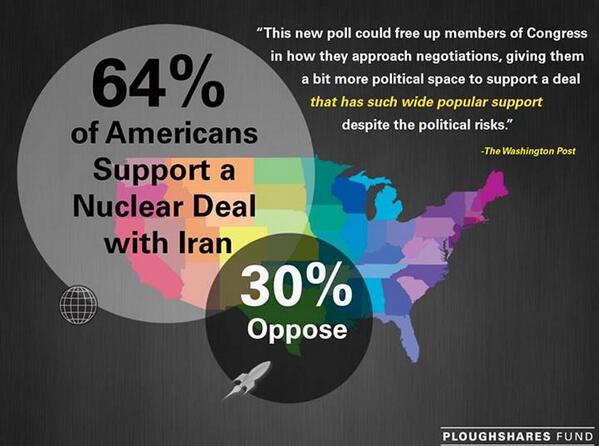 Participants by Political Party
Question: How confident are you that such an agreement would prevent Iran from developing nuclear weapons - very confident, somewhat confident, not so confident or not confident at all?
All participants
This Washington Post-ABC News poll was conducted by telephone among a random national sample of 1,006 adults.
Click here
for more detailed results.
Nov. 18-20, 2013
            As you may know, the U.S. and other countries have imposed strict economic sanctions against Iran while that country has nuclear facilities which could eventually allow it to produce its own nuclear weapons. Would you favor or oppose an interim deal that would ease some of those economic sanctions and in exchange require Iran to accept major restrictions on its nuclear program but not end it completely and submit to greater international inspection of its nuclear facilities?
Favor: 56%

Oppose: 39%

No opinion: 5%