In 2012, Iran's oil exports dropped to their lowest level since 1986, according to a new report by the U.S. Energy Information Administration. Exports declined 39 percent between from 2011 to 2012 alone due to tightened U.S. and E.U. sanctions. Production of crude oil and condensates also fell by 17 percent that year. The following is a chart and excerpt from the report.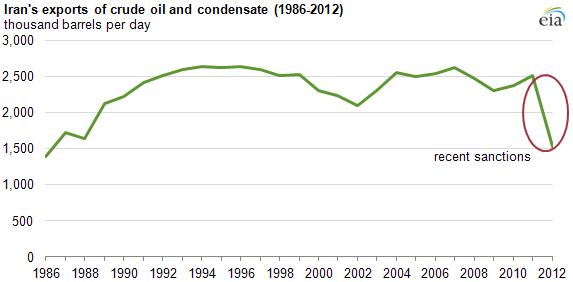 In 2012, Iran's exports of crude oil and lease condensate dropped to their lowest level since 1986 (see chart above) as the United States and the European Union (EU) tightened sanctions targeting Iran's oil sector. Iran's 2012 net estimated oil export revenue, at $69 billion, was significantly lower than the $95 billion total generated in 2011. Oil exports make up 80% of Iran's total export earnings and 50% to 60% of its government revenue, according to the Economist Intelligence Unit.
            Sanctions affecting investment in Iran's oil sector have also been tightened, resulting in cancellation of new projects by several foreign companies; they also negatively affected existing projects. Following the implementation of sanctions in late-2011 and mid-2012, Iranian oil production dropped dramatically. Although Iran had been subject to four
earlier rounds of United Nations sanctions
, these much-tougher measures passed by the United States and the European Union have severely hampered Iran's ability to export its oil, which directly affected its production of petroleum and petroleum products.
            The U.S. and EU measures prohibited large-scale investment in the country's oil and gas sector, and cut off its access to European and U.S. sources of financial transactions. Further sanctions were implemented against the Central Bank of Iran, while the EU imposed an embargo on Iranian oil and banned European protection and indemnity clubs (P&I Clubs) from providing Iranian oil carriers with insurance and reinsurance. The implementation of insurance-related sanctions was particularly effective in stemming Iranian exports, which affected not only European importers but also Iran's Asian customers who were forced to temporarily halt imports.
Part II: Sanctions Hit Hard Iran's Oil Production